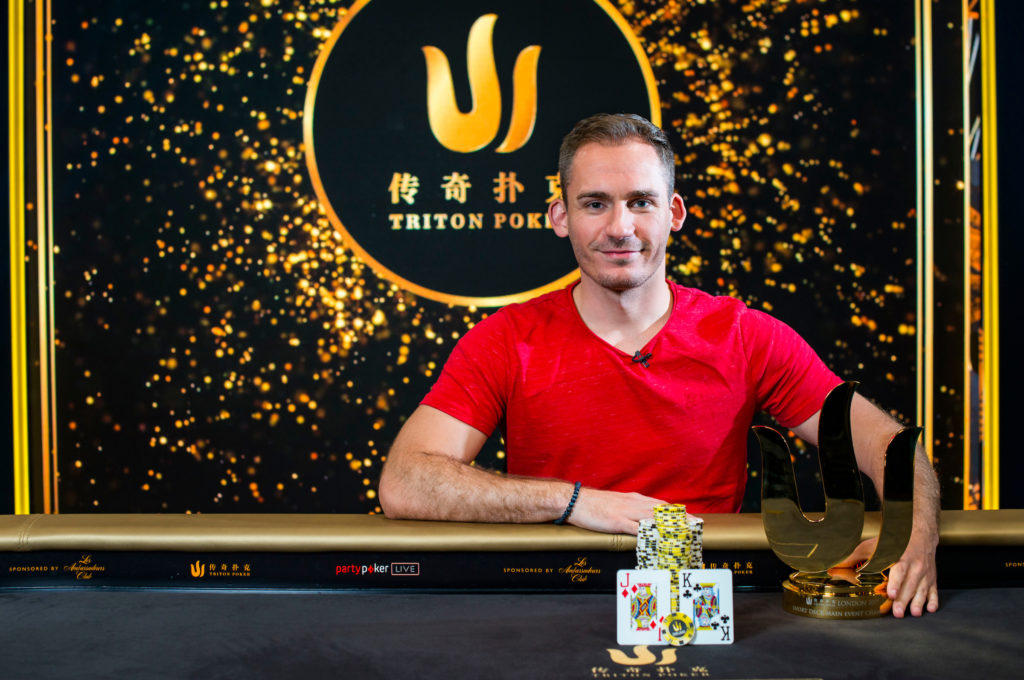 The Hilton Hotel in Park Lane, London, is a mausoleum. The people you never see in front of the TV cameras have deconstructed the stage, taken the legs off the tables, and stowed the lot away, in readiness for the next Triton adventure.
It's going to have to be something special to beat this.
The £100,000 No-Limit Hold'em Short-Deck Main Event attracted 108-entrants (55 re-entries), and Justin Bonomo prevented Wai Kin Yong from winning both London entrées after beating him to the title.
Coming into Triton Million London, Bonomo knew that his position at the top of the All-Time Money list was tenuous with a den of carnivores looking to eat his record alive.
Bryn Kenney was the man to usurp Bonomo's throne, but the New Jersey native reacted brilliantly to win the Short-Deck Main Event. Poker fans will be disappointed, however, to learn that there will be no clash of the titans in the ensuing years.
After Bonomo put thought to the mic at the end of a gruelling competition, the two-time Triton Champion declared his intention to play fewer hands of poker, claiming that he has nothing left to prove after his incredible performances in 2018.
"My plan is to play less poker, Bryn's plan is to play a lot of poker, so as far as I'm concerned I'll probably never get number one again. It's not really a goal of mine, and I'm totally fine with that," said Bonomo.
And by 'less poker' that means even less Short-Deck.
"I like it when I win, but honestly I don't like crazy all-ins," Bonomo said. "I don't like getting it all in with 55 percent but you have to in this game. Some people enjoy the all-ins. I find them extremely stressful. Obviously, when you win tournaments, it's great, but other than the fact that I'm winning these tournaments, I wouldn't say it's my favourite game."
It's a feeling shared by Wai Kin Yong, who in 2018, told us about the toll that Short-Deck can have on your playing career, but it hasn't stopped the young man having a blinding Triton London series.
Yong won the £100,000 No-Limit Hold'em Main Event for £2.5m, and came a few flops, turns and rivers away from winning the £100,000 No-Limit Hold'em Short-Deck until Bonomo's KcJd beat Yong's Ac8c, thanks to a jack on the river. Yong received £1.8m for finishing second, totalling £4.4m earned in the time it takes the binmen to clear your trash. Not bad, for someone who declared his poker idleness in the build-up to this series.
Here's the nutshell action.
The Nutshell Action
Final Table
1st – Wan Kin Yong – 253 antes 7,595,000
2nd – Justin Bonomo – 197 antes 5,910,000
3rd – Rui Cao – 146 antes 4,375,000
4th- Paul Phua – 130 antes 3,905,000
5th – Liang Xu- 120 antes 3,585,000
6th – Ming Zhong Liu – 118 antes 3,530,000
7th – Isaac Haxton – 117 antes 3,510,000
The first player who saw their final table experience expire like a lit matchhead was Ming Zhong Liu who moved all-in from the hijack holding 9c8c, only for Bonomo to isolate and win with AcKh.
Bonomo's buddy, Isaac Haxton, was next to fall, and he took Rui Cao tumbling over the edge with him. Haxton moved all-in from the first position holding pocket rockets, Yong jammed his massive stack in the middle with pocket kings, and Rui Cao called with JdTd. Yong flopped a king, Haxton and Cao failed to improve, and suddenly Yong had half of the chips in play with four left.
Yong overcame Paul Phua, heads-up, to win the No-Limit Hold'em Main Event, but ruled out a repeat confrontation when he eliminated the Triton co-founder when AsQs flopped Broadway and then rivered a flush for good measure when all-in against KsQc.
Three-Handed
The three-handed play was an exhaustive affair with everyone briefly sitting at the summit before Bonomo set up a classic East v West heads-up confrontation eliminating Liang Xu when Th9h beat KcQh, after flopping trip tens.
Heads-Up
Heads-up play began on an even keel with 105 antes a piece, until Yong stretched to a 3:1 chip lead. Bonomo fought back like a true champion to retake the lead before dragging the final curtain off the rails in the last hand of the game.
Final Table Results
1 – Justin Bonomo, £2,670,000
2 – Wai Kin Yong, £1,835,000
3 – Liang Xu, £1,202,500
4 – Paul Phua, £974,500
5 – Rui Cao, £783,000
6 – Isaac Haxton, £611,900
7 – Ming Zhong Liu, £482,200
8 – David Benefield, £368,100
9 – Stephen Chidwick, £269,600
10 – Jason Koon, £217,700
11 – Furkat Rakhimov, £217,700
12 – Tom Dwan, £191,900
13 – Cary Katz, £191,900
14 – Elton Tsang, £177,000
15 – Richard Yong, £177,000