You get the impression that Linus "LLinusLlove" Loeliger is going to be a permanent fixture in Triton Poker events. The 24-year old has taken down Event #1: £25,000 Triton London Six-Max Turbo, at only his second ever Triton event.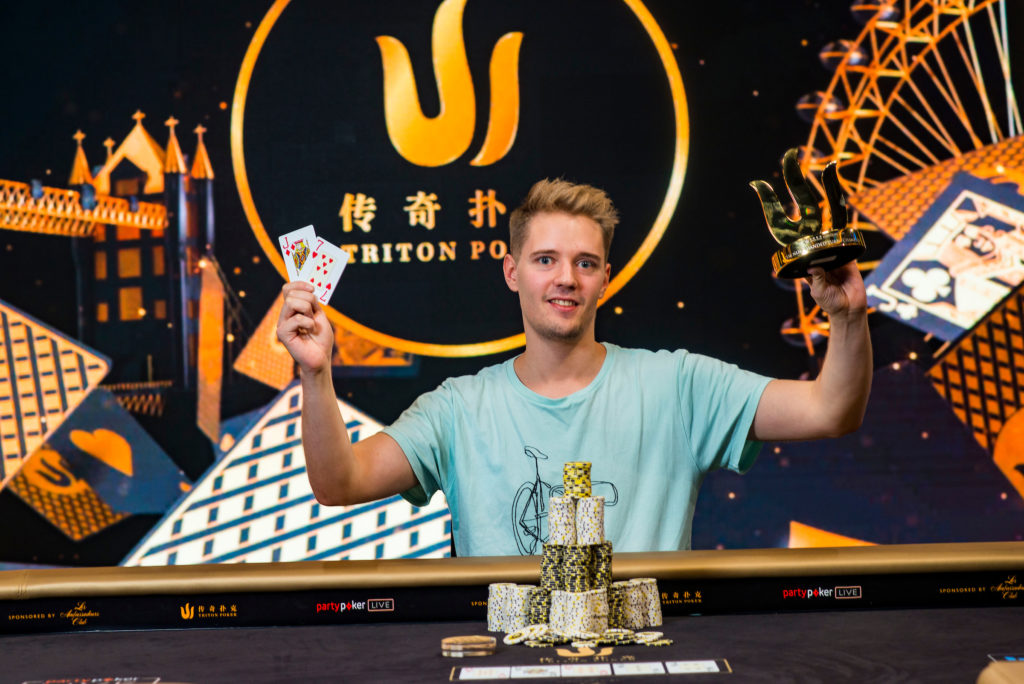 We first saw the Swiss wizard in Montenegro back in May when he finished 3/45 in the HKD 250,000 No-Limit Hold'em 8-Handed Turbo for $219,262, for only his fourth-ever live cash. Then he rocks up to London and takes down the first event.
There was nothing particularly 'turbo' about the turbo given that it took five days to finish it. The organisers had to shimmy and shake after the sheer volume of interested players (73+44 re-entries), and the inclusion of three of the final seven in the £1m buy-in Triton Million, prompting the need for a second day.
It was a lovely little top table.
Michael Soyza, Cary Katz and Timothy Adams were all fresh off their £1m experience. Soyza and Katz failed to make money in the Million, but Adams finished eighth for £1.4m.
Elior Sion doesn't play too many tournaments but put a £25,000 in his backyard, and he's going to stick a fold-up chair in the ground and get stuck in.
Kahle Burns finished runner-up to Anuj Agarwal in the $10,000 No-Limit Hold'em Championship 6-Handed at the WSOP, and Luc Greenwood is a Triton Poker reg, albeit still looking for his first cash.
The Action
The first man to dive into the consolatory £100,000 No-Limit Hold'em event was Michael Soyza. The Natural8 ambassador shipped his last 17 big blinds from the small blind, holding QcTh, only for Loeliger to wake up with pocket sixes in the big blind. A call came, the sixes held, and Soyza was out.
With Soyza out of the way, we had our 'official' six-handed final table, and the first to bow out, albeit gracefully, was Burns. Once again, Loeliger played the role of executioner after his pocket queens held against AJ.
The former World Series of Poker (WSOP) Poker Player's Championship (PPC) winner, Sion, was the next to leave when he pushed holding JcTh on a board of QsJh4s. Greenwood gladly made the call, holding AcQh, and the dominating hand held.
Katz told us that he used all of his 'run good' on Day 1 of this event and it proved a correct assessment after his pocket fours lost to Greenwood's pocket sevens despite flopping a set. The dealer placed the 9d6c4d onto the flop. The 5d gave Greenwood a straight draw, and the 3d on the river handed Greenwood the pot, leaving Katz with nothing but a shaky head.
Greenwood became the chip leader with that hand but lost it to Loeliger in dramatic fashion in the pivotal moment of the tournament. Greenwood looked down to see pocket aces, opened to 500,000, and both Loeliger (pocket fives), and Adams (J4cc) made the call in the blinds. The flop of 6h4s3s had 'fight! Fight! Fight!' written all over it. Loelieger led for 375,000, Adams called, Greenwood raised to 1.5m, Adams folded, and Loeliger called. The 2c on the turn gave Loeliger the straight, and he checked to Greenwood who bet 1.5m. Loeliger moved all-in for 7.25m, and Greenwood reluctantly called.
That left Greenwood and Adams on fumes, with Loeliger light-years ahead. Adams got it in with AK versus the A5 of Loeliger, only for a five to land on the flop to set up a heads-up encounter between Greenwood and Loeliger.
It lasted a single hand.
Greenwood got it in with Ts7s, Loeliger called with Jd7h, and jack-high ended being the winning hand.
It was a sweet moment for Loeliger, who also finished third in Event #3: £50,000 No-Limit Hold'em, a tale for another time.
Payouts
Linus Loeliger – £690,000
Luc Greenwood – £466,600
Timothy Adams – £307,000
Cary Katz – £251,500
Elior Sion – £202,900
Kahle Burns – £160,000
Michael Soyza – £122,300
Kyle Carlston – £92,100
Tong Siow Choon – £92,100
Orpen Kisacikoglu – £56,300
Erik Seidel – £56,300
Ben Lamb – £49,500
Paul Phua – £49,500
Wai Chan Leong – £45,300
Dan Smith – £45,300
Ben Heath – £43,100
Patrik Antonius – £43,100