When Paul Phua stood on his Montenegrin stage, flanked by Triton Poker Super High Roller Series Champions, a flute punctuating the speech bubbles carrying his desire to make a difference in the world through a game he loves, those standing in the audience sensed something special was unfolding.
And it begins.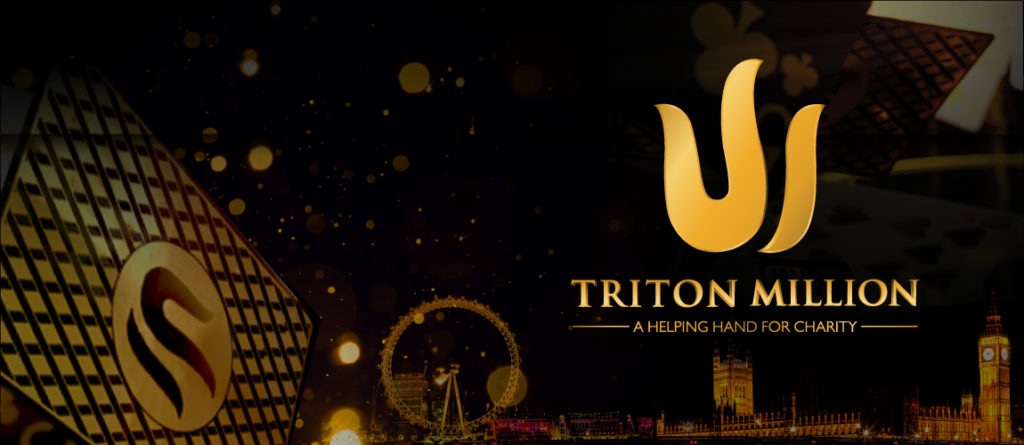 On the 1 August, the world's greatest poker players, and wealthiest poker-loving business people will meet in the Grand Ballroom of London's Park Lane Hilton to compete in the richest live poker tournament in history.
What a dance it will be.
The buy-in will be £1,050,000, beating the previous highest record buy-in of €1,000,000 set in 2016 when Elton Tsang beat 28-entrants to win the €11,111,111 first prize in the Monte Carlo One Drop Extravaganza, and the Triton Million: A Helping Hand For Charity will serve the £50,000 entry fees on charitable platters.
The Triton organisers are learning and evolving.
There have been four previous seven-figure plus buy-in events (USD) in history.
2012: $1m buy-in Big One for One Drop – Antonio Esfandiari ($18,346,673)
2014: $1m buy-in Big One for One Drop – Dan Colman ($15,306,668)
2016: €1m buy-in One Drop Extravaganza – Elton Tsang ($12,248,912)
2018: $1m buy-in Big One for One Drop – Justin Bonomo ($10,000,000)
The 2012 & 2014 events were so pro-heavy, the organisers banned professionals in 2016 (the lowest attended event of them all). The pros returned in 2018, and once again the balance shifted too far towards their side of the seesaw.
Triton has the answer.
The Triton Million: A Helping Hand for Charity, is an invite-only competition, with all invites going to non-professional poker players. Each invitee is allowed to invite a guest who could be a professional poker player, ensuring an even split of pros versus non-pros.
The seating arrangements separate the two player types into different fields throughout Day 1 (pros v pros and non-pros v non-pros), with clean segregation until the end of Level 6, after which time the tournament team continues to arrange seats with an even flux of pros v non-pros. Then on Day 2, both sets of players merge, and we see if people can ride on the back of sharks.
In addition to the innovative seat structure, Triton has banned apparel that covers the neck or face, including scarves, turtleneck sweaters, hoods and sunglasses, and will insist that the final nine players wear a formal suit. The only exception will be for sunglasses at the TV tables due to lighting and hats that do not hide any part of the face at any time, such as a backwards baseball cap.
Players have to take their seat 'on time,' and a committee decides the definition of a Recreational Player/Business Person or Guest Player/Professional. Invitation holders can deposit £50,000 to reserve their seat, and once a Guest Player/Professional is inked they too can do likewise. After making the deposit, players must complete registration payments to reach the total buy-in amount of £1,050,000 before the start of the Festival.
Pro players wishing to compete are advised to contact Triton so they can add their names to a list for registered business people. The £50,000 deposit is non-refundable, and Triton will donate it to Charity in case of a no-show.
So far, Triton has confirmed the following people competing in the event.
Paul Phua & Tom Dwan
Stanley Choi & David Peters
Wai Kin Yong & Rui Cao
Richard Yong
Bobby Baldwin
Ivan Leow
Rick Salomon
Rob Yong
Liang Yu
Sun Yaqi
Eddie Ting
Rick Salomon has finished in the money in the previous three Big One for One Drop events.
Here is a link to the structure – https://triton-series.com/wp-content/uploads/2019/06/TTPK_London_Structure-2-Triton-Million.jpg
A Helping Hand For Charity
The £50,000 entry fees will benefit the following three charities:
Caring For Children Foundation
A Hong-Kong based charity providing funds and programs for children rehabilitation projects, including foster care programs, educational programs, and help with disaster relief.
Raising for Effective Giving (REG)
The poker player run meta-charity that uses evidence and rationality to ensure the most significant impact with their philanthropy.
Healthy Hong Kong
A Hong-Kong based charity that provides funds and relief for the grassroots and elderly in Hong Kong.
The entire Triton Poker London Super High Roller Series runs 31 July – 8 August and contains seven events.