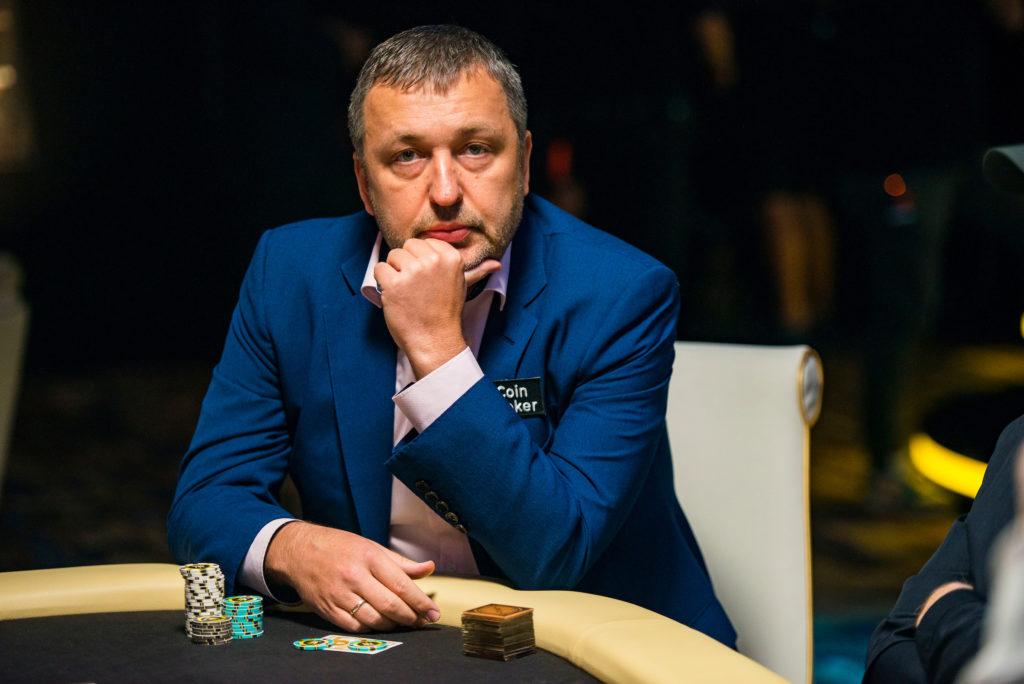 Standing patiently by the reception desk, notepad in hand, hair that you grimace at, daily, knowing it's desperation to severe itself from your body, eager to find a drain. The ace of spades tars a hand holding a pen, his ginger beard in need of a shave.
Justin Bonomo walks past him.
Nothing.
Timothy Adams.
He doesn't flinch.
Isaac Haxton.
He doesn't move a muscle.
Then, walking at his typical brisk pace, Warren Lush by his side like a faithful dog, Tony G enters his orbit. Suddenly, as if a pin has pricked his prick, he shifts into action.
"Can I have your autograph, please?"
Tony G stops, grabs the notepad and pen, scribbles furiously, and continues carving a path through the Triton Million tunnel. The man smiles, about turns, and heads down the escalator.
Tony G is a polarising figure.
You either love him or hate him.
This man loved him.
Tony G had a rocket-bitter time in London, locking his targeting laser onto a raft of buy-ins that were so high, entering them would give you motion sickness, and he bricked every single one of them.
The Hilton fractured him, but it didn't break him. After the event ended, rather than head to the nearest political rally to espouse his views on climate change, cryptocurrency or the future of windmills, he hopped on a private jet, destined for the King's Resort.
Leon Tsoukernik's gaff is a happy stomping ground for Tony G. In December; he celebrated his birthday at the King's Resort, two-months after finishing 4/33 in the €100,000 No-Limit Hold'em 'Leon's High Roller' at the World Series of Poker Europe (WSOPE). When G skips his stones in Rozvadov, they tend to reach the other side.
Tony G Wins The €25,000 Triton Short-Deck.
The second of Triton's two events at partypoker's MILLIONS Europe escapade was a €25,000 No-Limit Hold'em Short-Deck event. The event attracted 27-entrants, and after two-days of insane action, G was the man creating the largest mushroom clouds.
G was at his mercurial best, bad-mouthing the competition, and sending people on their bikes courtesy of his concoction of skill and luck. He was the man to catch, and a few bulldogs were chewing on wasps more than capable of spitting them out and replacing the wasps with his butt.
Leon Tsoukernik has €25,000 and €50,000 High Roller trophies in his trophy cabinet. Notwithstanding his fourth-place finish in the 2017 Super High Roller Bowl, and the fact that he was playing on home turf.
Yake Wu warmed up for this event by finishing runner-up to Andrey Pateychuk in the $5,000, $2m GTD No-Limit Hold'em Card Player Poker Tour Main Event in the Venetian less than a month ago.
Liang Yu arrived in the Czech Republic after winning a £50,000 No-Limit Hold'em Short-Deck event for £777,000 during Triton London, Triton co-founder, Paul Phua, was appearing in a Triton final table for a record 17th time, and Cary Katz was also in the house, as Katz always is when goosebumps come out to play.
Final Table Chip Counts
Tony G – 2,305,000
Leon Tsoukernik – 1,700,000
Yake Wu – 1,685,000
Cary Katz – 1,025,000
Liang Yu – 525,000
Paul Phua – 453,000
Choon Tong Siow – 405,000
The Action
Only five players would finish in the money (ITM), meaning two would have spent a day and a half as slaves to the game. The first to bust was Phua. The Triton co-founder moved all-in holding QhJh and lost to the AdKh of Tony G after busting out a Broadway performance on the river.
Phua's exit landed the event on the stone bubble; the place where some prefer the chameleon approach of blending in and not being noticed, with others firing away like an NK Black Panther tank.
The bubble burst, and the tension flew into the ether after the table released Liang Yu from its chains. Yu got it in with Ah9h against the JsTd of Katz but lost to a straight flush on the river. He was the final person to leave empty-handed.
Working at the King's Resort cash desk is a busy little job, and the first person from the €25,000 to apply more pressure on that position was Choon Tong Siow. It seems the PokerNews employee paid to cover the event must have gone for a Jimmy Riddle at the same time Siow busted, so we have no clue how he died, but die he did.
We do know how Katz lost his final life, and it wasn't pretty. The PokerGO Founder moved all-in for his last 245k, Wu and Tsoukernik both called, and checked down the to the river in a bid to tag team piledrive the American out of the competition. It worked as the KdQh of Tsoukernik out-kicked the KxJc of Katz.
Away from the tables, Tony G and Tsoukernik are good buddies. On the table, the pair are like battleships desperate to blow each other out of the water. On this occasion, it was Tony G who hit the bullseye, when his 9d7c flopped trip sevens to send the Ah6h smashing onto the rocks.
Tsoukernik's exit left Yu facing a 6.13m v 1.97m chip deficit during the heads-up duel. Having failed to pen the right lyrics for his victory song in the Venetian less than a month ago, Yu was eager to produce the right melody on this occasion.
It wasn't a battle.
It wasn't a war.
Think of this heads-up battle, as Yu being the fly, and G being the tail trying desperately to keep it from giving him worms.
Wu closed the gap.
G then flopped trip sevens with Kc7c to beat pocket eights.
Wu doubled up four more times.
Finally, the tail swatted the fly dead, when Wu moved all-in with AdJh, and G called and survived the five-card gauntlet to win his first live tournament in more than two years.
If autograph hunters were waiting for the G-Meister General, they now have soggy notepads.
Winner, winner, chicken dinner!I'm @tritonpoker @partypokerlive champion! I have the big heart and the big spray! #MILLIONSEurope pic.twitter.com/NvunboijTf— Antanas Guoga (@TonyGuoga) August 14, 2019
ITM Results
Tony G – €237,250
Yake Wu – €163,000
Leon Tsoukernik – €104,500
Cary Katz – €75,500
Choon Tong Siow – €61,000