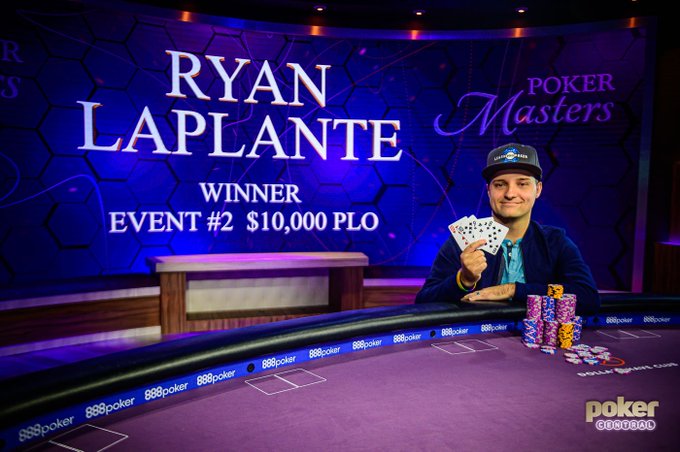 The game of poker is like a series of labyrinths. One minute you're peeking through the keyhole, and next, you're running through the calculations as booby traps detonate all around you.
Deafening.
Disorientating.
Debilitating.
If you work effectively and efficiently and sprinkle some run good, there's every chance you'll find your way to the treasure; your moment of glory, and then it's time to head into the catacombs once more.
Ryan Laplante is bent over, hands on knees, and a big smile etched all over his face.
He's just found his way through.
Laplante took down the 62-entrant Event #2: $10,000 Pot-Limit Omaha (PLO) at the 2019 Poker Masters for $186,000, his second most significant score to date. When Poker Central's host, Maria Ho, asked him for his secret, Laplante pointed to the Game Theory Optimal (GTO) work he's been applying on his online training site (LearnProPoker), and the aid of the Poker Gods.
The win pushes, Laplante's lifetime tournament career earnings to $2,381,807. It's his sixth victory, and half of them have been in PLO events. In 2016, Laplante won the 2,483-entrant $565 PLO event at the World Series of Poker (WSOP) for a personal best $190,328. In the same year, he won a 113-entrant PLO event for $36,172 during the WPT Five Diamond World Poker Classic in Las Vegas.
Laplante cashed 11 times at the WSOP in the summer including finishing 3/2477 in a $1,000 No-Limit Hold'em event and also appeared in the $25,000 PLO event, finishing 29/278. The $601,235 earned in 2019 is his best annual haul since he started racking up scores like spores back in 2011.
The Final Table Picture
For the second consecutive tournament, the Day 2 chip leader would go on to win the event. Laplante went wire-to-wire, refusing to let go of a chip lead that materialised after moving from 'dust to heaps' before you could say 'miracle.'
Chance Kornuth finished runner-up to Isaac Baron in Event #1: $10,000 No-Limit Hold'em, and he had once again found his way to the top table. Thai Ha finished eighth in Event #1 and was the runner-up to Siamak Tooran in the €25,500 No-Limit Hold'emHigh Roller at the World Series of Poker Europe (WSOPE) event – another radioactive pro.
Tim McDermott finished runner-up to Scott Clements in the $1,500 Dealers Choice 6-Handed event in the WSOP this summer, and then you had the defending champion. Ali Imsirovic has earned a personal best $3.8m this year, including a runner-up finish to Cary Katz in the £250,000 Super High Roller Bowl, London for $1.1m.
Bombs would drop.
Clouds of dust would turn Portobello.
Here's how it all began.
Final Table Seat Draw
Seat 1: Chance Kornuth – 545,000
Seat 2: John Riordan – 990,000
Seat 3: Thai Ha – 1,730,000
Seat 4: Ryan Laplante – 2,540,000
Seat 5: Ali Imsirovic – 1,595,000
Seat 6: Tim McDermott – 410,000
The Nutshell Action
Laplante would flick an elastic band into the face of four of the five finalists with enough force to send them crashing into the rail. The one-piece of meat he left for someone else to devour came in the shape of Tim McDermott. The short-stack doubled-up to create a glimmer of hope before the KsKh6s2h of John Riordan crushed AhQh9c5h when all-in pre-flop,
Ali Imsirovic's tattooist had to put his 'Back-to-Back' art piece on the back burner after seeing his aces slammed into the earth by the nut flush of Laplante. Then Riordan exited stage left when AcJs4s3d lost to Th8s6s2d on Qd9d3c8cJd. The money went in on the flop, and Laplante rivered a straight.
The impressive Thai Ha wasn't laughing when his tournament life lost consciousness in the third position. The Vietnamese pro got it in good with 9s8s7c2c on Th9d6d for the straight, only for Laplante's KsKd7d6h to hit the 4d on the turn for a flush.
The heads-up play didn't last too long, and when it did, a cooler hogged the limelight.
Kornuth held QhQd6c3s, and Laplante held TsTh9c8s as the dealer planted a nuclear explosion on the flop (Tc3c3h). The pair got it in, and Kornuth couldn't find that last remaining trey, settling for his second consecutive runner-up finish, and the top spot on the overall leaderboard.
Laplante was the man.
"Being able to play against these people, just even being able to compete, not even cashing, and then winning it is just absolutely absurd," said Laplante after his win. "Obviously, I thought it was possible when I signed up, but when you're playing against players of this calibre, and you pull through, it makes me feel very fortunate and very lucky."
No rest for the wicked.
Back into the labyrinth you go, Ryan.
ITM Results
Ryan Laplante – $186,000
Chance Kornuth – $124,000
Thai Ha – $86,000
John Riordan – $62,000
Ali Imsirovic – $49,600
Tim McDermott – $37,200
Damjan Radanov – $31,000
Brent Roberts – $24,800
Anthony Zinno – $18,600
Poker Masters Standings
Chance Kornuth – 420 points
Isaac Baron – 300
Ryan Laplante – 300
Thai Ha – 210
Ralph Wong – 150