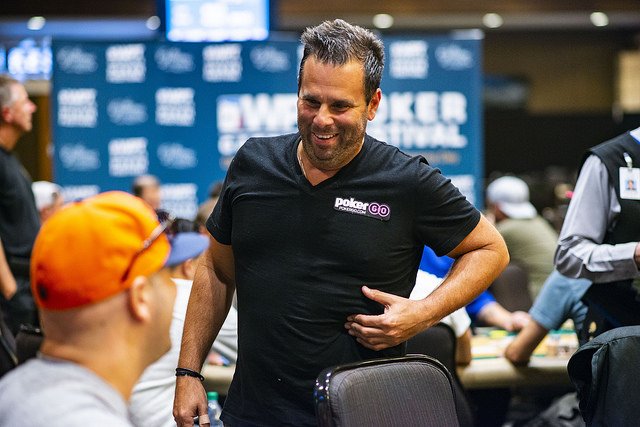 Given Randall Emmett's online feud with the bad boy rapper 50-Cent, the poker table must be a landscape the TV and film producer welcomes. He's undoubtedly spending more time there.
The stardust of the 2019 Poker Masters is not due to sparkle until 4 November. The PokerGO production team have kept the rust from their equipment by hosting three consecutive $10,000 buy-in No-Limit Hold'em events at the esteemed venue. Emmett won the first two.
The first event attracted a field of 20-entrants, and Emmett took the $108,000 first prize after beating Sean Winter, heads-up, for the title. The only other player to make a profit was Dylan Linde, who finished third. The win was Emmett's best since racking up his first-ever live tournament score in 2012, finishing third for $196,000 in an invitational event at the Wynn.
It was Winter's first in the money (ITM) finish since winning a $5,250 No-Limit Hold'em event at the Seminole Hard Rock Poker Open (SHRPO) in August. It's a rare foray to a poker table for Winter, who is dedicating more time at home with his expectant wife. Winter currently leads the Global Poker Index (GPI) Player of the Year rankings but didn't pick up any extra points due to the minuscule size of the field.
ITM Finishes
Randall Emmett – $108,000
Sean Winter – $60,000
Dylan Linde – $32,000
The next day, Emmett returned to the PokerGO Studios and defeated 19-entrants to win his second $10,000 No-Limit Hold'em title. If Winter wasn't a tough enough opponent for Emmett, how about Sam Soverel?
Soverel currently leads the Poker Central Player of the Year race and won the British Poker Open (BPO) a few weeks back, so he is in banging form. Emmett bested him, however, to take the $102,600 first prize. Kristina Holst finished third.
ITM Finishes
Randall Emmett – $102,600
Sam Soverel – $57,000
Kristina Holst – $30,400
Emmett has now earned a smidgen over $500,000 playing live tournament poker. He will need to up his game if he's going to fill the $1m gap repaying a debt to 50-Cent created.
After his second win, Emmett celebrated by taking his partner, Lala Kent, on a date to the Sugar Factory. The Vanderpump Rules star recently stoked 50-Cent's molten core after claiming on 'What Happens Live' that her previous social media spat with 50-Cent got under his skin.
The Grammy Award winner reacted by poking fun at Kent's problems with addiction and also firing a few fresh shots at our back-to-back ARIA High Roller winner.
Emmett might be crushing people at the poker table, but he wants no piece of Jackson. According to press reports, Emmett responded to the attack on his lady, by posting an Instagram post begging Fofty to stop attacking his good woman.
50-Cent never responded, but has taken down some of his posts directed at Kent's past issues with addiction.
Back to poker, and Emmett has now won four live poker tournaments. The first came in June of last year when he stomped his Nike's on 314-entrants to win the $200 No-Limit Hold'em Daily DeepStack at the RIO during the World Series of Poker (WSOP) for $11,355.
In February, Emmett beat 31-entrants to win the first prize of $12,320 in a $1,100 No-Limit Hold'em DeepStack at the Seminole Hard Rock in Hollywood. He also came tenth in a $5,000 No-Limit Hold'em event in this year's WSOP.