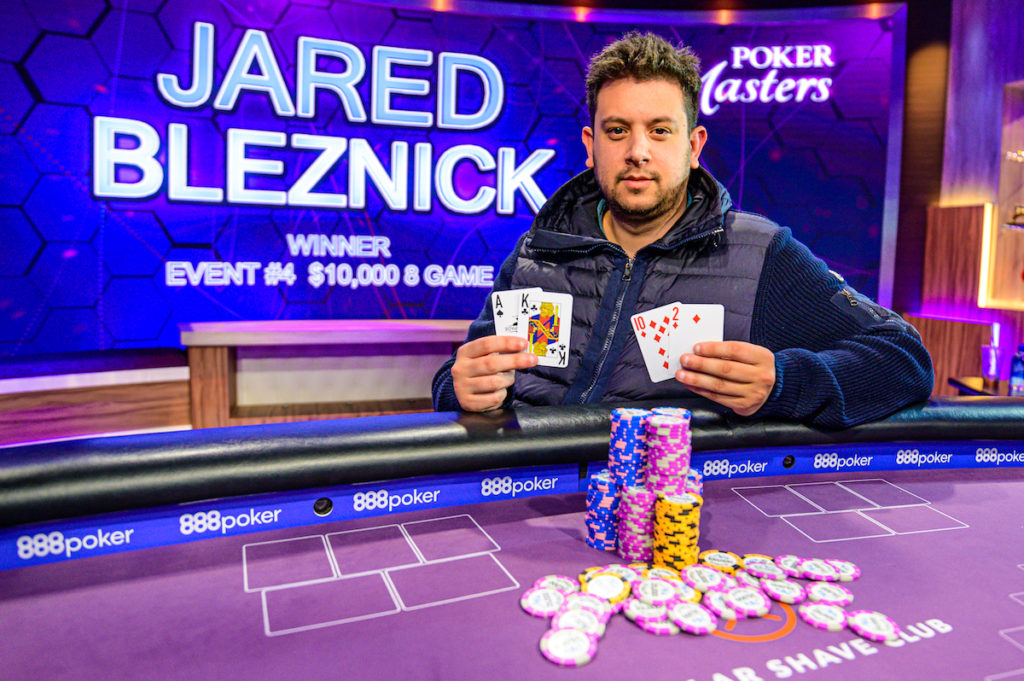 The 2019 Poker Masters continues to power on like steam bursting from the spout of an angry kettle. Four events are now unclogged pores, with Jared Bleznick taking down the latest: Event #4: $10,000 8-Game.
It's the first time that Bleznick has won a live tournament; understandable given his orders have always been to imprison and torture cash game players both online and live.
He doesn't even play poker for a living anymore.
He doesn't need it.
The victory was Bleznick's 29th ITM finish of his career, with 24 of those coming at the World Series of Poker (the WSOP banned Bleznick in 2016 for unruly behaviour, until Phil Hellmuth's support added the coagulant needed for a reversal to occur).
The $153,000 that Bleznick picked up for this win is his fourth-largest win to date, with his previous best remaining the $526,625 secured after finishing runner-up to Daniel Alaei in the $10,000 Pot-Limit Omaha (PLO) event at the 2013 WSOP.
Tournaments may not be his 'thing', but Bleznick had three close shaves at the WSOP this summer finishing 3/1216 in the $600 Online PLO event for $59,163, 3/467 in the $1,500 Limit 2-7 Lowball Triple Draw for $58,343, and 10/218 in the $2,500 Mixed Big Bet for $9,234.
Let's check out the final table in this one.
The Final Table
As one would expect in these Poker Master brawls, the final table contained more magic than a Harry Potter movie.
Nick Schulman won his third WSOP bracelet in the summer, defeating 193-entrants to win the $463,670 first prize in the $10,000 PLO Hi-Lo 8-or-Better Championship, and also finished third in the $100,000 No-Limit Hold'em High Roller for $1.725m.
Cary Katz is one of the most in-form players in the world, winning the Super High Roller Bowl London for £2.1m as well as making a swathe of final table appearances in the biggest games across the globe.
Brandon Adams won his first WSOP bracelet in the summer while also grabbing a fourth and fifth in the $50,000 and $100,000 High Rollers at the same series. Adams also won Poker Master titles in 2017 & 2018.
George Wolff is coming off the back of a cracking performance at the British Poker Open winning a £10,000 and finishing second in a £25,000 (both Pot-Limit Omaha events).
Mike Gorodinsky is a former WSOP Player of the Year.
The Nutshell Action
Event #4 attracted 45-entrants, and the killing inside those veins only lasted for a single day.
Bleznick took a big chip lead into the final, but it was Schulman who was first to put on his dancing shoes and turn the table into his own private ballroom.
He ripped the howl out of Wolff in a hand of 2-7 Triple Draw that saw Schulman's 8-5 catch up to Wolff's 9-6. Then Adams was next to hit the rail, and once again 2-7 Triple Draw was the kick to the groin, with Schulman's 8-7 beating Adams' 9-8.
Gorodinsky gave Schulman a rest, when he dunked Jake Abdalla into a vat of brine after making a 7-6 low in another hand of 2-7 Triple Draw, only to follow Abdalla out of the door marked 'Exit' after his 97cc lost to the A9 of Bleznick in a hand of No-Limit Hold'em.
Cary Katz would face Bleznick for the title, after 'Harrington10' eliminated Schulman in a hand of Stud 8, before getting his mitts on the title after removing Katz in a hand of PLO.
Here are the ITM results.
ITM Results
Jared Bleznick- $153,000
Cary Katz – $99,000
Nick Schulman – $67,500
Mike Gorodinsky – $45,000
Jake Abdalla – $36,000
Brandon Adams – $27,000
George Wolff – $22,500
2019 Poker Masters Championship Standings
Chance Kornuth – 420 points
Isaac Baron – 300
Ryan Laplante – 300
Jared Bleznick – 300
Jonathan Depa – 300