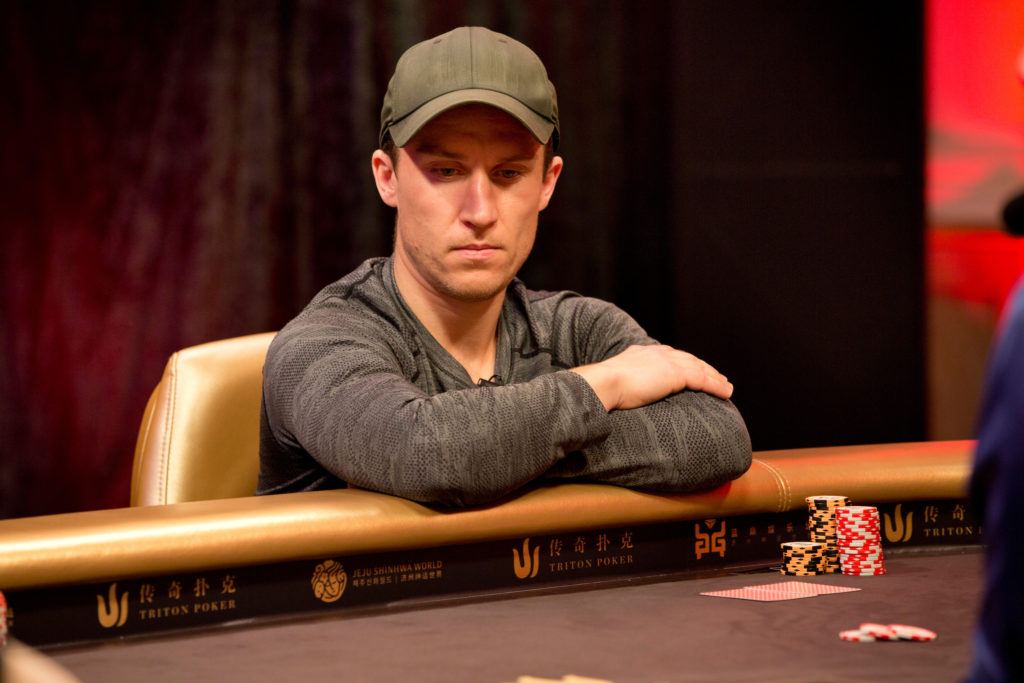 Prince Albert II (a proper prince, and not a stud through the tackle) of Monaco will award Michael Douglas with the Crystal Nymph career honour during the Monte Carlo Television Awards in June.
We don't have any nymphs competing in the €100k Super High Roller at the PokerStars European Poker Tour (EPT) Monte Carlo, but we do have a few fine actors, and like Douglas, one of them will leave with the delightful problem of fitting a golden trophy into a Louis Vuitton suitcase.
Day 1 of the richest buy-in of them all saw 48-entrants compete, and four more made the final count 52 after Charlie Carrel, Matthias Eibinger and Jesus Cortes re-entered, and Mikita Badziakouski bought in for the first time at the start of Day 2. It seemed a smart move with three of the four making the final table.
Day 2 consisted of ten levels, and poker had a chokehold on the best in the business for 13-hours. At that time we had a final table of nine with Daniel Dvoress leading the way after experiencing a pheasant in the mouth of a hound type of day.
Here is the highlight reel.
Level 9: 3k/6k/6k
The Global Poker Index (GPI) #1, Alex Foxen, fell first when his pocket sevens failed to beat the pocket tens of Ali Reza Fatehi. The Iranian didn't have a chance to wallow in that victory before Dvoress sent him to the rail, and he had company. Fatehi got it in on the turn holding the jack of diamonds on AdTd2d7d, Kazuhiko Yotsushika was also all-in holding the queen of diamonds, and Dvoress took every slice of pizza with the king of diamonds.
Fatehi wasn't the only Iranian losing his life in Level 9. Ahadpur Khangah bluffed off his stack to Luc Greenwood with the Canadian sitting on a full house to leave the competition shorn of all mention of Iran.
Khangah wasn't the only player willing to bluff with all of his chips on the line. Ivan Leow did the same thing, and like Greenwood, the Day 1 chip leader, Wiktor Malinowski, was also sitting on a full house.
Charlie Carrel had a wonderful day, beginning by dispatching the Winamax Pro, Adrian Mateos to the rail when ATs came up against AA and the kitchen sink.
Level 10: 4k/8k/8k
888Poker's ambassador, Dominik Nitsche, left the competition when Ike Haxton's AJ got there on the river in a race against pocket fives. Nick Petrangelo eliminated Orpen Kisacikoglu AT>QJ after an ace landed on the flop, and Sean Winter also lost his footing and fell fatally, although we don't know who pushed him.
Level 11: 5k/10k/10k
There was only one elimination in Level 11, but it was significant with Bryn Kenney falling to Matthias Eibinger when AQ failed to find any help on the board against QQ.
Level 12: 6k/12k/12k
The deadly David Peters left the contest when Jc9c walked into the Hulk like KK of Stanley Choi. Haxton's sublime looking JcTd lost to Sergio Aido's AcKc to end his hopes, and Petrangelo fell in a three-way pileup that saw Jesus Cortes gather enough chips to make a run at this thing, hitting a straight on the river with Dvoress, the other loser in the hand.
Then Carrel eliminated two players when his AhKh found an ace on the flop to beat Jean-Noel THorel's JsTc and Choi's pocket nines when all-in pre-flop. We were down to 15-players, and Aido had the chip lead.
Level 13: 8k/16k/16k
Luc Greenwood eliminated Richard Yong when 88 beat A7dd.
Level 14: 10k/20k/20k
Cortes eliminated Seth Davies QQ>88, and Dvoress began battering people, starting with Eibinger, sending the Austrian home TT>AQhh.
Level 15: 10k/25k/25k
Timothy Adams fell to Dvoress next when a turned straight extracted full value from a flopped middle set.
Level 16: 15k/30k/30k
Then Dvoress eliminated the dangerous O'Dwyer after his set of fives pulled every chip from a pair of queens on a 5c6s3d8cJh runout. The final elimination of the day saw the reigning champion, Sam Greenwood, eliminate Michael Soyza when KsQs beat pocket eights after a king on the flop and a queen on the river led to our final table.
Final Table Seat Draw
Seat 1: Jesus Cortes – 1,515,000
Seat 2: Daniel Dvoress – 3,865,000
Seat 3: Sam Greenwood – 1,960,000
Seat 4: Charlie Carrel – 1,340,000
Seat 5: Sergio Aido – 430,000
Seat 6: Luc Greenwood – 675,000
Seat 7: Mikita Badziakouski – 1,405,000
Seat 8: Koray Aldemir – 950,000
Seat 9: Wiktor Malinowski – 1,360,000
Payouts
€1,589,190
€1,147,750
€731,530
€554,950
€428,830
€327,930
€264,860