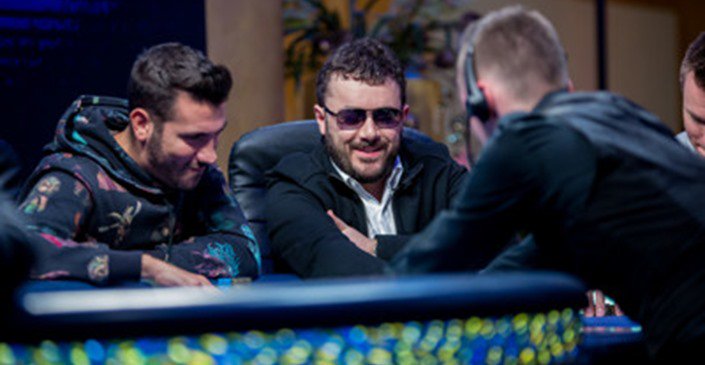 It's was time to chain the 'whoop' to a prison wall found in the darkest recess of their mind. The professional had to remain as focused as a sniper. The only thing that counted was the hand that lay underneath their whorls. For three and a half levels, on Day 5 of the World Series of Poker Europe (WSOPE) Main Event, not even the Rolling Stones could make them budge.
Day 1 began with 541-entrants each hoping to feel that slight nausea that accompanies winning €1.13m, and at the start of the penultimate day, 14 took a pew.
How did the Poker Gods condense 14 to 6?
Here's the nutshell action.
The Nutshell Action
Mykola Kostyrko Eliminated in 14th Place.
With blinds at 50k/100k/100k, Marek Blasko opened to 225,000 in the first position, and then called after Mykolo Kostyrko moved all-in for 645,000 in midfield. It was a race with Blasko's pocket sixes the favourite against AdJh, and it remained that way after a flop, turn, and river brought zero salvation for Kostyrko.
Christoph Rudolph Eliminated in 13th Place.
In the same level, Dario Sammartino opened to 200,000 on the button, and then called when Christian Rudolph moved all-in for approx. 1,400,000 in the small blind. Sammartino had queens for the easy call. Rudolph tabled Ah8c, and despite flopping a second eight, couldn't catch up.
David 'ODB' Baker Eliminated in 12th Place.
A few hands later, and Alexandros Kolonias opened to 210,000 from the cutoff and then called when David 'ODB' Baker moved all-in from the big blind. It was another race, this time with Kolonias having to play catch-up, and that's what he did, flopping a second ace to ensure that AhQd beat JhJs of the Player of the Year pursuing Baker.
Jan-Peter Jachtmann Eliminated in 11th Place.
With blinds at 60k/120k/120k, Jan-Peter Jachtmann opened to 280,000 from under the gun and then jammed after Anh Do had three-bet to 980,000 in the big blind. Jachtmann showed jacks; Do showed kings, and both players flopped a set and nothing more leaving the former WSOP bracelet winner with the following day to fill.
Daniel Rezaei Eliminated in 10th Place.
The action remained in the same level when Daniel Rezaei moved all-in for 1,080,000 from the small blind holding Ad2d, and Kolonias woke up with pocket jacks in the big blind. There were no aces, no deuces, no wheel draws, no diamonds – nothing but an exit for Rezaei.
Unofficial Final Table Redraw
Seat 1: Rifat Palevic – 4,695,000
Seat 2: Marek Blasko – 1,415,000
Seat 3: Julien Martini – 7,280,000
Seat 4: Anh Do – 8,255,000
Seat 5: Claas Segebrecht – 3,060,000
Seat 6: Dario Sammartino – 8,840,000
Seat 7: Anthony Zinno – 8,630,000
Seat 8: Jakob Madsen – 2960,000
Seat 9: Alexandros Kolonias – 8,970,000
Marek Blasko Eliminated in 9th Place.
With blinds at 100k/200k/200k, Anthony Zinno opened to 450,000 in early position, and Marek Blasko called from the cutoff. The dealer laid AcQh8s onto the flop as carefully as runny eggs on toast. Zinno bet 2,000,000, and Blasko, who had an inferior stack, made the call. Blasko must have been delighted when he saw Zinno's KcTc for the straight draw, as he held KsQs for middle pair. The turn was the Th to give Zinno more outs, and the Ts on the river was one of them. It was a cruel way for Blasko to bow out, but bow out he did.
Jakob Madsen Eliminated in 8th Place.
Anthony Zinno made it 500,000 to play with blinds still at 100k/200k/200k. Jakob Madsen moved all-in for 2,060,000 in mid-position, Kolonias made the call from the hijack, and Zinno folded. It was another flip with Kolonias's pocket jacks going toe-to-toe with ace-king, and the jacks won.
Julien Martini Eliminated in 7th Place.
The tournament reached the final table during the same level, and Julien Martini was the last man not to make it. The Frenchman opened to 450,000 from the hijack, Do called in the cutoff, Zinno squeezed to 1,700,000 from the big blind, Martini moved all-in for 5,870,000, Do folded, and Zinno called.
Cooler time.
Martini showed pocket queens, Zinno showed pocket aces, and that's why the World Poker Tour (WPT) Champions Club member begins the final day of the WSOPE Main Event with the chip lead.
Final Table Seat Draw
Seat 1: Rifat Palevic – 2,915,000
Seat 2: Anh Do – 8,725,000
Seat 3: Claas Segebrecht – 6,400,000
Seat 4: Dario Sammartino – 7,100,000
Seat 5: Anthony Zinno – 16,845,000
Seat 6: Alexandros Kolonias – 12,150,000
Both Zinno and Palevic have WSOP bracelets in a draw at home somewhere (Zinno has two). Sammartino becomes only the fourth player in history to make the final table of both the WSOPE and WSOP Main Event in the same year. Not bad for someone who recently became semi-retired.
Here are the payouts.
€1,133,678
€700,739
€485,291
€341,702
€244,653
€178,171