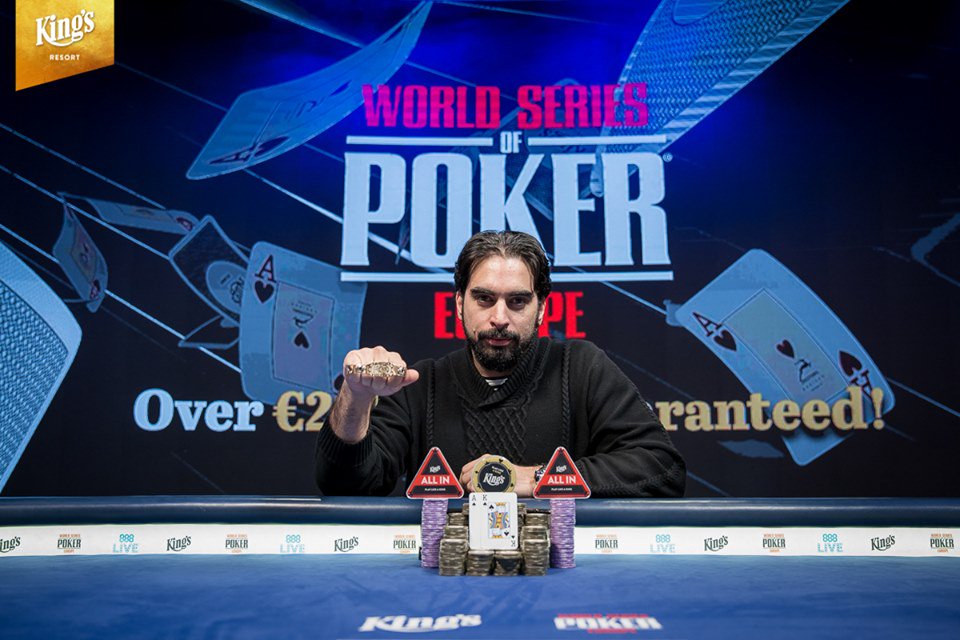 The World Series of Poker (WSOP) doesn't have a moonwalk in this choreography.
There's no need to backpedal.
In 2015, only 313 people entered the World Series of Poker Europe (WSOPE) Main Event. What had once been one of the biggest monsters in the European tournament calendar, was comparable with bugs on a windshield.
Something had to change to protect the brand – in stepped Leon Tsoukernik.
Since Tsoukernik partnered with the WSOP, numbers have swollen to 529, 534 and, this year, 541. It's the second most significant attendance in WSOPE Main Event history (593 = 2011), and Alexandros Kolonias took it down to Athens town.
Kolonias is no shoplifter when it comes to significant buy-in events. In 2016, he earned €805,900 after finishing runner-up to Alexandru Papazian in a €25k event at the European Poker Tour (EPT) in Monte Carlo. But Kolonias was by no means the star attraction at this top table.
Anthony Zinno and Dario Sammartino shared that billing.
Zinno was one of two members of the final table to have won a WSOP bracelet (Rifat Palevic, the other), and with three World Poker Tour (WPT) titles to boot, and the chip lead – Zinno was the man holding all of the hostages.
In making the final table, Sammartino became only the fourth player to make the final table of the WSOP and WSOPE Main Event in the same year. None of the previous three had won either of them.
Claas Segebracht is a former Master Classic of Amsterdam Main Event winner, leaving Anh Do as the only player who seemed a tad out of place when it came to his live tournament resume.
Here is the pistachio nutshell action.
The Nutshell Action
Final Table Seat Draw
Seat 1: Rifat Palevic – 2,915,000
Seat 2: Anh Do – 8,725,000
Seat 3: Claas Segebracht – 6,400,000
Seat 4: Dario Sammartino – 7,100,000
Seat 5: Anthony Zinno – 16,845,000
Seat 6: Alexandros Kolonias – 12,150,000
Alexandros Kolonias was the first player to rip the hood from the Day 5 executioner, Anthony Zinno when the Greek star won a series of chunky pots to take the chip lead.
Then in Level 30, we lost Rifat Palevic.
With blinds at 120k/240k/240k, Palevic moved all-in for 2,650,000 when the action folded to him in the small blind, and Anh Do called from the big. Palevic turned over Kh2d, and Do showed pocket queens. King-deuce rarely picks the pocket of one of the two ladies, and Palevic's vision of utopia crumbled by the time the dealer had gotten to the river.
Dario Sammartino then doubled through Kolonias when pocket kings beat pocket jacks, and after moving into Level 31, Do doubled through Zinno when AhJh found an ace on the flop to beat pocket kings. Do then passed those chips to Sammartino in a hand that reeked of manure. The pair got it in with Sammartino well behind with pocket jacks squaring off against pocket queens, only for a third jack to spring out of a box marked 'turn.'
Do then gained revenge doubling with Js9c versus Th5s in a button versus big blind battle, but it was not enough to help him avoid a fifth-place exit.
With blinds at 150k/300k/300k, Do opened to 1,800,000 from the cutoff, and Claas Segebracht called on the button. The dealer placed AdJd9d onto the felt, and Segebracht called when Do moved all-in for 450,000. Do showed Kh9h for bottom pair, but the German had him crushed with pocket kings, including the king of diamonds for the flush draw. The Ts and 3h finished the action, and Do was done.
Chip Counts
Alexandros Kolonias – 20,775,000
Claas Segebrecht – 19,100,000
Dario Sammartino – 9,450,000
Anthony Zinno – 4,775,000
Kolonias lost the chip lead for the first time since taking it from Zinno, and Segebracht was the pincher. Then Zinno delivered skewered an internal organ when his pocket queens doubled up through Ah8h. Zinno moved into the second spot after doubling through Sammartino KcTc>AcJs after flopping a king when all-in pre-flop.
Moments after doubling up Zinno, the sophisticated Italian gained revenge when pocket tens beat ace-seven, all-in, pre. But Sammartino couldn't make thunder roar twice when he got it in with AK versus the JT of Segebrecht with the German flopping a jack to send Sammartino's perfectly coiffured hair smashing into the rail.
Kolonias fell to the bottom of the three-handed barrel before climbing back up courtesy of a double-up through Segebrecht when Ad3s found a doubled paired board of kings and queens to beat pocket nines when all-in, pre-flop. Then Kolonias doubled into the lead in a hand that left Zinno shorter than a Liliputian.
With blinds at 250k/500k/500k, Zinno moved all-in from the small blind for 15,250,000, and pocket treys and Kolonias called and won with AcJc. Zinno then added a double to a triple to get back into contention until Kolonias sorted him out.
With blinds at 300k/600k/600k, Zinno moved all-in from the big blind for 7,650,000 after Kolonias had opened to 1,300,000. Kolonias called and had some catching up to do with JdTh facing Ad9c. Kolonias did catch up when a second jack hit the flop, and Zinno's hand never improved.
Heads-Up
Tale of the Tape
Alexandros Kolonias – 31,100,000
Claas Segebrecht – 23,000,000
Segebrecht doubled through Kolonias to bring the chip counts to scale level after the following hand.
With blinds at 300k/600k/600k, Kolonias opened with a raise from the small blind, and Segebrecht made the call. The flop was a wet-looking AdTc9c, and Segebrecht check-called a 1,000,000 Kolonias bet. The 4c arrived on the turn, and both players checked to the Ts on the river. Segebrecht check-raised all-in; Kolonias called and was surprised to see that his trip tens (JsTh) had lost to a full-house (AcAs).
Then it was all over.
Kolonias opened to 1,200,000 holding AsKs and called when Segebrecht moved all-in holding pocket treys. The second king arrived on the flop, and then Kolonias rivered a flush to seal his most magnificent of victories.
Final Table Results
Alexandros Kolonias – €1,133,678
Claas Segebrecht – €700,639
Anthony Zinno – €485,291
Dario Sammartino – €341,702
Anh Do – €244,653
Rifat Palevic – €178,171
Julien Martini – €132,017
Jakob Madsen – €99,555
Four more high rollers who went deeper than an angler fish in this one were Alex Foxen (26th), Martin Kabrhel (41st), Benjamin Pollak (47th), and Joao Vieira (49th).