It's time to break down the broad beams of poker's Triple Crown.
Adrian Mateos is pushing the issue.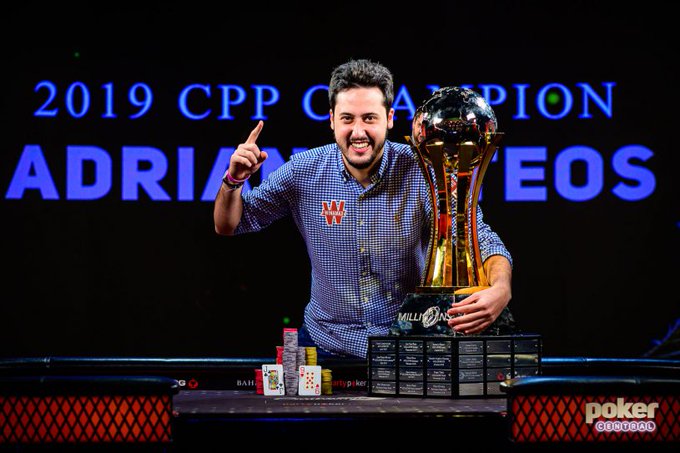 The #1 All-Time Spanish Money earner has had a MILLIONS World Bahamas that would make even the hardest poker sceptic hum with admiration. Less than a week ago, Mateos was the most chilled person in the house, taking down the $25,000 No-Limit Hold'em MILLIONS Super High Roller for $520,464. He's just added another $1,162,805 to his bank balance after surviving the 948 entrants in the $10,000, $10m GTD MILLIONS World Bahamas Main Event.
It's Mateos's 16th win of his career and his second of 2019. It's also his third seven-figure score, and the following accomplishments rank amongst his roll call:
The 2013 World Series of Poker Europe (WSOPE) Main Event.
The 2015 European Poker Tour (EPT) Grand Final in Monte Carlo.
The 2016 World Series of Poker (WSOP) $1,500 No-Limit Hold'em.
The 2017 WSOP $10,000 Heads-Up Championship.
All of this means Mateos is a World Poker Tour (WPT) title away from being the only player in history to win all four majors.
As I said, those beams are coming down, and it's the calloused trophy hands of Mateos ripping them apart.
Here is the nutshell action.
The Nutshell Action
Final Table Seat Draw
Seat 1: Peter Jetten – 41,500,000
Seat 2: William Blais – 120,000,000
Seat 3: Aaron Van Blarcum – 144,000,000
Seat 4: Scott Wellenbach – 87,000,000
Seat 5: Adrian Mateos – 144,000,000
Seat 6: Chris Hunichen – 305,000,000
Seat 7: Oleg Mandzjuk – 61,500,000
Seat 8: Gregory Baird – 44,500,000
Chris Hunichen opened with a raise to 9,000,000 from midfield, Gregory Baird three-bet 44,000,000 from the cutoff, Hunichen put Gregory all-in, and he called for his last million. When the hands were turned over, Baird felt as warm and cosy as Angelina Jolie's lips, with sevens ahead of sixes. Those lips would soon feel cracked, however, when a third six hit the river to send Baird to the rail.
Then we lost Peter Jetten after the Canadian moved all-in for 39,500,000, holding KdTh, and Scott Wellenbach found pocket queens and the call from the big blind. Jetten would river a second ten, but it wasn't good enough, and the rail beckoned.
Aaron Van Blarcum needed a little nudge to get going, and it happened when William Blais moved all-in for 125,000,000 on the button, and Van Blarcum called with the smaller stack from the small blind. Blais turned over 9d7d, and Van Blarcum was ahead with AdQs, and a second queen on the turn dashed all hope for Blais.
The mandatory German final table incumbent ran out of magic dust in the sixth spot. Scott Wellenbach opened to 12,500,000 from the hijack seat, and then called with a covering stack when Oleg Mandzjuk moved all-in for 51,500,000 from the small blind. Wellenbach was ahead with Ad8d versus 5d4d, and Mandzjuk went straight to hell without passing go after Wellenbach turned the nut flush.
William Blais followed Mandzjuk into the fire not long after. Hunichen opened to 12,000,000 from the cutoff, Blais three-bet to 19,000,000 from the button, and then called when Hunichen moved all-in with the bigger of the two chip collections. Blais was ahead with As8d facing off against QcTh, but the Qh on the river drew a suffocating veil over the head of Blais who then stumbled over the rail, and nobody ever saw him again.
The elimination of Blais gave Hunichen a massive chip lead.
Chris Hunichen – 472,000,000
Aaron Van Blarcum – 175,500,000
Adrian Mateos – 166,000,000
Scott Wellenbach – 134,500,000
Wellenbach had the lowest stack, and the next elimination went the way of math. The action folded to Van Blarcum in the small blind, and he moved all-in for 121,000,000, and Wellenbach called for 45,500,000. Van Blarcum tabled Ad9h and was ahead of the Qh5c. It stayed that way for five community cards, and Wellenbach left the tournament with a big smile on his face, hiding a smidgen of disappointment.
Then came one of the pivotal passages of play in the tournament.
Hunichen had become a flock of red-billed quelea, with everyone else looking exceedingly hummingbird-like, when Mateos decided to open his wings and flap up a storm.
Firstly, Hunichen opened to 15,000,000 on the button, and Mateos called in the big blind. Three fives hit the flop, Hunichen bet 20,000,000, and Mateos called. The action checked through the Js turn, and when the 9s hit the river, Mateos check-called a 60,000,000 Hunichen bet. Mateos showed Kd9d for a full-house, and Hunichen mucked his hand.
Next, Hunichen once again opened to 15,000,000 from the button, and Mateos called from the big blind. This time the flop was AcJd6h, and Mateos check-called a 20,000,000 Hunichen bet. The 7s hit the turn, and the same action ensued for 69,000,000, and on the Ts river, Mateos checked, Hunichen moved his covering stack over the line, and Mateos called. Hunichen showed AhKd for a pair of aces, but Mateos doubled up with pocket sevens for the set.
Hunichen retook the lead without playing a hand when Van Blarcum doubled through Mateos when AcJc out flopped, turned, and rivered the pocket sevens of the Spaniard, and it was at this time that the final three players agreed upon a deal.
Chris Hunichen – $1,097,195
Adrian Mateos – $1,062,805
Aaron Van Blarcum – $970,000
No sympathy anywhere to be seen.
That left $100,000 in the middle.
The players also agreed to cut the levels down to 30-minutes.
Hunichen was the first to leave after getting it in with Ah3c against the dominating AdKc of Van Blarcum, giving the fans a heads-up encounter of even stack-sizes if not experience and skill.
Adrian Mateos – 496,000,000
Aaron Van Blarcum – 452,000,000
Van Blarcum took the lead, and then Mateos regained it, and never rescinded it. The final hand saw Van Blarcum move all-in blind, and Mateos call with Jc9h. Van Blarcum turned over Doyle Brunson's superweapon (Tc2h), and a nine on the flop cemented Mateos's position as the winner and the collector of that additional $100,000.
Final Table Results
Adrian Mateos – $1,162,805*
Aaron Van Blarcum – $970,000*
Chris Hunichen – $1,097,195*
Scott Wellenbach – $650,000
William Blais – $500,000
Oleg Mandzjuk – $350,000
Peter Jetten – $250,000
Gregory Baird – $180,000
Three other high rollers who went deeper than an osmium badge dropped into the Mariana Trench were Philipp Gruissem (9th), Alex Foxen (12th) and Ryan Riess (13th).