We begin our weekly peek into the lives of the supernatural forces that suck up poker's money with the efficiency of one of those ugly looking fish that suck up the ocean floor by focusing on the Far East, and the best goddam high stakes poker tour in the world.
The Triton crew set up camp in the Landing Casino on the island of Jeju in South Korea, and it was another sunny success for the team as they continue to provide world-class high stakes content.
Two events ended on the weekend: the HKD 2,000,000 (USD 255,000) Triton Poker Series Main Event and an impromptu HKD 1,000,000 (USD 127,000) No-Limit Hold'em Short-Deck tournament.
The Main Event attracted 48-entrants, and the Canadian Timothy Adams secured the first seven-figure score of his career after beating Bryn Kenney, heads-up, for the title, banking $3,536,550 in the process – the single biggest prize of 2019 so far.
The winner of the HKD 1,000,000 Short-Deck event was Timofey "Trueteller" Kuznetsov, who bested a field of 23-entrants, and Robert Flink, heads-up, to take the $1,859,940 first prize.
During the event, the Triton team announced that the Maestral Resort & Casino in Montenegro would host the next event 4-16 May.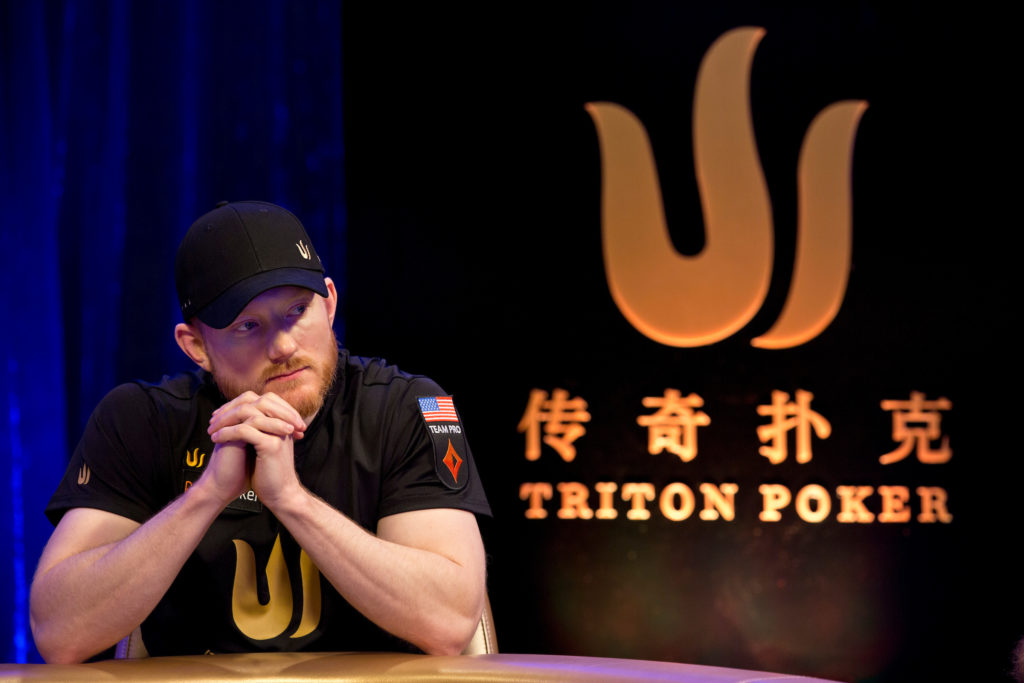 Triton Ambassador, Jason Koon has become symbolic as the Triton Poker Titan, and he was once again the undisputed star of the series making four final tables, winning two events, and earning a gross income of $4,552,604.
But the man is tired.
It's official.
In a new blog penned for his role as partypoker Ambassador, Koon, talked about the toll that competing at the highest stakes in the game is having on his health.
"It's as though there is a callus that has thickened around my soul," said Koon before continuing. "The calloused mental state can help you perform at your highest levels in poker; there is no doubt. That said, I'm not sure it's a place any of us should linger for too long. In my opinion, it's essential for us to try to reconnect with our human side as often as possible. The only way for me to achieve this is to get back to the basics of things that provide fulfilment in my life. Getting outside, being around loved ones, exercising, or slowing down for a minute to appreciate a beautiful sunset."
You can check out the blog right here.
https://problog.partypoker.com/2019/03/im-tired.html
Maybe Koon will get to appreciate a beautiful sunset during his tour of duty in Rio for the partypoker MILLIONS South America. The tour runs from March 15 – 24 and features a couple of $25,000 High Roller events. One high roller in town is Phil Hellmuth Jr., who partypoker has flown in to give the game some pomp and circumstance, and on Monday the 15-time World Series of Poker (WSOP) bracelet winner will be hosting a special poker seminar.
Hello James Bond (and Jaws)! Top of Sugar Loaf: great view of Rio De Janiero #PHNiceLife #POSITIVITY #JawsAttackingBondOnCableCars pic.twitter.com/oWU8fddobp— phil_hellmuth (@phil_hellmuth) March 14, 2019
Live Tournament Round-Up: Cheong is a Winner; Mizrachi in Charitable Mood
One man who likes to flick in a $25,000 buy-in on occasion is Joseph Cheong, and it's been a decent week at the tables for the former November Niner.
Cheong finished 8/280 in the World Poker Tour (WPT) Rolling Thunder Main Event for $38,190 and then went on to win a 113-entrant event at the Wynn Poker Classic for $73,269.
It hasn't been a stroll in the park for Cheong though, who came across an interesting problem this week.
What do you do when a bad player at your table subjects you too racist chants, and it's not +EV to land him with a penalty?
Some redneck said something racist to me just now. But hes so bad I dont want him to get a penalty. Thoughts?— Joseph Cheong (@subiime) March 10, 2019
Robert Mizrachi was in a more charitable mood that Cheong's bully. The high stakes cash game star is giving his new Twitter followers the chance to win 1% of his action in the $50,000 Poker Player's Championship at the WSOP, and donate a further 1% to a charity of your choice.
With four WSOP bracelets already in the bag, it's a fine freeroll.
Follow me and retweet for a chance to win 1% of me in the 50K championship this year wsop. Feeling good. And 1% donation to a charity of you're choice. 😉.— Robert Mizrachi (@PokerRob24) March 12, 2019
On Life: Doug Polk and Bonomo Debate Immigration; Negreanu on Adoption
Jason Koon isn't the only high roller writing about the need to take better care of himself. This week, Doug Polk continued to ease his foot off the accelerator by suggesting he may follow up with his retirement from poker by ending his vlogging exploits.
Havent had the passion to make videos lately. Been really happy spending my time working on being healthy and spending time with friends and family. I dont see that changing in the near future, not sure if im gonna get back into make videos or not.— Doug Polk (@DougPolkPoker) March 14, 2019
If Polk wants to reduce activities that negatively impact his health and wellness, maybe he should consider retiring from social media. Not one to shy from a Twitter debate, this week, Polk crossed swords with Justin Bonomo on the topic of immigration, specifically anti-Muslim bigotry in the States.
Bonomo began the debate by suggesting that people who choose not to speak out against Donald Trump and his 'Muslin ban' have blood on their hands.
Anti-Muslim rhetoric, hate, and violence are a disease. They spread, like a disease

We currently have a Muslim ban in the US

If you did not speak out against Donald Trump and his Muslim ban, you are responsible for the spread of this disease

You have blood on your hands today.— Bonologic (@JustinBonomo) March 15, 2019
Polk responded by stating that "blaming those who do not speak out against the Muslim ban as having blood on their hands, is completely ridiculous," while voicing his opinion that you can't hold Donald Trump responsible for 'horrible people' who 'will kill people who do not share their beliefs."
The back and forth even forced Polk to produce one of his famous graphs; only this one had nothing to do with poker.
Given that 49 Muslims were shot dead in New Zealand this week, it's a timely debate, and you can have your say by following Bonomo's post above.
Not many people can match Polk for kicking up a social media storm, but Daniel Negreanu is undoubtedly one of them.
On March 5, Negreanu told his Twitter followers that he had limited social media use to zero and then to 30-minutes a day, and how his quality of life is now 'noticeably better along with my happiness level.' Maybe he should have extended that ban to podcast appearances.
During an episode of the DAT Poker Podcast called "Twitter Questions, Crazy Stories…" Negreanu shares his plans to build a family with his fiancé Amanda Leatherman, and Unibet Ambassador, Dave Lappin, was not happy with his views on adoption.
Quoting Negreanu from the podcast:
"A boy first, a girl second + then we 're gonna buy a couple. I know you're not supposed to say 'buy' because it's somehow offensive to people but fuck it, I don't care! 'Adopt' might be the word you use because it's cute, but it's fucking buying," Negreanu said before continuing, "You pay these people money, and they give you a baby. I am going to purchase a couple of babies, along with a couple we are going to have. That's the plan we are going to have four."
When his host asked him if he would adopt home or abroad, Negreanu said, "I think you will get a much better deal going abroad. Maybe a two for one deal, we'll see."
Negreanu is laughing while making the statement, but Lappin didn't think it was funny, and posted the quote on social media, resulting in this response from Negreanu.
Man is planning to adopt children and give them a better life.

He jokingly describes the process as "buying kids."

Faux Twitter outrage focuses on the term "buying" rather than the act of helping children in need.

You can't make this shit up.— Daniel Negreanu (@RealKidPoker) March 15, 2019
What're your thoughts?
Is Negreanu out of line, or is it ok for him to have a bit of banter seeing as he is likely to give two children a better life?
And that ladies and gentlemen, is this week's Pinnacle.