If the Global Poker Index (GPI) had an award for Resurrection of the Year, Elio Fox would have made the nomination list. In 2011, Fox earned $2,669,311 playing live tournaments, including winning the World Series of Poker Europe (WSOPE) Main Event in Cannes for €1.4m.
Then nothing.
I doubt Fox became a tree surgeon, dedicating his time to saving the dying elm from the microfungus dispersed by bark beetles. There were games. Fox was in them, winning, but they weren't live multi-table tournaments (MTTs).
Then last year, Fox returned from his deep freeze after a stunning showing at the World Series of Poker (WSOP) saw him win a bracelet in the $10,000 No-Limit Hold'em Super Turbo Bounty, and then finish runner-up to Nick Petrangelo in the $100,000 No-Limit Hold'em High Roller for $1,798,658.
Fox allowed the tugboats to pull him through the high stakes water for a full year, earning $4,277,915, his best-ever haul, and with it, five tournament wins, including a victory in the $50,000, $1m GTD No-Limit Hold'em Super High Roller at the World Poker Tour (WPT) Seminole Hard Rock Poker Showdown in Florida.
He's just defended that title.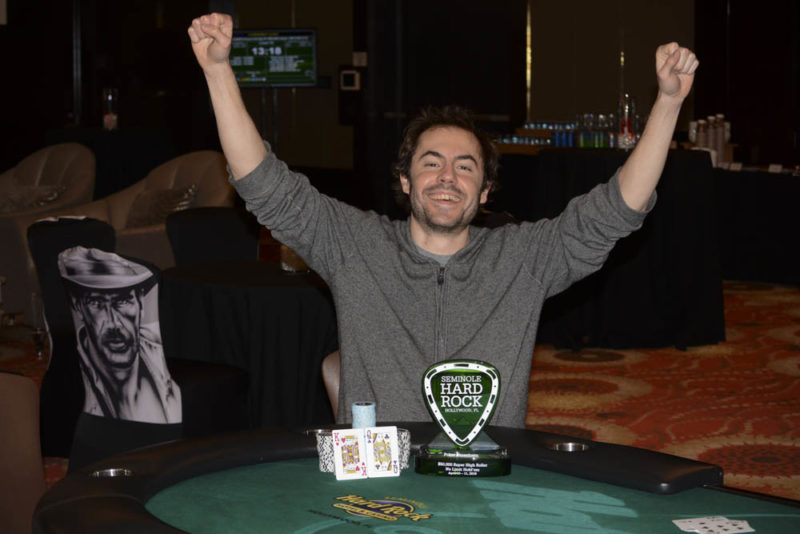 Fox defeated a field of 20-entrants to capture the $440,000 first prize and then finished 5/182 in a $2,200 No-Limit Hold'em event at the same series. With the WSOP in tripod range, is Fox getting ready to leave his burrow once more?
$50,000 ITM Results
Elio Fox – $440,000
Sam Soverel – $260,000
Alex Foxen – $180,000
Ali Imsirovic – $120,000
Fox was in esteemed company. Sam Soverel is the reigning Poker Central High Stakes Player of the Year, Alex Foxen is the current Global Poker Index (GPI) World #1, and then you have Ali Imsirovic.
Imsirovic was one of the stars of 2018, and the poker community recognised him as such in awarding him the Breakout Player of the Year at the Global Poker Awards (GPA) in Las Vegas a fortnight ago. Imsirovic has started 2019 brightly by winning a $10,000 No-Limit Hold'em High Roller at the Bellagio, beating 21-entrants to claim the $105,000 first prize.
$10,000 ITM Results
Ali Imsirovic – $105,000
Kristen Bicknell – $63,000
Seth Davies – $42,000
There were two $10,000 events on the schedule, and Davies won the other one.
$10,000 ITM Results
Seth Davies – $105,800
Aram Zobian – $64,400
Rodger Johnson – $36,800
Alex Foxen – $23,000
When the GPA Jury pondered the Breakout Player of the Year award, it couldn't have been a massacre with Michael Soyza also in the shortlist. The Malaysian star didn't allow the snub to affect his performance on the felt, after winning the KRW 10,000,000 No-Limit Hold'em Super High Roller at the Asia Pacific Poker Tour (APPT) in Paradise City, Incheon, South Korea.
Soyza conquered a field of 65-entrants to win the $157,164 first prize and tweeted: "Ran like God, shipped a tournament. May the heater never end."
It's a sweet spot for Soyza after winning the KRW 1,800,000 buy-in Main Event at the same APPT last year for $148,628.
APPT Super High Roller ITM Finishes
Michael Soyza – $157,164
Jiang Chen – $112,834
Huahuan Feng – $73,341
Irshat Shaykhov – $55,342
Wayne Heung – $42,983
Yake Wu – $33,315
Wai Chan – $26,330
Jun Obara – $20,418
Hideki Izutsu – $15,582
Sticking with the Asia-Pacific region and Michael 'The Grinder' Mizrachi is becoming a frequent feature down under. In 2018, the 3-time WSOP Poker Player's Championship winner joined forces with the former WSOP Main Event Champion, Joe Hachem, to add some spice to the Australian Poker Tour (APT), and this year he returns May 23 – 26 to compete in the APT Sydney series.
Finally, partypoker is the Official Live Tour Partner of the Triton Poker Series, and the first event where these two titans will join forces is Triton Poker Series Montenegro – a massive ten-day festival of poker featuring two €110,000 buy-in Main Events in both No-Limit and Short-Deck formats.
High Stakes Insights: Negreanu's Diet; Smith's Love for Chess; Hellmuth's Business Deals & Fedor Flabbergasted
Most of us drop the fishing line and come up with a tiddler or two. These guys and gals have an uncanny knack of pulling in more whales than the nasty lot that were caught on hidden cameras filming The Cove.
How do they do it?
When you and I are squeezing blackheads, what are the princes and princesses of poker up to?
The last time we caught up with Dan Smith, he was snowboarding in Japan before spending time in Jeju at the Triton Poker Series. Today, you can find him in Rejkavik, Iceland, where he is competing in the Rejkjavík Open chess competition, an event that predates the WSOP (it began in 1964).
Phil Hellmuth Jr's brief alliance with partypoker is on the back burner after his first visit to South America where he appeared in the MILLIONS South America event, and that's given him time to delve into his business dealings. This week the 15-time WSOP bracelet winner joined the advisory boards of Lasso Compression Socks and a gaming company called Shake It Up Dice.
Fans of Fedor Holz got a treat this week when the German star appeared as a guest on Jonathan Little's Primed Mind spot to answer a series of questions about poker and life. Check it out.
And Holz also got the opportunity to turn into a fanboy after posing for a picture with his idol, the Paris Saint-German (PSG) coach, Thomas Tuchel.
Finally, what do vegans eat when they get to poker's top table?
Not a lot.
Here's Daniel Negreanu's diet for the week.
High Stakes Battles: Negreanu v Chip Race; Johnnie Vibes v The World
In between eating, 'big hearty salads', and drinking 'magic mushroom lattes,' Negreanu found the time to get involved in two high profiles spats last week.
The first occurred during the GPA a fortnight ago and rolled into this week when allegations emerged that Negreanu said "Ewww" when the Chip Race won the Podcast of the Year award.
There is no love lost between The Chip Race founders Dara O'Kearney and Dave Lappin and the PokerStars Ambassador, and their feud recently came to boiling point after the Irishmen lambasted Kid Poker for his comments on what type of players are good and bad for poker.
Well, it seems this one is never going to end after allegations surfaced that Negreanu hinted that there might have been some subterfuge within the GPA Jury that may have helped the Chip Race get over the finishing line.
Of course, this resulted in an angry exchange on Twitter between Lappin and Negreanu (I believe Negreanu blocked O'Kearney during the last battle), where Negreanu declared that he didn't like Lappin, thought he was a sanctimonious wanker, and even went as far as to call him a liar, liar, pants on fire!
Lappin responded in print, penning a blog post called 'Who is The Real Troll?' critiquing Negreanu for bashing a show he has never listened to (http://rocshot.com/lappin/269-who-is-the-real-troll/), and Negreanu reacted by posting a soundbite of the DAT Podcast episode defending himself against the allegations that he suggested the award was rigged.
"I am pretty sure what happened with this one – and I don't want to 'reveal' because I have an inside source – I don't think the panel listens to all the podcasts, and some voices may have been louder than others and convinced others to vote," said Negreanu.
The second time Negreanu surfaces this week is in the role of protector after Doug Polk and Shaun Deeb publicly shamed GPA Poker Personality of the Year nominee Johnnie "JohnnieVibes" Moreno for selling a WSOP package to his fans at 1.38 markup despite only winning $66,844 in live tournament earnings.
Deeb began the fight by telling Moreno that in selling a package for almost 1.4 markup means 'you're scamming people,' and Polk added a dose of sarcasm by pointing out his $66,844 in Hendon Mob cashes stating, "Not cool Deeb, Johnnie is an excellent tournament player (He talks about it in his vlog all the time). If he wants to sell at 1.38 on 43k worth of buyins, investors are getting a deal!"
As the debate raged on with most of the voices seemingly siding with Deeb and Polk, Negreanu ran to his aid pointing out that it's 'IMPOSSIBLE to get a totally accurate ROI for any tournament. You can ballpark, but no one knows. It's not scamming at all IMO."
You can have your say by following Negreanu's involvement from this point onwards. (https://twitter.com/RealKidPoker/status/1116771239572332544)
Tweet of the Week
And that leads us nicely to the Tweet of the Week.
We considered Sorel Mizzi's recent fascination with the duck on duck violence that is plaguing our planet (think twice before letting your kids throw bread to them unless you want to explain duck rape to a two-year-old).Another day another duck fight. #SunsetPark pic.twitter.com/r3zUQ3mTJf— Sorel Mizzi (@sorelmizzi) April 9, 2019
We also thought long and hard about giving the award to Bill Perkins for his thoughts on shorting the sperm bank to egg bank spread, and his subsequent reversal of thought after seeing this dandy little machine.
But in the end, the award went to Chris Kruk for the sheer passion that led to this War & Peace take on the Johnnie Vibes affair.