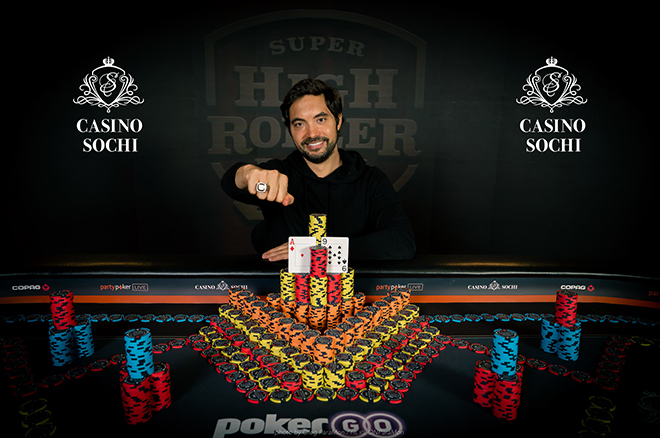 People have to earn a crust, Coronavirus or no Coronavirus. Still, you can guarantee that for the 50 or so people who descended on the Sochi Casino in Russia for the inaugural partypoker MILLIONS Super High Roller Series it will be a relief to go home finally.
Before the madness hits Russia, and casino doors close indefinitely, Timothy Adams leaves with $3,600,000 reasons to be happy after winning the $250,000 buy-in Super High Roller Bowl (SHRB) Russia.
In doing so, Adams becomes the second player to win two SHRB titles, and the only player to do so back-to-back after conquering a 16-entrant field to win the $1.4m first prize in Australia barely a spit ago.
The win sees Adams all-time live tournament winnings rise to $24.3m. He moves seven places up the All-Time Money List surpassing luminaries such as Rainer Kempe, Brian Rast, Sam Trickett, Sam Greenwood, Phil Hellmuth, and Scott Seiver.
One person, Adams, did not overtake was his heads-up opponent, Christoph Vogelsang. The German star came mighty close to winning his second SHRB title before settling for the role of bridesmaid and a $2,400,000 payday that sees him leap one space ahead of Adams in the All-Time Money list at 19th & 20th place respectively.
Let's see how the whole thing went down.
The Nutshell Action
Day 1 ended with Jason Koon leading 23 of the 34 entrants on that day, and by the end of Day 2, we had a seven-seater final table with more than $142m in live tournament winnings between them.
Ben Heath led going into the bubble period.
Final Table Seat Draw
Seat 1: Ivan Leow – 720,000
Seat 2: Mikitza Badziakouski – 960,000
Seat 3: Ben Heath – 2,500,000
Seat 4: Adrian Mateos – 2,060,000
Seat 5: Stephen Chidwick – 430,000
Seat 6: Timothy Adams – 1,380,000
Seat 7: Christoph Vogelsang – 1,950,000
Ivan Leow made the first bold move, jamming ace-jack over the top of Timothy Adam's ace-three-suited, and Adams folded. The next three hands all involved post-flop agression and zero flop play, and when we did see a flop, Stephen Chidwick ended up wishing he hadn't.
Chidwick opened on the button, and Christoph Vogelsang called from the small blind. The pair looked down at a Kh5s2d flop with Chidwick holding Ah6c and AdJh for Vogelsang. The German check-called a 40,000 Chidwick bet, and soon the pair were staring at the As on the turn, which gave them both top pair. Vogelsang checked, Chidwick bet 90,000, and Vogelsang called. The 7h was the final card to decamp from the deck, and Vogelsang check-called a 200,000 Chidwick bet, leaving the man from the UK with a mere six big blinds.
Then came the one-two.
Vogelsang opened for 70,000, and Chidwick called from the big blind holding Jh9s. Vogelsang's Ah3h stayed ahead on the Qh8d4c flop, and the German called after Chidwick moved all-in for 140,000. The 6s and Ac were the final pieces of wood in this plank, and Chidwick duly walked off the edge, and the partypoker MILLIONS Super High Roller Series never saw him again.
Vogelsang hadn't finished.
The German opened to 60,000 holding Qd7d, and Ivan Leow called on the button with Ah7c. The blinds were as interested in this hand as a bowler hat at a rodeo, and the pair saw a Qh7h3d flop. Vogelsang had flopped two-pairs and Leow middle pair. The couple got it in, and the best hand held confirming Leow as the sixth-place finisher.
Then Adrian Mateos took the chip lead.
The action folded to the Spaniard in the small blind, and he got sneaky with a limp holding pocket queens. The big blind seat contained Timothy Adams and looking down at KdTd he raised to 120,000. Mateos then check-raised to 41,000, and Adams made the call. Within no time the pair were staring at a highly flammable 8d5d3s flop. Mateos led for 275,000, and Adams moved all-in. Mateos called and faded the diamonds and kings to double into the chip lead.
Adams then exacted revenge when he three-bet Mateos with pocket jacks and called when the Winamax Pro set him all-in holding ace-king. The board ran out as low as an Olympic limbo pole, and Adams also took the chip lead.
By this time Mikita Badziakouski had done nothing except admire his clobber in the reflection of other people's sunglasses. Then he found pocket tens and got it in against Ben Heath's AdQd. Heath took the lead on an ace-high flop, but Badziakouski won the hand, and doubled-up, after turning a set.
Then we lost Mateos, showing how quickly poker can put you on a pedestal, before pushing you under a plough. When the end came, it was a blind on blind battle with Heath holding AhQs and pocket deuces for Mateos. Heath flopped trips, and Mateos was drawing dead on the turn.
Chip Counts
Ben Heath – 3,600,000
Timothy Adams – 3,200,000
Christoph Vogelsang – 1,700,000
Mikita Badziakouski – 1,400,000
Badziakouski began the hustle and bustle when four-handed, taking the chip lead from Heath, and then Vogelsang became the chip leader, with Heath once again at the wrong end of a thumping.
The run of the play dictated that Heath would fall next, and that's what happened. The UK pro moved all-in for 1,200,000 from the small blind holding Qs6s, and Adams called and won with As2d. Heath picked up a million bucks for his fourth-place finish, his third seven-figure score in less than 12-months.
Adams would face Vogelsang heads-up for the title after the German despatched Badziakouski to the rail in third place. Vogelsang moved all-in from the small blind holding Jh3s, and Badziakouski called and fell holding the superior AcQh after Vogelsang flopped a pair and turned a flush.
Heads-Up
Timothy Adams: 5,200,000
Christoph Vogelsang: 4,600,000
Adams began with the chips, and the experience with 11 wins and six losses in heads-up contests, including winning his last three. Vogelsang had only reached this stage five times, losing three and winning two. Both had won SHRB heads-up confrontations with Adams winning in Australia only last month.
Adams had the better of the early exchanges, and the following hands produced a 3:1 chip lead.
Vogelsang opened the button to 235,000 with QdJs and then called when Adams three-bet to 900,000 holding KdJd. The 7s4h2s flop produced a 1,100,000 c-bet from Adams, and Vogelsang folded. Then Adams got a four-bet through holding AsTc versus Qc6d.
Vogelsang came back into contention doubling with As9c versus KcQh, but Adams always had control and secured his second SHRB victory when his Ah9s beat the Ac6d of Vogelsang in the final hand of the tournament.
ITM Results
Timothy Adams – $3,600,000
Christoph Vogelsang – $2,400,000
Mikita Badziakouski – $1,600,000
Ben Heath – $1,000,000
Adrian Mateos – $800,000
Ivan Leow – $600,000