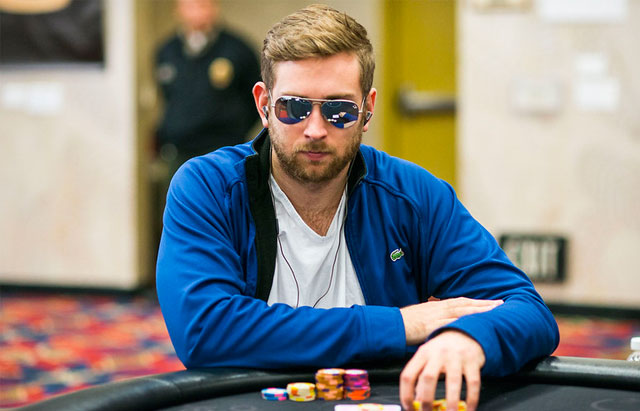 The word 'sublime' originates from 200 A.D. and the quill of Greek author, Longinus. Over time, the word slowly vanished like a modern-day glacier. Then, in 1712, a group of writers used the word to describe the feelings associated with standing on a Grand Canyon precipice, witnessing an avalanche in the Alps, or watching someone win five PokerStars Spring Championships of Online Poker (SCOOP) titles in a single series.
Connor' blanconegro' Drinan's run has been sublime.
The American pro has experienced the timeless harmony of flow on five occasions, ripping him away from a record four titles shared with Shaun Deeb.
To be fair to Drinan, he offered an apology.
And what a way to claim the record!
Drinan conquered a field of 159-entrants in the highly competitive Event #75: $10,300 Pot-Limit Omaha. He defeated Jens "Jeans89" Kyllonen, heads-up, for the title, and $322,264 in prize money. It was the most substantial single cash of his career topping the $250,724 he secured for finishing 6/693 in the 2017 SCOOP Main Event.
It wasn't easy.
The heads-up battle with Kyllonen lasted more than two hours, and Drinan had to contend with the considerable frame of Joao' Naza114′ Vieira who secured his third top-four finish of the week.
Talal Shakerchi and Linus Loeliger also made the final table.
Results
Connor 'blanconegro' Drinan – $322,264
Jens 'jeans89' Kyllonen – $245,286
Joao 'Naza114' Vieira – $186,695
'Kukenmuser' – $142,100
Gavin 'gavz101' Cochrane – $108,157
Talal 'raidalot' Shakerchi – $82,322
Linus 'LlinusLlove' Loeliger – $66,762
Drinan's Record Roll Call
Event #34: $530 PLO8 (378-entrants) – $34,420.52
Event #40: $5,200 PLO 6-Max (150-entrants) – $152,011.46
Event #45: $215 NLO8 PKO (1,052-entrants) – $14,584.62
Event #56: $1,050 H.O.R.S.E (139-entrants) – $30,232.50
Event #75: $10,300 PLO (159-entrants) – $322,264
Main Event Tables Set and High Roller Interest…Well…High
We also have the Main Event final tables, and they're pregnant with high rollers.
Here is the $10,300 Main Event Final Table Lineup.
Seat 1: Benjamin "bencb789' Rolle – 12,283,432 (41bb)
Seat 2: Pablo 'pabritz' Brito – 20,514,267 (68bb)
Seat 3: Alexgirs – 11,783,439 (39bb)
Seat 4: Pieter 'XMorphineX' Aerts – 38,539,059 (128bb)
Seat 5: Michael 'imluckbox' Addamo – 18,739,553 (62bb)
Seat 6: Alex 'dynoalot' Difelice – 8,594,592 (29bb)
Seat 7: Daniel 'Oxata' Dvoress – 28,570,379 (95bb)
Seat 8: EEE27 – 4,577,978 (15bb)
Seat 9: Max 'goodeh99' Silver – 8,647,301 (29bb)
Rolle is one of the best online multi-table tournament (MTT) players in the universe, and Addamo, Dvoress and Silver have cabinets full of live trophies. But keep an eye out for Brito who won the MILLIONS South America Main Event and the online version of the Irish Open for a combined $1.5m in gross winnings.