The most endearing thing about the Triton Poker Super High Roller Series is the intimacy, and most heroes began the journey in the same way – a home game. Over time, you miss those days, and Triton brings them back at epileptic stakes.
Take the most recent in Montenegro. When the schedule first hit media's white space, those paid to put pen to poker paper billed it as the most ambitious, most extensive and most expensive Triton tour to date.
Ten tournaments spread over a 13-day stew, only we got twelve, and the reason we had two additional events is because of that home game feel.
As we moved into the final day, with most of the sharks moving into deeper waters, those left behind demanded more action. Heads came together like a teddy bears picnic, and an HK$300,000 (US$38,000) buy-in event materialised out of the ether. It would be the first-ever No-Limit Hold'em/Short-Deck Mixed, and it would be a turbo.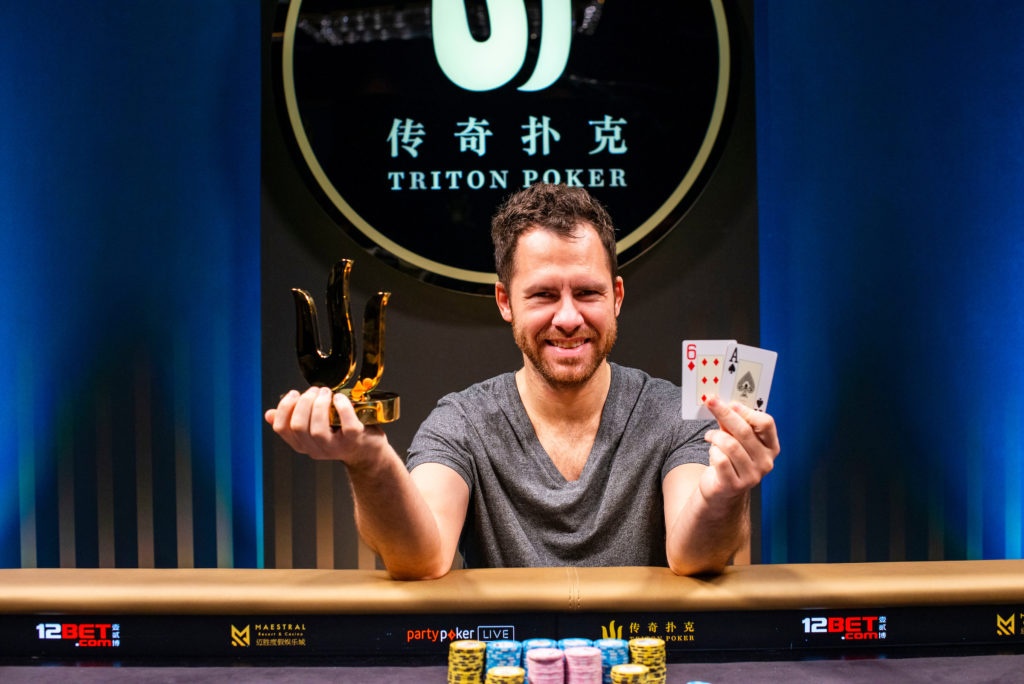 The whole thing lasted eight hours, and when all was said and done, Daniel 'Jungleman' Cates had added a second Triton title to his ever-expanding list of impressive poker achievements.
Despite most of the players leaving for pastures new, the final event of the series still attracted 27-entrants (inc. 10 re-entries), and that's not too far off the million buck prizepool mark.
Only three players would bank any money, and the man who came closest without smoking a cigar was Mike Watson, and he was as unlucky as a bear walking into a cave with the intestines of wild animals hanging from the roof just beyond his claws.
Watson got it in with QdJs on AsTs6s and was up against Td9h of Cates. The Jungleman had the lead; Watson had all the outs, and none of them leapt from the deck, sending Watson to the rail on the stone bubble.
That left three players at the top of their game, and six Triton titles between them. Rui Cao won his first title a few days ago, and he chose a big one taking down the HK$1m Short-Deck Main Event for $3.3m, but he couldn't make it title #2. The Frenchman ran AdKc into the pocket aces of Cates to leave him on fumes, and then ran 8d2d into Koon's AsQh in a hand of No-Limit Hold'em to see him go in third place for HK$ 1,560,000 (US$199,000).
Cao's elimination left us with the rather tasty heads-up encounter of Jungleman versus Koon. This trip had been the quietest of Triton trips for Koon, and so he would have been eager to finish with a win. Also, had Koon won, he would have collected a record fourth title.
It wasn't to be.
In the shortest heads-up imaginable, Koon and Cates clashed with the three-time Triton champ holding AhKh against the As6d of the Jungleman who sucked out on Koon to win the second Triton title of his career (Cates won an event in Manila back in 2016.)
The win was Cates' sixth live tournament win, and his HK$ 3,930,000 (US$501,000) cash moves his All-Time Live Tournament Money needle to the $6.7m mark. Add that to the $11m profit he has claimed during his online cash game sessions, and the untold millions he has won playing live cash games, and it's safe to say that Cates is one of the greatest players of his generation.
ITM Results
1st: Dan Cates, USA — HKD 3,930,000 ($501,000)
2nd: Jason Koon, USA — HKD 2,367,000 ($302,000)
3rd: Rui Cao, France — HKD 1,560,000 ($199,000)
The next time we will see the Triton Poker Super High Roller Series will be in July when they roll into London for the first time, planning to set a new record with a £1m buy-in event.