Raising a child is one of the most complex tasks you will encounter before you become the pig on the spit. A question guaranteed to induce insomnia in the mindful is whether to give your children oars. It starts there, then goes deeper – do you show them how to handle them, how to row, and what direction? Do you jump in, tell them to shift-over, and start rowing?
It all boils down to attitude.
How do you cultivate the right attitude, and what does right even mean? It changes depending on the art of culture and how it's spray painted over your world.
Let's start with Daniel Negreanu.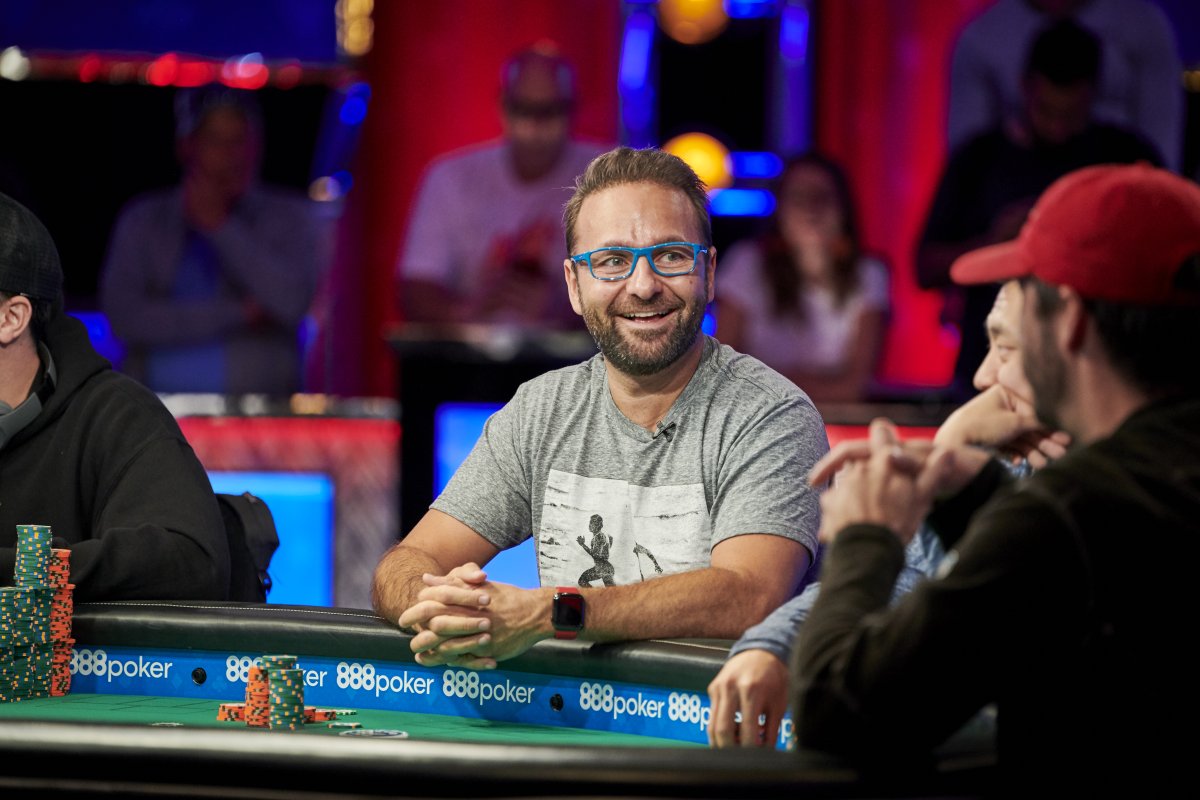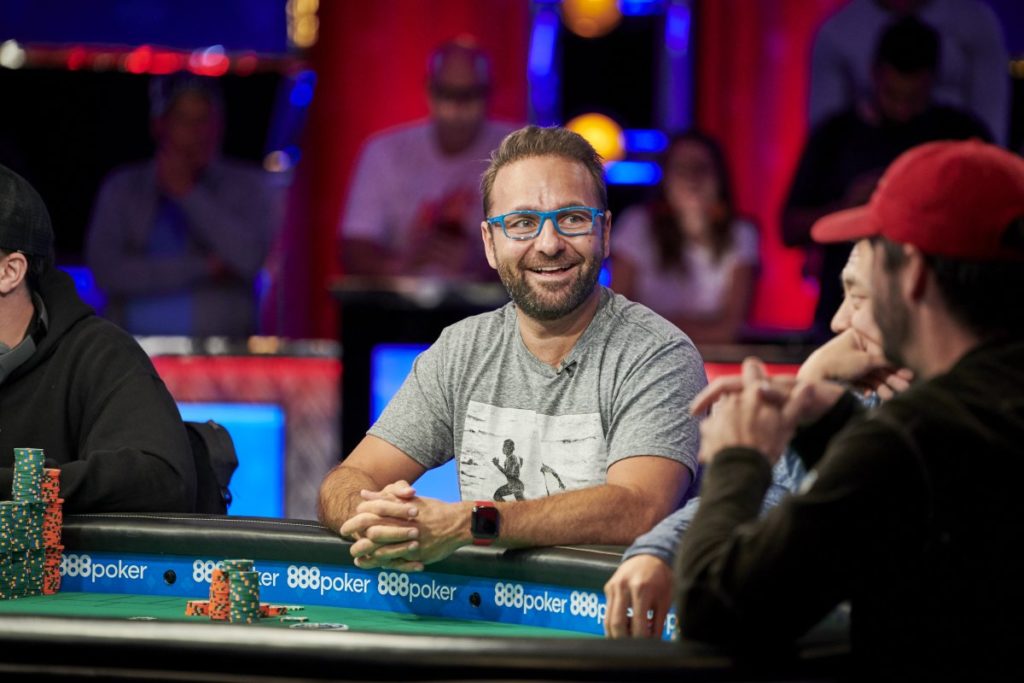 Kid Poker is the face of poker. When David Rogier and Aaron Rasmussen considered who to choose to deliver a poker Masterclass Negreanu got the call. With more than $40m earned playing live tournaments, a place in the Poker Hall of Fame, Negreanu is mustard.
Negreanu is the most successful poker player the world has ever seen because he's developed the right attitude. When it comes to the ingredients that make up a successful life, missing a ladle of 'attitude' is like making oxtail soup without the ox's tail.
Most people focus on strategy, tactics and execution – as does Negreanu, but if the attitude that underpins these essential tools is missing, you have a body devoid of cartilage.
Before the weekend blew its nose, Negreanu lost to John Hennigan, heads-up, in Event #41: $10,000 Seven Card Stud Championship. It would have been Negreanu's seventh bracelet. Instead, it's Hennigan's sixth.
It's Negreanu's eighth cash of the series, and his second final table after coming sixth in the $10,000 No-Limit Hold'em Super Turbo Bounty at the start of the summer. More notably, it's his sixth runner-up finish since winning PokerStars' Shark Cage in 2015, and his eighth since locking up his second World Series of Poker (WSOP) Player of the Year badge with a victory in the €25,600 No-Limit Hold'em High Roller at the World Series of Poker Europe (WSOPE).
If you think that's more heartache than a child feels watching Bambi for the first time, then consider that Negreanu has lost eight-times, heads-up, for a bracelet.
2017: lost to Abe Mosseri in the $10,000 Omaha Hi/Lo Championship
2014: lost to Daniel Colman in the $1m Big One for One Drop
2014: lost to Paul Volpe in the $10,000 No-Limit 2-7 Draw Lowball
2013: lost to Eli Elezra in the $2,500 2-7 Triple Draw Lowball
2009: lost to Barry Shulman in the 2009 WSOPE Main Event
2009: lost to John Parker in the $2,500 Limit Hold'em Six-Handed
2003: lost to Phil Hellmuth in the $3,000 No-Limit Hold'em
2002: lost to Mike Matusow in the $5,000 Omaha Hi/Lo Split
To come so close to the elation of victory only to step aside, suck it up and applaud while the man who got luckier than you, or played better than you, picks up the most coveted prize in poker, so many times – for that not to break you, you're going to need the right attitude.
Final Table Results
John Hennigan – $245,451
Daniel Negreanu – $151,700
David "ODB" Baker – $104,416
Mikhail Semin – $73,810
David Singer – $53,621
Chris Tryba – $40,066
Frank Kassela – $30,817
Frankie O'Dell – $24,419
Three other ghosts gliding through poker tables deep in this one were bracelet winners Michael Mizrachi (9th), Paul Volpe (11th), and Scott Seiver (12th).
Wins For Mizrachi, Mueller and Cheong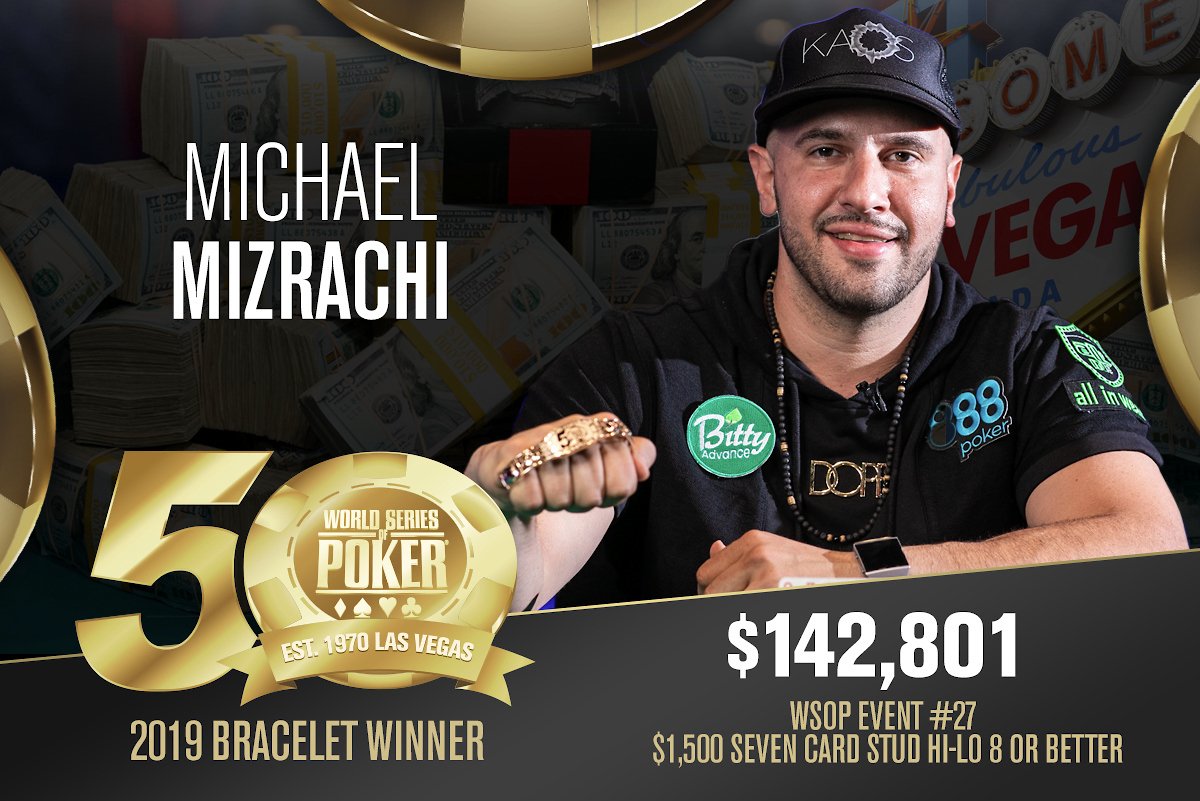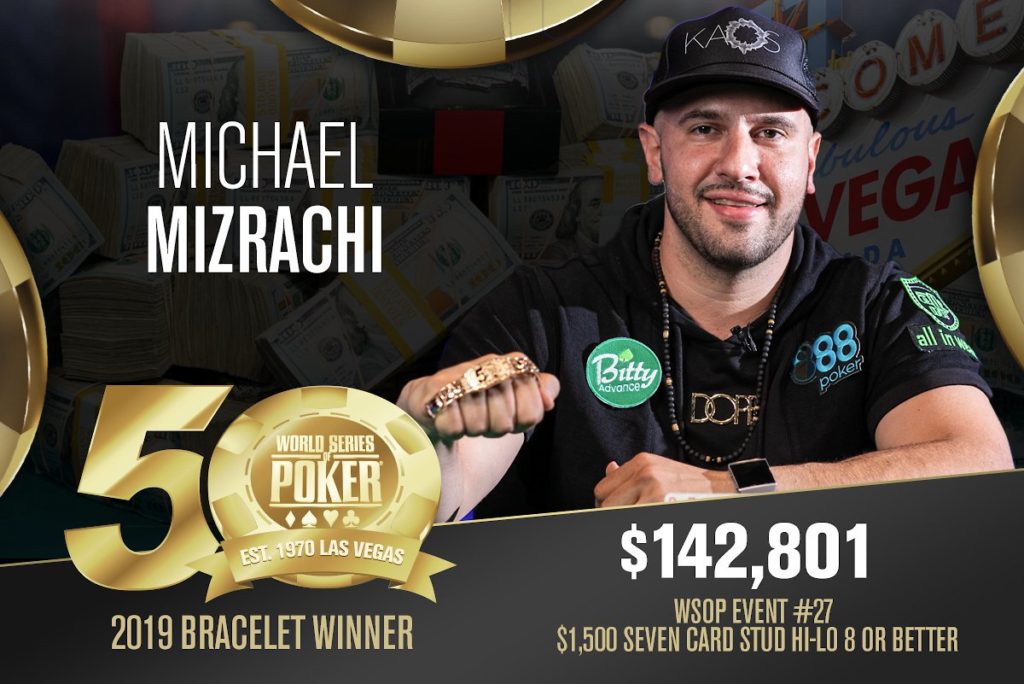 A few days before Michael 'The Grinder" Mizrachi racked up his first cash at the series with a ninth-place finish in the $10,000 Seven Card Stud Championship, he had taken down his fifth bracelet in nine years making him the most successful bracelet winner of the decade. Mizrachi beat Robert Gray, heads-up, to win the $142,801 first prize in the 460-entrant Event #27: $1,500 Stud Hi-Lo 8 or Better.
Negreanu couldn't finish for the Canadians, but Greg Mueller could, winning his third bracelet and his first in a decade, after taking down the 172-entrant Event #29: $10,000 H.O.R.S.E. Mueller won $425,347 after beating the classy Colombian, Daniel Ospina, heads-up. The race to the bracelet became so hot in this one that the WSOP needed the burns unit nearby with the likes of Dario Sammartino (3rd), Phil Galfond (8th), Anthony Zinno (10th), Brian Hastings (12th), and Jennifer Harman (16th) all coming within a cough drop of winning.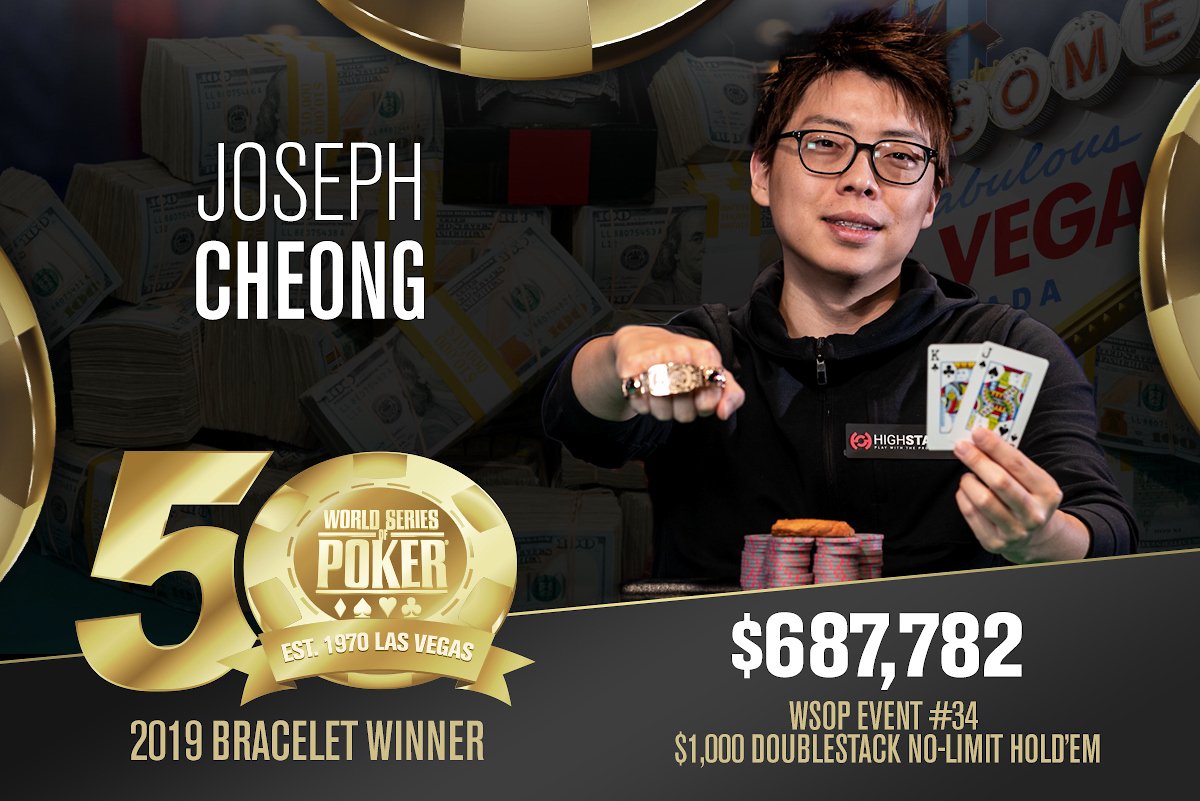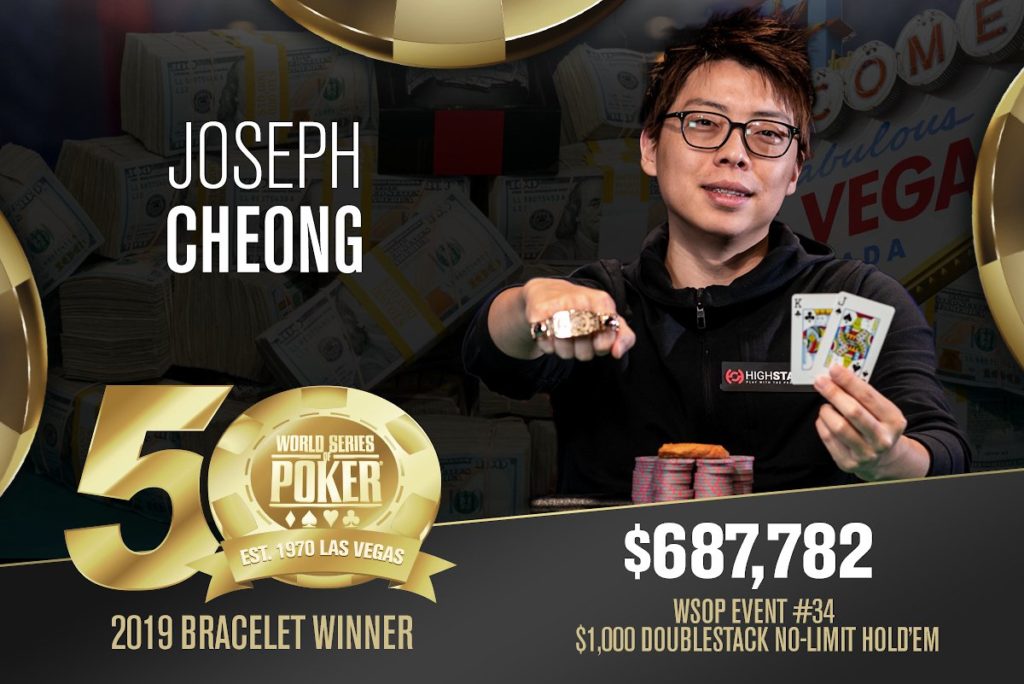 Joseph Cheong took the tag of 'one of the best players never to win a bracelet', stitched it into the fabric of a wheelchair, boarded a plane to Gatwick, took a coach to the white cliffs of Dover, and then let it trundle over the edge.
Cheong defeated 6,214-entrants to capture the $687,782 first prize and first bracelet of his career in Event #34: $1,000 Double Stack No-Limit Hold'em after beating David Ivers, heads-up.
The PokerNews crew sticking a microphone in his mush shortly after his win trying to vacuum Cheong's emotion after finally crossing the finishing line were disappointed with the response.
"I have been playing poker for so long; it was just another day at work."
Before breaking his duck, Cheong had lost three-times when heads-up for the bracelet as well as coming third in the WSOP Main Event in 2010, a performance that made him a star.
2014: lost to Steven Wolansky in the $1,500 No-Limit 2-7 Draw Lowball
2013: lost to Philipp Gruissem in an AUD 50,000 No-Limit High Roller at the WSOP-APAC
2012: lost to Aubin Cazals in the $5,000 No-Limit Hold'em Mixed Max
2010: finished third in the 2010 WSOP Main Event
The former WSOPE Main Event Champion, Jack Sinclair, finished 27th in this one.
The Best of the Rest
Phil Hellmuth ran deep in Event #28 $1,000 No-Limit Hold'em finishing 16/2477, and Shaun Deeb finished 28th in the same event. Adrian Mateos finished 22nd, and Manig Loeser finished 27th in a 754-entrant, $3,000 No-Limit Hold'em 6-Handed. Shaun Deeb finished runner-up to Adam Friedman in the $10,000 Dealer's Choice Championship. Friedman successfully defended his title in that one: Nick Schulman finished 6th, Jeff Lisandro was 10th, and Luke Schwartz finished 18th.
Andrew Lichtenberger finished 4/313 in the $3,000 No-Limit Shootout. Martin Zamani (9th), Justin Bonomo (10th), Dario Sammartino (11th), James Obst (13th), Rainer Kempe (16th), Byron Kaverman (23rd) and Kristen Bicknell (24th) also ran deep in that one.
Rainer Kempe finished 3/2403 in the $600 Mixed No-Limit Hold'em/Pot-Limit Omaha DeepStack Event with Calvin Anderson also finishing 11th in that one.
Loren Klein became only the third player to win four bracelets in four successive years when he topped the 218-entrant field in the $2,500 Mixed Big Bet Event. Mike Sexton (7th), David Benyamine (11th), Jeff Lisandro (15th), Chris Ferguson (20th), Alex Foxen (22nd) and Cary Katz (27th) ran deep in that one.