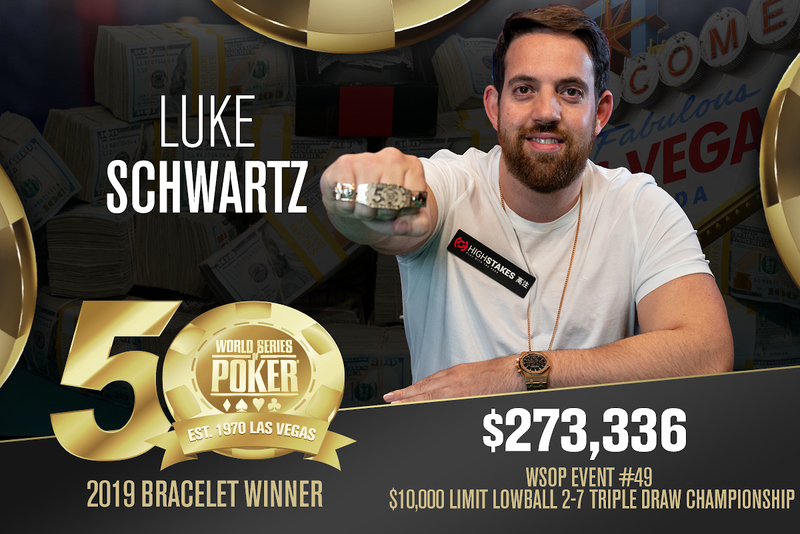 Luke Schwartz is a hawk; a pigeon killer, but deep down, inside that fist-sized blob of matter that pumps 1.5 gallons of blood around his body, there is a romantic poker idealist.
There was a time when Schwartz would have discarded the bracelet like the dead skin of a snake, with the money pulling him in like the Millenium Falcon stuck in the Death Star's tractor beam. To many, Schwartz was Darth Vadar, the ultimate bad guy; to others, he was Han Solo, a hero, albeit in the maverick sense of the word.
Today, he stands on top of the Limit 2-7 Lowball Triple Draw world, hallucinogen dizzy, after conquering a 100-player field to win his first-ever bracelet.
"It's a nice thing to have as a poker player." Said Schwartz.
The 35-year-old rarely steps foot into a live tournament arena. As a decade-plus cash game grinder, he knows the suicide rates are high if you make that move, a cautionary tale heeded as this is his first victory in an open event.
Johannes Becker, a man that Schwartz claimed is the 'best 2-7 player in the world,' led the final 32 players at the end of Day 1, with Schwartz third in chips. George Wolff led the last nine at the end of Day 2, with Schwartz, the only other player with more than a million in chips.
And it would be those three: Becker, Wolff and Schwartz that would contest the bracelet at the end of Day 3.
But before we get there, let's take a look at the nutshell action on Day 3.
Nutshell Action: From Nine to One.
Mike Gorodinsky eliminated the short-stacked Daniel Ospina. Both players drew two cards, and Gorodinsky's 8x6x5x4x3x smashed the Kx7x5x3x2x of the Colombian, leaving him a $24,604 prize for his ninth-place finish.
Mark Gregorich eliminated Brian Hastings in eighth place when his Jx7x4x3x2x beat Jx8x7x4x3x, and we lost the former WSOP Player of the Year when Schwartz sent Gorodinsky to the rail with Tx7x6x5x2x beating 9x8x4x3x3x.
Schwartz then shot into the lead faster than snot flying out of an unclamped mouth suffering from a cold, when he eliminated the bracelet winner, Calvin Anderson in sixth place – 8x6x5x4x2x beating Tx8x7x6x5x.
Gregorich took his second scalp of the final table when he sent Yueqi Zhu to the cash desk earlier than he would have liked. Gregorich stood pat on 9x8x5x3x2x, forcing Zhu to break Tx9x7x6x5x, and the resulting AxKx was not the two card combo he wanted.
Schwartz then took a commanding lead into three-handed action after eliminating Gregorich – 8x6x5x4x2x beating 9x7x6x4x3x.
Schwartz – 2,750,000
Becker – 1,650,000
Wolff – 1,650,000
Schwartz never lost the chip lead in the three-handed war, and would take a 4,585,000 v 1,415,000 chip advantage into a heads-up duel with Wolff after eliminating Becker 8x7x6x4x2x > 8x7x6x5x3x.
Becker would later tell PokerNews that it was "the most intense three-handed battle ever."
A pigeon killer of the highest calibre, this would be Schwartz's first Wolff pelt. Schwartz threw it over his shoulder after both players patted on the last draw and Schwartz took the bracelet with 8x7x6x4x2x bettering the worse eight of his opponent.
The win moves Schwartz to $1.7m in live tournaments, in only his fifth-ever cash at the WSOP, his best performance, finishing 4/108 in the 2012 $50,000 Poker Player's Championship for $406,736, a tournament that he will be hoping falls under his spell like this one did.
Final Table
Luke Schwartz – $273,336
George Wolff – $167,936
Johannes Becker – $116,236
Mark Gregorich – $81,635
Tueqi Zhu – $58,547
Calvin Anderson – $42,898