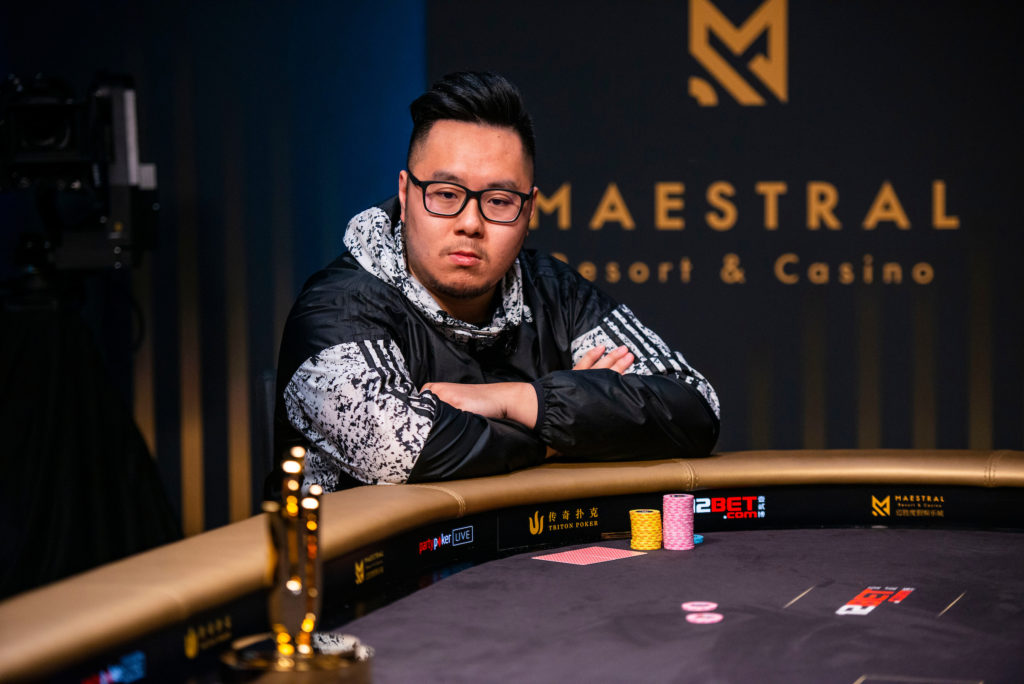 A horse stood in its stalls, air billowing from its nostrils like steam from a kettle; his tail swatting the flies hellbent on creating an itch, back hooves scraping the ground. Looking ahead, focused on nothing else, it leapt over the door, leaving his kin behind, landing in a field filled with some of the most magnificent creatures the horse had ever seen.
"Who are you?" Asked one of the high stakes thoroughbreds.
"I'm Danny Tang."
Just like that, he was one of them.
Tang made the leap during the Triton Poker Super High Roller Series in Montenegro, making two final tables, finishing 8/79 in the HKD 500,000 No-Limit Hold'em 6-Handed for $179,719, and 2/75 in the HKD 1m No-Limit Hold'em Main Event, for $1.7m, and he has no intention of going back.
World Series of Poker (WSOP) officials agreed to insert Event #90: $50,000 Final Fifty into the schedule at late notice after some prominent members of the high roller fraternity suggested the initial $50,000 event occurred too early in the series.
Ben Heath won that first $50,000 event, after ploughing through a field of 110-entrants, and the Final Fifty pulled in 13-more. Heath once again made a deep run, finishing 10th, and by the time the final seven prepared to take their seats for the ultimate face-off, Brandon Adams, the new $3,200 No-Limit Hold'em Online High Roller winner, had the chip lead. Tang remained in the middle of the pack, waiting to leap.
Starting Day Chip Counts
Seat 1: Brandon Adams – 11,970,000
Seat 2: Michael Addamo – 5,765,000
Seat 3: Danny Tang – 4,550,000
Seat 4: Keith Tilston – 1,500,000
Seat 5: Ali Imsirovic – 2,190,000
Seat 6: Sam Soverel – 3,600,000
Seat 7: Adrian Mateos – 7,375,000
The Action.
Ali Imsirovic Eliminated in 7th Place For $212,292.
Ali Imsirovic is one of the in-form players in the world, so the field would have had a fuzzy feeling to see the Bosnian go the way of the CD in seventh place.
With blinds at 125k/250k/250k, Imsirovic shoved every chip into the pot from the cutoff, and Brandon Adams called in the big blind. Imsirovic's A8 was the better hand, but Q5 rivered two-pair to make that fact irrelevant.
Keith Tilston Eliminated in 6th Place For $275,874.
In the same level, Keith Tilston shoved from under the gun for 1.18m, and Adrian Mateos did likewise for 4.51m in the cutoff. Nobody else fancied a piece of the action, and Mateos and his pocket kings made Tilston's Th8h look like a crappy old moped after the five-card dash.
Adrian Mateos Eliminated in 5th Place For $367,186.
The Winamax pro couldn't turn Tilston's chips into his fourth WSOP bracelet, after seeing his stack dwindle to the point where with blinds at 150k/300k/300k, he moved all-in for 2.85m from the small blind holding Jc8c. Adams looked down to see QdJc in the big blind, and it was good enough for the call. Neither hand improved, and that means, Adams' hand was the stronger, and Mateos left in fifth.
Brandon Adams Eliminated in 4th Place.
By this time, Tang had created some distance between himself and the other three players, and he extended that lead further after removing Adams from the equation. With blinds at 250k/500k/500k, Tang opened the button with AhQd and then called when Adams moved all-in holding AcJc – no clubs, no jacks, no hope for Adams.
Danny Tang – 30.6m
Sam Soverel – 5.1m
Michael Addamo – 1.3m
Michael Addamo Eliminated in 3rd Place.
Tang took a 31.9m v 5.1m chip lead into heads-up after eliminating Michael Addamo in the third place. The pair got it in with Tang's Kd9d dominating the Kh5d of the Australian, and it remained that way after the flop, turn and river.
Heads-Up.
Soverel doubled up once (AhTs>Qh3h), but the Poker Central High Roller of the Year wasn't able to build any momentum. It was Tsang's tournament. A defining moment in his career. And it ended with blinds at 300k/600k/600k, when Soverel moved all-in for 11.2m, and Tsang made the call.
Soverel was way behind with Ac3h facing AhJh, but he took a shock lead on the fourth street (TsTc5d3c). Tang would later tell PokerNews that he had been able to bolt out of the stables because he was 'lucky', and perhaps he had this river card in mind when he said that as the Ad landed right on cue to give Tang the same two-pair hand, but with a stronger kicker.
It's the ninth time Tang has said "Cheese," and with $6.3m in live tournament earnings, he's closed the gap on Stanley Choi to $1.4m at the top of the Hong Kong All-Time Money List.
Final Table Results
Danny Tang – $1,608,406
Sam Soverel – $994,072
Michael Addamo – $697,375
Brandon Adams – $500,282
Adrian Mateos – $367,186
Keith Tilston – $275,874
Ali Imsirovic – $212,292