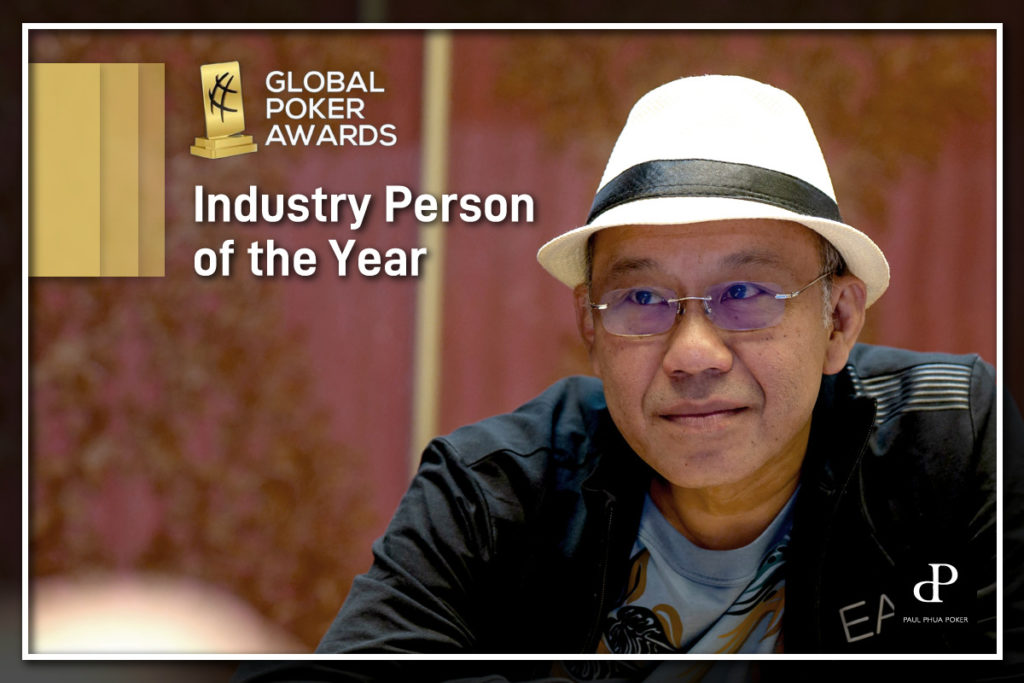 Every great game hinges on four defining traits.
A game needs goals orientated meaningful work and play. Rules that place limitations on how people achieve those goals. Voluntary participation born out of natural curiosity and drive towards enjoyment, and in some cases, mastery. Finally, a feedback system that tells people how close they are to achieving their goal, motivating them to keep on playing, and for the poker industry to thrive, we need certain people to keep on playing.
On Friday night, poker honoured a deluge of different denizens at the Global Poker Awards (GPA) in Las Vegas. PokerGO captured the celebrations, beaming them into the living rooms of subscribers, and the results once again underlined the impact that the high stakes stratum has on the ecosystem.
Never before has high stakes poker had the capability to transcend the game like it does, today. It began with Alex Dreyfus adding a sheen of professionalism to one of the bastion feedback systems in poker – the Global Poker Index (GPI). It has continued with the likes of Triton and Poker Central, creating frameworks and production systems resulting in world-class stages for world-class players.
And, it's for this reason that it was positive for poker when Paul Phua won the Industry Person of the Year Award, last night.
Phua began playing poker in his 40s, by which time, he had already achieved the level of financial freedom that only exists in most people's prayers. Phua didn't create Triton to increase his wealth. He created Triton because he loves poker.
Along with his co-founder, Richard Yong, Phua has spent the past few years building a poker tour with a difference. Reducing suffering through philanthropy, creating a world-class product for the community, and a safe, secure and fun environment for those fortunate and smart enough to rise through the ranks are the goals that have gelled into a masterpiece.
Triton Poker takes a game that for so many years was played in the darkest corners of the room, slaps the most incredible Gladrags on, and rolls out the red carpet. Triton Poker is a world-class, nostalgic tour de force, and on Friday night, the poker world recognised that, and that feedback is priceless.
The Right Feedback Produces The Right Engagement
The feedback cycle has changed significantly thanks to the advent of a social media shit show that flew from the guts of advanced technology like a Ridley Scott idea bursting through a rack of ribs.
When you compete for a living in a game where you lose more than you win, you have to develop a callused heel heart. Still, if you're focusing in the wrong place for feedback, those calluses can chill and crumble in even the most cement-like blood pumpers.
That's why poker awards are of value to the poker industry.
Voters recognised the Triton brand in numerous categories, coming short in all but one (Phua's Industry Person of the Year Award). Phua's vision of showcasing poker to the world is slowly unravelling, but the tail is still nowhere in sight.
Triton Million gave the world a glimpse into the vision.
If you hit this short-list or like Phua, were lucky enough to win, then your contribution to poker is likely to intensify thanks to the emotional Nutribullet of winning one, and missing out on others. It's not the titles that matter. It's the creation of engagement those titles and near misses create where the real gold lies.
That's fantastic news for everyone who calls poker our 'job,' because we must remember that one of the defining traits of this beautiful game, on the table, and off it, is voluntary participation. I don't know about you, but this writer hopes the likes of Phua voluntarily participate in this game in the way that he does for many years to come.
GPA Awards: The Results in Full
GPI Breakout Player of the Year
Robert Campbell (Winner)
Ramón Collilas
Ben Farrell
George Wolff
Final Table Performance of the Year
Phillip Hui – $50k Poker Player's Championship (Winner)
Hossein Ensan – WSOP Main Event
Alex Foxen – WPT Five Diamond
Bryn Kenney – Triton Poker Super High Roller Series, Montenegro
Twitter Personality
Jamie Kerstetter (Winner)
Barny Boatman
Kitty Kuo
Kevin Mathers
Toughest Opponent
Stephen Chidwick (Winner)
Michael Addamo
Kahle Burns
Ali Imsirovic
Streamer of the Year
Lex Veldhuis (Winner)
Hristivoje Pavlovic
Ben Spragg
Matt Staples
Vlogger of the Year
Andrew Neeme (Winner)
Jaman Burton
Daniel Negreanu
Brad Owen
Podcast of the Year
The Grid by Jennifer Shahade (Winner)
DAT Poker Podcast
Poker Life Podcast
The Fives
Industry Person of the Year
Paul Phua (Winner)
Phil Galfond
Cary Katz
Matt Savage
Tournament Director of the Year
Matt Savage (Winner)
Jack Effel
Paul Campbell
Tony Burns
Event of the Year
PokerStars Players Championships (Winner)
Triton Million
WSOP Main Event
WSOP BIG 50
Mid-Major Tour/Circuit
RUNGOOD Poker Series (Winner)
WPTDeepStacks
Road to the PSPC
WSOPC
Journalist of the Year
Joey Ingram (Winner)
Lance Bradley
Haley Hintze
Nick Jones
Broadcaster of the Year
Nick Schulman (Winner)
Joe Stapleton
Jeff Platt
Jamie Kerstetter
Media Content (Written)
Poker and Pop Culture by Martin Harris (Winner)
A Fight for Fatherhood by Lance Bradley
Kevin Roster Spread Sarcoma Awareness by Aleeyah Jadavji
The Unabridged Story of the Hendon Mob by Paul Seaton
Media Content (Photo)
Drew Amato (Winner) – Dario Sammartino at the WSOP
Antonio Abrego – Ryan Laplante
Joe Giron – Frank Stepuchin
Hayley Hochstetler – Doyle Brunson and Jack Binion
Media Content (Video)
Investigating Mike Postle – Joe Ingram (Winner)
Legends of the Game Stu Ungar – PokerGO
The Big Blind with Jeff Platt
Who Makes Money From Professional Poker – Sam Rega for CNBC
Poker Personality of the Year
Jonathan Little (Winner)
Joey Ingram
Ryan DePaulo
Lex Veldhuis
Hand of the Year
Ryan Riess Makes 10-High Call at EPT Monte Carlo (Winner)
Bryce Yockey v Josh Arieh
Sam Trickett v Stephen Chidwick
Thi Xoa Nguyen v Athanasios Polychronopoulos
Poker ICON Award
Johnny Chan (winner)
The Hendon Mob Award
John Cernuto