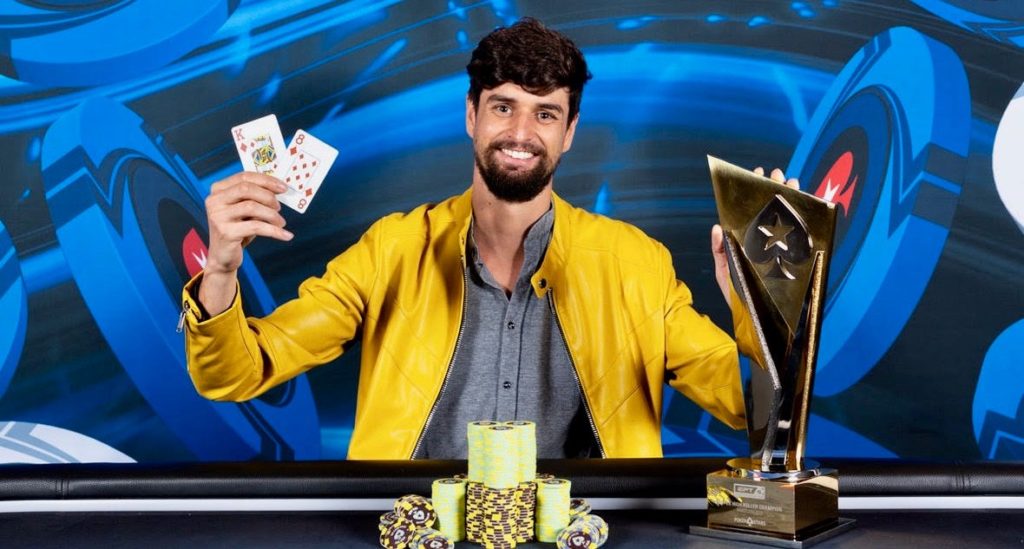 Sergi Reixach is lying on a four-poster bed somewhere, staring at the ceiling, a big fat smile on his face, wondering if life could get any better? If he doesn't have a four-poster bed, he can afford one.
The Spaniard has taken down a 64-entrants (inc. 15 re-entries) €100,000 No-Limit Hold'em Super High Roller at the European Poker Tour (EPT) in Barcelona earning a career-high €1,816,210.
It's Reixach's fifth win, his fourth at an EPT, and this one was his eighth final table of the year. It's safe to say that Reixach has not been on a chip filled IV drip this year, and when it came to the cast of the final table, he wasn't the only one.
Reixach finished 7/99 in the $100,000 No-Limit Hold'em High Roller at the World Series of Poker (WSOP) in the summer. Danny Tang finished tenth, and Sam Grafton also made money in that event.
Both Grafton and Tang are beginning to get their ears wet in the high rollers, and both have celebrated fantastic years come what may. Tang won the $50,000 High Roller at the WSOP, and Grafton also made money in that event. Tang went on to win more than $2m competing at the Triton Poker Super High Roller Series in Montenegro. Grafton recently finished 5/504 in the MILLIONS Europe Main Event for €220,000.
Tang began the year like a crow's nest on fire by winning a side event at the Aussie Millions. Kahle Burns did the same, and the Australian also finished runner-up to Anuj Agarwal in a 272-entrant $10,000 No-Limit Hold'em 6-Handed Championship for $389,832 at the WSOP, and made two final tables at the recent Triton Super High Roller Series in London.
Luc Greenwood also competed at the Triton London event, finishing runner-up in the £25,000 No-Limit Hold'em 6-Handed Turbo for £466,600. Rui Ferreira finished 6th in this same event last year. And although he will be the first to tell you that 2019 hasn't been his rosiest, Steve O'Dwyer won the HKD 250,000 No-Limit Hold'em Turbo in the Triton Poker Series Montenegro back in May, and also won a couple of High Rollers in Amsterdam at the World Poker Tour (WPT) and Master Classics.
Final Table Seat Draw
Seat 1: Danny Tang – 1,700,000
Seat 2: Luc Greenwood – 1,790,000
Seat 3: Rui Ferreira – 445,000
Seat 4: Mikalai Vaskaboinikau – 620,000
Seat 5: Tusgunari Toma – 3,755,000
Seat 6: Steve O'Dwyer – 2,680,000
Seat 7: Kahle Burns – 2,340,000
Seat 8: Sergi Reixach – 1,805,000
Seat 9: Sam Grafton – 985,000
The Action
Mikialai Vaskaboinikau Eliminated in 9th Place.
With blinds at 20k/40k/40k, Mikialai Vaskaboinikau moved all-in from the first position for 720,000, and Sergi Reixach isolated him from the hijack. Vaskaboinikau showed pocket nines, and the Spaniard showed pocket tens. No surprises. Eight left.
Rui Ferreira Eliminated in 8th Place.
Moving into the next level, Rui Ferreira clung onto the abyss for dear life, quadrupling up, before Reixach stamped all over his fingers when AK crushed A8. Ferreira fell, and nobody heard his screams.
Steve O'Dwyer Eliminated in 7th Place.
With blinds at 25k/50k/50k, Tsugunari Toma opened from the cutoff and called when Steve O'Dwyer shoved for around 500,000 on the button. Toma needed to hit something for his Ah4h to beat the pocket fives of the American, and he did, when a second ace appeared on the turn to send O'Dwyer into the rail.
Luc Greenwood Eliminated in 6th Place.
With blinds at 30k/60k/60k, Luc Greenwood moved all-in for 1,005,000 in the hijack seat, and the runaway chip leader, Reixach, called from the small blind. Greenwood was ahead when pocket sixes broke into a sprint at the sound of the starter's gun, but AdQc caught him up on the flop and river to win the race.
Tsugunari Toma Eliminated in 5th Place.
Sam Grafton doubled first through Reixach when pocket fours beat AK, and then through Toma when AK beat nines. Grafton later became a significant force in this thing by eliminating Toma when pocket eights beat AJ.
Kahle Burns Eliminated in 4th Place.
The next player left emaciated as Grafton feasted on his chips was Kahle Burns. With blinds at 40k/80k/80k, Burns opened to 650,000 on the button and then called when Grafton moved all-in from the big blind. Burns was ahead with KQ v K9 only for the Squid to flop a nine to take the Australian down.
Danny Tang Eliminated in 3rd Place.
Heads-up would be contested between Reixach and Grafton after Danny Tang fell off his raft without his life preserver drowning in third place. Tang shoved the button for 690,000 and A8, and Reixach called from the small blind with AQ. Tang nearly had a heart attack when he took the lead on an 8c turn, only for the board to run out 9c9d2h8cAs to counterfeit Tang's two-pair hand.
Heads-Up
Sergi Reixach – 8,720,000
Sam Grafton – 7,280,000
Grafton moved out to a 13,725,000 v 2,275,000 chip lead after winning a series of hefty pots.
Reixach began his comeback doubling 8s4s>AsKh, and catching Grafton with his fingers in the cookie jar before this happened.
With blinds at 60k/120k/120k, Rexiach raised the button and Grafton called from the big blind. The dealer placed the unremarkable Jd6c3s onto the flop, and Grafton check-called a 450,000 Reixach bet. The 2h landed on the turn, and the same action ensued with Grafton calling a 1,600,000 bet. The 8c ended the community card action, and Grafton check-called a 4,025,000 shove. Grafton tabled Jh4h for top pair, but Reixach's KcJs had him outkicked.
Then it was all over.
Reixach limped the button, and then called when Grafton raised to 600,000 from the big blind. The flop of KcJs3d prompted Grafton to lead for 325,000, and Rexiach called. The action checked to the river on a 5d and 7h runout, and Grafton moved all-in for 1,725,000 and Qc6s for the airball. Reixach called ad won with Kd8d for top pair.
ITM Results
Sergi Reixach – €1,816,210
Sam Grafton – €1,303,950
Daniel Tang – €847,570
Kahle Burns – €639,560
Tsugunari Toma – €639,560
Lucas Greenwood – €384,980
Steve O'Dwyer – €304,250
Rui Ferreira – €235,950
Mikalai Vaskaboinikau – €180,070