World War 1 wasn't the best of times, but it did spawn surrealism – the cultural movement famed for creating a way for artists to transfer the subconscious into the real world of the coffeemaker, wallet and house keys.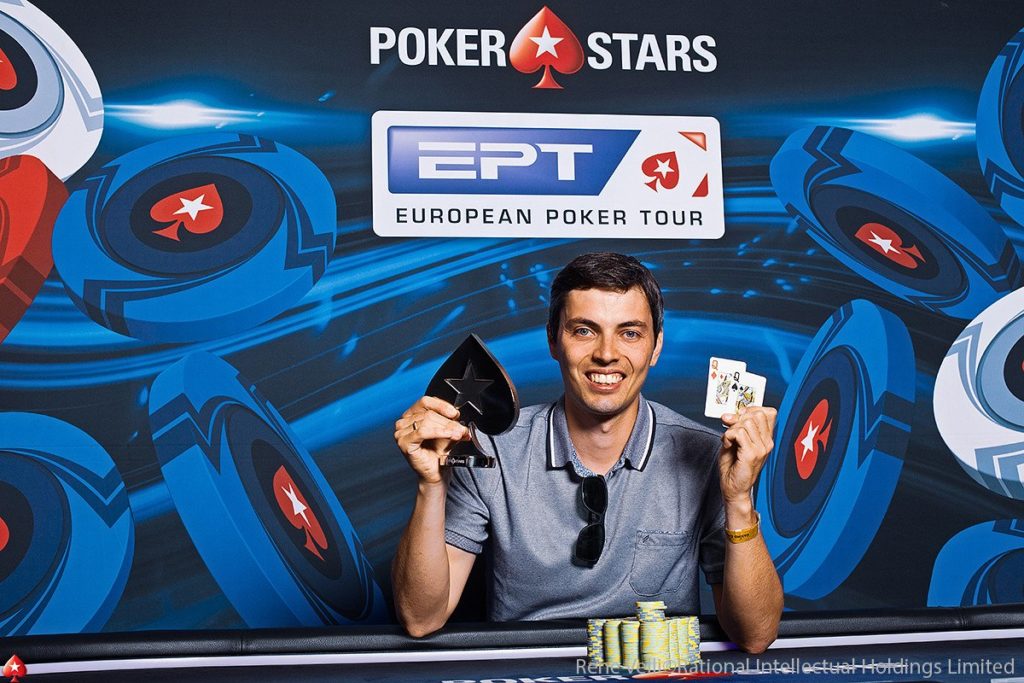 One of the most celebrated members of the surrealist movement was Salvador Dalí, the guy who achieved immortality by painting melted clocks and a masturbating woman shaped like a rock, as well as creating the infamous lobster telephone. Dalí was a Catalonian, and that's where we head to next, and a man who is feeling quite surreal himself this morning: Mikhail Rudoy.
Rudoy has just won his first live tournament, taking down the €25,000 6+ No-Limit Hold'em event at the PokerStars European Poker Tour (EPT) in Barcelona – that's Short-Deck to the uneducated. The €213,210 that Rudoy banked for the win his also his most significant score, besting the $103,173 for finishing 10/1496 in the 2014 EPT Barcelona Main Event.
Outside of his annual trips to Vegas for the WSOP, the entirety of Rudoy's ITM finishes has come in EPT events, with Barcelona his most prosperous stop by far. He now has $713,927 in lifetime earnings.
The first day attracted 23-entrants, and by the end of 10-Levels, Chin Wei Lim led the final 12-players. Lim is a savvy Short-Deck player, doing his reconnaissance on the Triton Poker Series, without ever winning a title. He came into EPT Barcelona on the back of a Triton Super High Roller Series in London that saw the Malaysian bank more than £1.5m, so he was the man to beat.
End of Day 1 Chip Counts
Chin Wei Lim – 903,000
Yake Wu – 680,000
Sam Greenwood – 389,000
Mike Watson – 268,000
Dario Sammartino – 221,000
Isaac Haxton – 186,000
Cary Katz – 162,000
Mikhail Rudoy – 153,000
Jochanan Flink – 145,000
Daniel Dvoress – 132,000
Michael Soyza – 109,000
Borys Turitsa – 100,000
Day 2 Shenanigans
With re-entry available until the start of Day 2, one person took advantage, and that was the Australian, Sam Higgs.
24-entrants and 13-remaining.
Five would make money.
Mikhail Rudy doubled early through Mike Watson when Ad9d beat pocket jacks thanks to a straight on the turn.
Isaac Haxton eliminated Daniel Dvoress, Watson then doubled through Haxton while also eliminating Borys Turitsa. Watson's chaotic start to Day 2 continued when he doubled up Cary Katz before doubling through Chin Wei Lim.
Then Lim took out two when AdKd beat the AsQs of Michael Soyza and the pocket tens of Katz to become the first player to hold more than a million chips. Lim continued his hatchet job when pocket kings beat the Ac8c of Sam Greenwood to send the dangerous Canadian to the rail, and we were down to a single table after Rudoy eliminated Jochanan Flink.
Final Table Chip Counts
Chin Wei Lim – 1,450,000
Mikhail Rudoy – 770,000
Yake Wu – 650,000
Isaac Haxton – 540,000
Sam Higgs – 125,000
Mike Watson – 105,000
Dario Sammartino – 46,000
Watson's Td9d cracked the pocket aces of Haxton to ensure a double up, but Haxton recovered to eliminate Sammartino when Th6h beat KxJx. That took us to the stone bubble, and it was the only man to re-enter on Day 2 who would leave without a penny in recompense. The Australian got it in with pocket kings, only for Watson to wake up with pocket aces. The kings remained in the deck eating their prawn sandwiches, and Higgs hit the rail.
Once in the money, Lim had more than three-times the stack as anyone else left in the contest. Rudoy closed that gap when he eliminated Watson in fifth place after his two-pair hand proved stronger than Watson's two-pair hand.
Wu then doubled through Haxton Ac8c>KhQd after rivering a flush, Haxton then doubled through Lim when AcTc outdrew AsQs, but he fell in the fourth place after his KsTs failed to beat the AsTd of Lim for all of his remaining chips.
Wu then doubled through Rudoy when pocket nines beat AcJs, Rudoy tripled and then doubled after falling shorter than a Liliputian, and he used those chips to bust Yu AJ>TT to face Lim in an even-steven heads-up competition.
Heads-Up
Lim – 1,850,000
Rudoy – 1,750,000
Lim lengthened his lead before Rudoy doubled after rivering a straight and getting paid with a shove on the Fifth Street. Lim then doubled instantly when AsTd outdrew AdQc, only for Rudoy to retake the lead, and claim the title after pocket queens beat AcKd in a classic flip.
ITM Results
Mikhail Rudoy – €213,210
Chin Wei Lim – €146,940
Yake Wu – €93,640
Isaac Haxton – €67,710
Mike Watson – €54,740