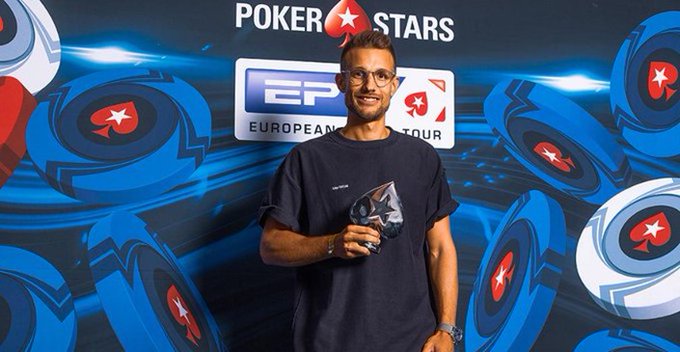 People complain about 15-hour days as frequently as Catalonians march for independence, but Laszlo Bujtas is not one of the whingers. That's the length of the shift the Hungarian had to put in to earn the €712,810 first prize in the latest €25,000 No-Limit Hold'em Single Day High Roller at the PokerStars European Poker Tour (EPT) in Barcelona.
With the backing of several vital quadrillionaires, the latest €25k on the EPT Barcelona schedule attracted a stunning 118-entrants (inc. 35 re-entries). A man who plies his trade on the Omaha tables delivered the fatal uppercuts and haymakers.
It's not as if Bujtas (commonly known as "Omaha4rollz") has to stand in front of his mirror reciting a merry soliloquy before a live tournament performance, but he is a dog against the enigmas that call the high roller circuit home.
It's only Bujtas's second-ever win, his first for four years, and his first playing No-Limit Hold'em. He did finish fourth in a €25k High Roller at EPT Monte Carlo earlier this year. In October he came runner-up to Jack Sinclair in the €10,350 No-Limit Hold'em Main Event at the World Series of Poker Europe (WSOPE) in Rozvadov for a then-career-high €692,573.
Let's see how he took this one down.
The Nutshell Action
Final Table Seat Draw
Seat 1: Jorryt van Hoof – 270,000
Seat 2: Steven van Zadelhoff – 460,000
Seat 3: James Chen – 2,170,000
Seat 4: Pedro Marques – 1,175,000
Seat 5: Sergio Aido – 2,070,000
Seat 6: Charlie Carrel – 970,000
Seat 7: Juan Pardo – 1,880,000
Seat 8: Laszlo Bujtas – 2,200,000
Seat 9: Alex Komaromi – 610,000
Steven van Zadelhoff was the first to see his chip size double after AcKd beat the Ah9s of Juan Pardo. Then we lost our first player. Alex Komaromi moved all-in for less than two big blinds holding QhJh, and Sergio Aido went eagle to mouse with KsQs.
The two PLO specialists clashed when Laszlo Bujtas and Jorryt van Hoof got it in. The former November Niner was ahead with Ah9c facing Ks8s, but Bujtas flopped a king and rivered an eight to send the Dutchman to the rail in eighth place.
Van Zadelhoff doubled through Pardo for a second time 44>KcJs, and then through Bujtas Qs3s>5d4d before we lost James Chen. The big stacked Bujtas moved all-in from the button, and Chen called for his tournament life in the big blind. Chen was ahead with Ah5s beating Kd4h, only for a four on the turn to send Chen back to Taiwan with €126,080 whizzing to his bank account.
The next player to head home to wax his rubber plants was Sergio Aido. The winner of the €100,000 No-Limit Hold'em Super High Roller at EPT Monte Carlo, saw his pocket sixes crash into the storm-ridden cliffs of Charlie Carrel's pocket sevens to exit in sixth place.
From a Spring Championship of Online Poker (SCOOP) Main Event winner taking heads, to a World Championship of Online Poker (WCOOP) Main Event winner, losing his and Van Zadelhoff's habit of doubling up came to an end when he ran AhQh into the AsKc of Pedro Marques to leave the table in the fifth place. It was the Dutchman's best score of his live tournament career, and it's been a lengthy one.
Trophies for the two previous EPT Barcelona Single-Day High Rollers sit on the mantlepiece of Juan Pardo. The Spaniard looked likely to make it three on the spin with a hot streak of hands. Then Carrel halted his run, doubling through him 7c6d>KhQd in a blind on blind battle.
Carrel then handed those chips to Bujtas when Ad2c failed in its bid to beat pocket tens. The UK-pro did flop an ace, but the Hungarian also flopped a set. Carrel reacted by making sure that Pardo wouldn't win his third Single-Day High Roller when pocket sixes beat Ah4d for all the Spaniard's chips.
Pedro Marques loves playing poker in Barcelona. He won the 142-entrant €10,300 No-Limit Hold'em event earlier in the series, and made the final table of the Main Event last year, finishing fourth. Marques left with another significant score, finishing third for €313,070 after running Ac3c into the dominating Ad5s of Bujtas.
Heads-Up
Laszlo Bujtas – 9,600,000
Charlie Carrel – 2,200,000
Bujtas started heads-up with a more than 4.5-1 chip lead, but if anyone was capable of clawing back that deficit, it as Carrel. The man whose backer (Orpen Kisacikoglu) recently said his absence from the high stakes arena meant the game had passed him by, finished seventh in the €10,300 partypoker MILLIONS Europe Main Event, won the £50,000 No-Limit Holdem event at the Triton Poker Series in London for £1.3m, and made the final table of four EPT Monte Carlo High Rollers in the Spring.
If anyone could beat Bujtas it was Carrel, but not when you run Kc6d into KsJs. The heads-up spectacle wasn't a spectacle at all. The whole thing lasted the time it takes a rabid dog to chew up a rabbit, and Bujtas was our winner.
Final Table Results
Laszlo Bujtas – €712,810
Charlie Carrel – €481,640
Pedro Marques – €313,070
Juan Pardo – €259,240
Steven van Zadelhoff – €209,090
Sergio Aido – €164,690
James Chen – €126,080
Jorryt van Hoof – €94,910
Alex Komaromi – €70,830
Also finishing in the money were Triton reg, Daniel Dvoress, and Triton champion, Michael Soyza finishing 14th and 15th respectively.