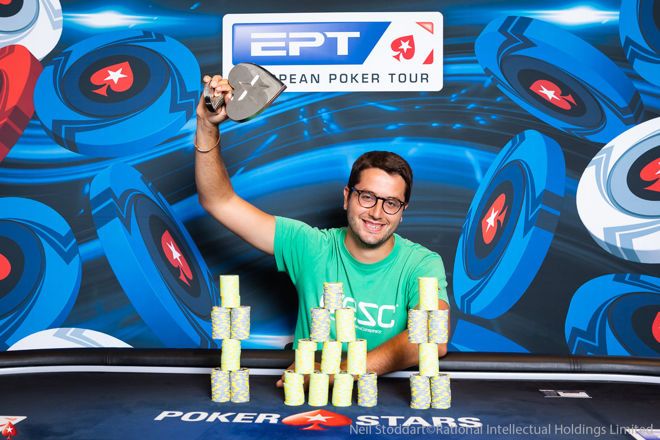 When it comes to the poker's Oligarchy, the name Juan Pardo rarely reaches the zenith of poker news articles – a truth that's about to change. Pardo conquered a 76-entrant (inc. 24 re-entrants) €50,000 No-Limit Hold'em Single Day High Roller at the PokerStars European Poker Tour (EPT) in Barcelona less than 12-hours after winning the €25,000 version.
A flash in the pan?
Given the €50k win was his sixth live tournament victory of 2019, the smart money is on his halo, sticking.
Let's take a look at how Pardo avoided the artistic asteroids to become an EPT Barcelona back-to-back champion.
We begin on the bubble.
The Bubble Bursts
With blinds at 10k/25k/25k, Laurynas Levinskas raised to 50,000 in the first position and then called when Louis Nyberg moved all-in from the button. Nyberg led with AsJd beating Kd4c, but a second king on the turn eliminated the Swede, and the remaining 11-players were in the money.
The Gap Between The Bubble and The Final Table
Ali Imsirovic eliminated Kahle Burns when AsQh beat Kh3h, and we reached the final table when Chin Wei Lim sent Matt Moss to the rail after AhJd flopped a second ace against pocket queens.
Final Table Seat Draw
Seat 1: Laurynas Levinskas – 1,560,000
Seat 2: Luc Greenwood – 665,000
Seat 3: Chin Wei Lim – 1,410,000
Seat 4: Juan Pardo – 1,560,000
Seat 5: Ali Imsirovic – 925,000
Seat 6: Steve O'Dwyer – 510,000
Seat 7: Seth Davies – 323,000
Seat 8: Rui Ferreira – 164,000
Seat 9: Timothy Adams – 440,000
Seth Davies doubled through Luc Greenwood when QdJd beat pocket nines. Greenwood then doubled through Ali Imsirovic when Jd9d beat pocket fives, and after the dinner break, Rui Ferreira fell to Juan Pardo when his ace-rag beat Ferreira's bag of bones.
Pardo took the chip lead after flopping a set of jacks and extracting maximum value from Levinskas who flopped a two-pair hand. Pardo would send the Lithuanian to an empty hangar in the next hand.
O'Dwyer doubled through Greenwood when As5s outdrew AcJh, Imsirovic doubled through Pardo QsJd>4h3s, before O'Dwyer exited in seventh place when AhQs couldn't outrun the Kh8s of the smoking hot Pardo.
Timothy Adams' final table experience ended in sixth place when KhQs failed to beat the 9s5d of Pardo. And Pardo was at it again, eliminating Imsirovic in the fifth place in a hand that also saw Seth Davies double up. Pardo moved all-in with pocket fours, Imsirovic called with AdJd, as did Davies with pocket nines. Imsirovic missed, and left – Davies became a significant force, with Pardo still in command.
Greenwood doubled with a royal flush against Lim, and then doubled through Pardo AhKs>Ac5s, but Lim exacted revenge, eliminating Greenwood in the fourth place when pocket jacks beat KdJc.
In comparison to his two opponents, Lim remained short after busting Greenwood, and he became chipless when Pardo's Ah6d beat As2c when all-in pre.
Heads-Up
Juan Pardo – 5,740,000
Seth Davies – 1,860,000
Pardo had won all six of his heads-up encounters in 2019 with Davies also winning the only time he had reached this stage.
Davies doubled when QdJc beat Ac8d, and he then took the chip lead. Pardo retook the lead and seemed to pull away after hot-wiring Davies' mental bank before the American fought back, doubling with As3h beating Kc2c. Then Pardo took a seemingly unassailable lead, successfully calling down with only ten high.
With blinds at 50k/100k/100k, Pardo check-called a 100,000 Davies bet on a 6h2s2s flop. Both players checked the Kh turn, and Pardo checked the Jh river. Davies bet 375,000, and Pardo made the call with Tc8c beating 5d4d with only ten-high.
Davies then doubled when Jh4d beat Qh7s, but Pardo finally sealed the lid on Davies's coffin when pocket queens beat AhKs in a classic coin flip to collect the most significant score of his career.
Final Table Results
Juan Pardo – €1,013,860
Seth Davies – €720,760
Chin Wei Lim – €471,910
Lucas Greenwood – €363,150
Ali Imsirovic – €287,570
Timothy Adams – €224,890
Steve O'Dwyer – €176,960
Laurynas Levinskas – €138,250