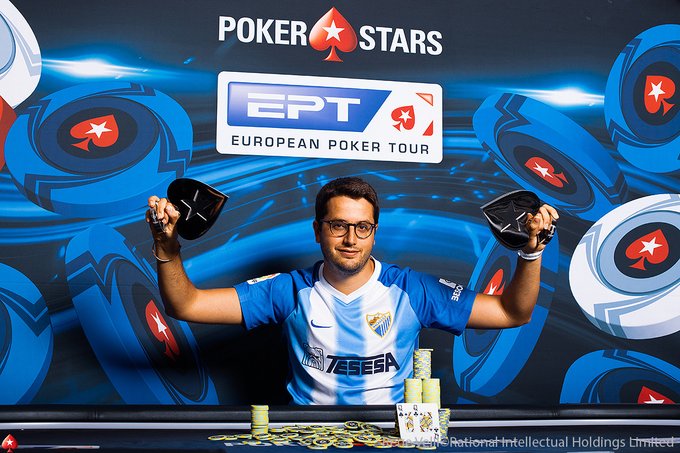 Head over to the Nou Camp and see if you can get close to Gerard Piqué and Arturo Vidal. You're more likely to see Daniel Negreanu sucking bone marrow through a straw.
And.
That's.
The.
Beauty.
Of.
Poker.
If the €25,000 Single-Day High Rollers are good for anything, they are suitable for professional footballers who live around the corner, fancy a flutter, and have to get back to practice quick-sharp.
The €25,000 No-Limit Hold'em Single Day High Roller at PokerStars' European Poker Tour (EPT) in Barcelona had two of them. Gerard Piqué is no stranger to these things having competed sporadically in the EPT Barcelona since 2011, but the experience was a new one for the Chilean midfielder, Arturo Vidal.
The event attracted 70-entrants desperate to crack open anal fissures through intense butt pressure, and both members of the Barcelona brigade made the final table.
Here it is.
Final Table Seat Draw
Seat 1: Michael Addamo – 837,000
Seat 2: Ramin Hajiyev – 264,000
Seat 3: Joao Vieira – 283,000
Seat 4: Hirokazu Kobayashi – 533,000
Seat 5: Juan Pardo – 1,353,000
Seat 6: Mike Watson – 256,000
Seat 7: Gerard Piqué – 831,000
Seat 8: Kazuhiko Yotsushika – 1,601,000
Seat 9: Arturo Vidal – 1,043,000
The Nutshell Action.
Mike Watson Eliminated in 9th Place.
The Poker Gods that sit in Mike Watson's corner seem to be on a leash this year. The Canadian has had one of those years where the cigars stay in the box. His EPT Barcelona experience proved no better.
With blinds at 15k/30k/30k, Kazuhiko Yotsushika opened to 75,000 in position. Juan Pardo moved all-in from the small blind, Mike Watson called in the big blind, and Yotsushika folded. It was a race with Watson's pocket eights up against Pardo's Big Slick, and a king on the turn sent Watson to the rail, cementing Pardo's position as the chip leader.
Joao Vieira Eliminated in 8th Place.
Joao Vieira won his first World Series of Poker (WSOP) bracelet in the summer.
He wasn't able to win his first EPT High Roller.
One level up, and pocket eights would once again sound the death knell, this time with short-stacked Vieira shipping his final few bigs, only for Piqué to gobble them up with AhQd, flopping trips.
Ramin Hajiyev Eliminated in 7th Place & Kazuhiko Yotsushika Eliminated in 6th Place.
The same level, and a car crash of a hand that resulted in Pardo eliminating two players. Yotushika moved all-in for 1.2m from early position, Ramon Hajiyev moved all-in from the button, as did Pardo in the big blind. Hajiyev showed pocket jacks, Yotsushika held Ad8s, and Pardo clobbered them both with his pocket kings.
Arturo Vidal Eliminated in 5th Place.
Level 17 ended with another elimination, this time, Arturo Vidal hitting the rail. Pardo opened to 80,000, and only Vidal called. The dealer placed the Jh2d2s on the flop, Pardo bet 80,000 and then called when Vidal moved all-in for another 225,000. Vidal showed Ac9c, but Pardo had him dominated with AsKd, and the 6c on the river changed nothing. Vidal headed back to the Nou Camp.
Hirokazu Kobayashi Eliminated in 4th Place.
Michael Addamo doubled through Pardo when pocket eights beat Ah8s, and Piqué doubled through Hirokazu Kobayashi when AdJh beat Ah5c. Pardo then finished the job when KdQc beat Qd6d when all-in pre.
Three-Handed Chip Counts
Juan Pardo – 4,735,000
Gerard Piqué – 1,560,000
Michael Addamo – 705,000
Addam doubled through Pardo for the second time when Kh5s managed to beat AdKd thanks to a second five on the turn. Then the Australian doubled through Pardo for the third time when AhTd beat pocket sixes thanks to trip tens turning up on the flop and river.
Piqué doubled through Pardo when Qh9h beat Jh2d, and then Addamo's luck ran out.
Michael Addamo Eliminated in Third Place.
With blinds at 40k/80k/80k, Addamo moved all-in on the button for ten big blinds and pocket treys, and Pardo called and won with pocket nines.
Addamo has been in fine fettle, making ten final tables this year.
Heads-Up
Juan Pardo – 5,300,000
Piqué – 1,700,000
If fans were looking forward to a rabid battle between Pardo and Piqué, they were disappointed. The duel lasted a few hands when the pair flipped for the title with Piqué's Ah9h failing to catch against Pardo's deuces despite turning a flush draw to go with his overpair outs.
The win was Pardo's sixth of the year and continues a period of run good that saw him win four $10,000 ARIA High Rollers during the summer. Pardo's €491,600 purse was also a career-high, beating the €450,000 earned for finishing runner-up to Davidi Kitai in a €25,500 No-Limit Hold'em Super High Roller during the partypoker MILLIONS Grand Final in Barcelona last year.
€25k Final Table Results
Juan Pardo – €491,600
Gerard Piqué – €352,950
Michael Addamo – €229,420
Hirokazu Kobayashi – €173,110
Arturo Vidal – €134,460
Kazuhiko Yotsushika – €104,200
Ramin Hajiyev – €82,350
Joao Vieira – €63,870
Mike Watson – €48,740