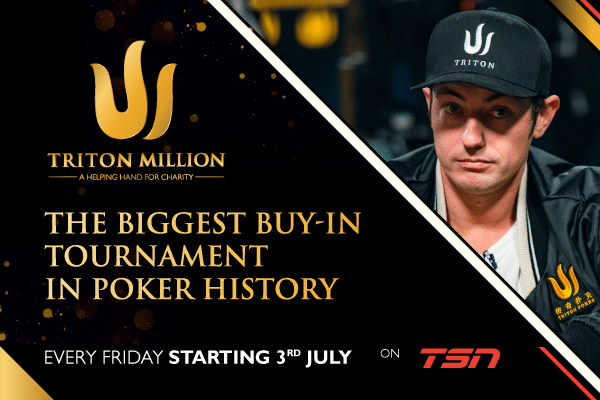 The story isn't new.
Paul Phua, Rob and Richard Yong decided over a few tumblers of too-expensive whiskey to organise the most expensive buy-in and most expensive first prize in poker's history.
The tv show is.
Even the misers, moaners and misanthropes will make merry in the magic of ten episodes of the Triton Million: A Helping Hand For Charity when it airs on Canada's The Sports Network (TSN).
The first of ten exalted hourly episodes begins on Friday, 3 July at 7 pm (GMT-4), and continues until someone walks away with the top prize of £19m and change on Thursday 30 July. 
The Triton Million: A Helping Hand For Charity broke numerous records when it attacked our limbic system close to 12-months ago. The £1.05m buy-in, the 54-entrants, and the £19m first prize were all record-breakers.
The event also raised £2.7m for charity, with the likes of Raising for Effective Giving (REG), Bahamas Relief Effort and One Drop all benefitting.
It was a unique time, with an equally unique format, as the businessmen and women competed separately to the pros for the early part of the tournament – a brave move, a ballsy move, and a brilliant move.
The production of the event was world-class, and that continues with the TV series, with never before seen testimonies from the competing players and hand-for-hand analysis of the significant moments from commentators Daniel Negreanu and Ali Nejad.
It's the perfect tonic, for people embittered around the cancellation of Triton's return to London town due to the continued Covid-19 pandemic. While Triton can't bring you a live event, they can lavish you with the best TV poker content in the business.
To get a taste of what's to come, check out the after-movie, here.