Some fairies turn up in crusty old kitchens turning green lizards into coachmen, pumpkins into carriages, and mice into beautiful white mares. Then there are the fairies who whizz around the baseball cap of Bryn Kenney waving their wand, sprinkling him with crusher dust.
And the crusher keeps crushing.
A few sleeps shy of Kenney winning his first Triton Poker title, he has won another, only this one was considerably more significant.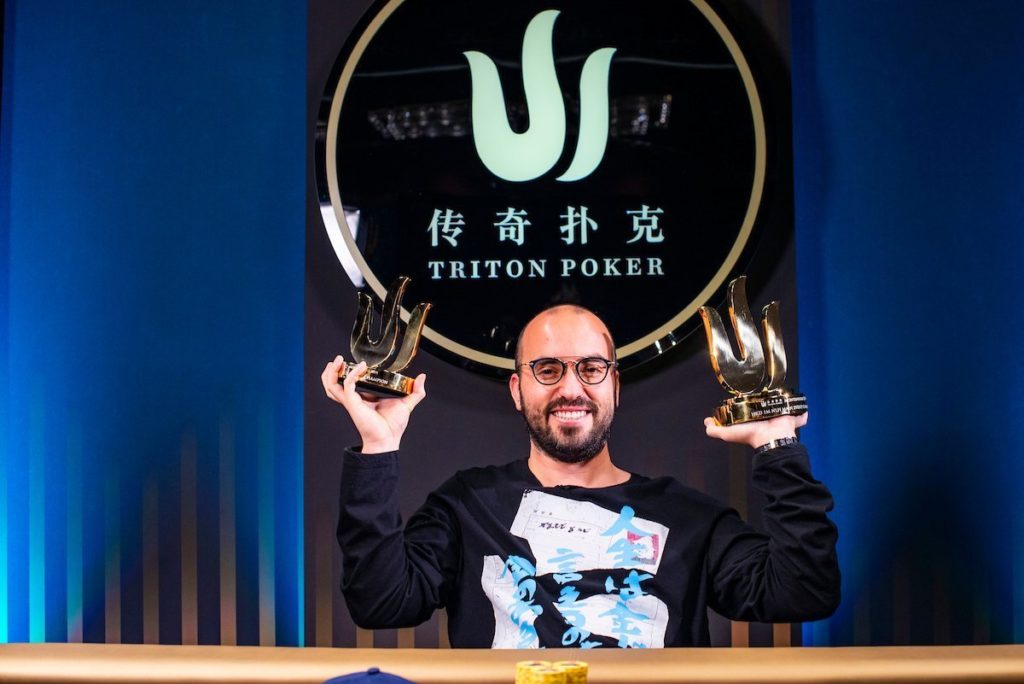 Kenney has just conquered a 75 entrant (inc 31 re-entries) field to take the HKD 21,300,000 ($2,713,876) first prize in the HKD 1 million (USD 127,000) Triton Poker Super High Roller Series Montenegro Main Event. Incredibly that means, Kenney's past three ITM finishes, since March, have all been seven-figure scores.
Take a gander.
2/48, HKD 2m Triton Main Event in Jeju for $3,062,513.
1/79, HKD 500k Triton NLHE 6-Max in Montenegro for $1,431,376.
1/75, HKD 1m Triton Main Event in Montenegro for $2,713,859
The win means Kenney extends his lead at the top of the 2019 Money List to $9,116,562 ($1m+ more than when he topped this list in 2017). He also moonshot passed Fedor Holz and David Peters landing in fourth place in the All-Time Money List with $34,799,434.
"I was in the zone, played well and crushed the table," Kenney told Triton reporters after his win.
What next for the great man?
After five days of competing at the highest level for such long periods, he might take a rest, and that's good news for everyone else.
"I'm just going to chill, relax, let my brain relax."
The Action in a Nutshell
With four of the final table returning with stacks smaller than 20 big blinds the action was always going to be stock market floor crazy (Erik Seidel (8), Paul Phua (10), Sam Greenwood (14) and Jason Koon (18).
The first pot of the final table saw Phua move all-in holding pocket fours and Koon lost a flip with AcKc. Seidel then doubled through Eibinger AhTs v Ad4d, and it was both Koon and Eibinger who would leave first.
Jason Koon and Matthias Eibinger Out in 9th and 8th
Koon shoved the button for five big blinds with Ac7d, the defending champion Mikita Badziakouski moved all-in from the small blind with pocket eights, and Eibinger called in the big blind holding AdQh. A queen on the flop gave Eibinger the lead, but an eight on the turn and a big fat brick on the river gave Badziakouski Koon's and Eibinger's chips.
Erik Seidel Out in 7th
Badziakouski opened the button with AsTd and then called when Seidel shoved the small blind holding Qh9h. Seidel flopped a queen, but Badziakouski once again turned a better hand, this time a flush, and the New Yorker was out.
Paul Phua Out in 6th
Paul Phua was making his seventh final table, but unlike his Triton co-founder, Richard Yong, he had never managed to convert one into a win. Today, was no different. Phua doubled through Badziakouski when QJ outdrew KJ, and his A4 cracked Peter Jetten's pocket kings when rivering the case ace, but like Achilles, he couldn't escape the arrow in the foot shot from the bow of Bryn. Kenney limped the button with pocket queens, and Phua checked 7s4d in the big blind. Kenney flopped the top set, and Phua moved all-in with middle pair. Kenney snap-called and Phua was out.
Greenwood Out in 5th
Greenwood is another player putting poker players in prison for fun, and after this latest cash, ranks fourth in the 2019 Money List with $4,688,680 in live tournament earnings. It was another outstanding performance after coming fifth in the first event. And it was fifth again after Badziakouski eliminated him in this funky hand.
Greenwood limped the cutoff with AdQd and 11 big blinds, Danny Tang called with Ks5d in the small blind, and Badziakouski checked Kc9h in the big blind off 14 big blinds. The flop of Kd4s2c gave Tang and Badziakouski top pair. Both checked. Greenwood bet 120,000. Tang called, Badziakouski clicked it back, Greenwood burned through two-time bank chips before moving all-in, Tang folded, and Badziakouski called. Neither the turn nor the river came to Greenwood's aid, and he was out.
Badziakouski Out in Fourth
Next, we lost the defending champion after the former back-to-back Triton Poker Super High Roller Series Main Event winner, became embroiled in a blind on blind turf war with Kenney, and pocket sevens beat AcJs in a sprint.
Jetten Out in Third
The elimination of Badziakouski turned the tournament into a man versus boys scenario with Kenney sitting behind a stack of 94 big blinds, and Tang (17) and Jetten (6) looking decidedly diminutive. Jetten, who was making his seventh Triton final table, and his second of this series, finished third once again, this time when Ks6h lost to the Th9s Kenney.
Heads-Up
87 – 7 Chip disadvantage.
Hardly a fair fight, right?
Kenney eventually took out Tang when QhJh turned a straight, but Tang was nonplussed – this was his first HKD 1 million buy-in event, and he left with $1.8m, the first seven-figure score of his career.
Here are the final table results.
Final Table Results
1 – Bryn Kenney, USA, HKD 21,300,000 ($2,713,876)
2 – Danny Tang, Hong Kong, HKD 14,100,000 ($1,796,509)
3 – Peter Jetten, Canada, HKD 9,600,000 ($1,223,155)
4 – Mikita Badziakouski, Belarus, HKD 7,260,000 ($925,011)
5 – Sam Greenwood, Canada, HKD 5,650,000 ($719,878)
6 – Paul Phua, Malaysia, HKD 4,400,000 ($560,613)
7 – Erik Seidel, USA, HKD 3,460,000 ($440,846)
8 – Matthias Eibinger, Austria, HKD 2,680,000 ($341,464)
9 – Jason Koon, USA, HKD 2,050,000 ($261,195)