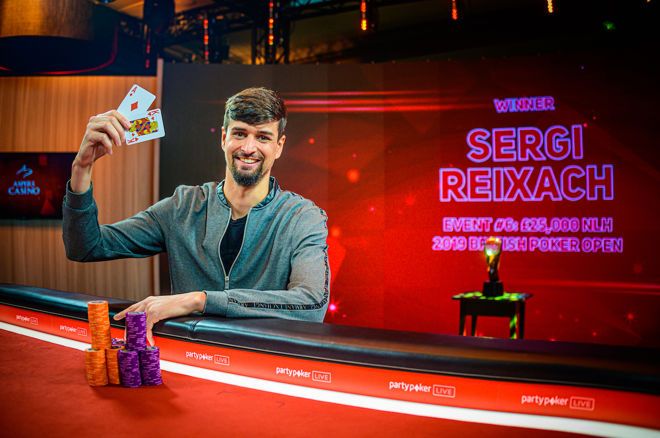 Sergi Reixach has binked the £253,000 bounty in Event #6: £25,000 No-Limit Hold'em at the British Poker Open (BPO), a hop, skip and a jump away from winning the €100,000 No-Limit Hold'em in Barcelona.
Reixach conquered a field of 22-entrants, and managed to hold his nerve through a spiteful bubble that lasted close to four hours, a timespan that Reixach later confirmed was the longest bubble of his career.
The win is the Spaniard's sixth, and he now has earned more than $5m playing live tournaments since making money in the Unibet Open Barcelona back in 2011.
Let's see how Reixach did it.
Day 2 Final Table Seat Draw
Seat 1: Timothy Adams – 323,000
Seat 2: Michael Zhang – 214,000
Seat 3: Ali Imsirovic – 771,000
Seat 4: Elio Fox – 871,000
Seat 5: Sergi Reixach – 571,000
The Action
Day 2 began like most Day 2's have started at the British Poker Open (BPO), with five players hoping not to be the one who leaves with nothing.
Michael Zhang is beginning to call the high stakes realm his homeland with some impressive recent performances, and he was the first at risk when his AdKd went up against the inferior Ac7c of Elio Fox. The better hand held, and Zhang doubled-up.
Ali Imsirovic became the first player to break the million chip barrier and seemed to be the only one with a ship in choppy waters until Timothy Adams pulled him back by his sails.
Adams got it all-in with AsKc up against AhJc, and a clash like that rarely ends well. Adams doubled into the lead. Imsirovic's day worsened when Fox doubled through him when Kd7d beat QsJs.
Imsirovic became the short-stack, but not for long, doubling through Sergi Reixach when his ace rag beat KhTh when ace-high held. Elio Fox then took the chip lead, before doubling up Reixach when Ah9d beat 8h6d. And Imsirovic then doubled through Reixach when KdJs beat pocket eights thanks to a jack on the flop.
Fox then doubled back through Reixach when QcJd beat Qd5d, and through Adams when Ah5h beat KsJc. And then, after close to four-hours, the bubble burst.
Imsirovic carved 200,000 from his 345,000 stack and pushed it across the line holding KhJh. Reixach moved all-in holding pocket nines, and Imsirovic made the call. The board ran out Tc6c2cAd6d, and the man who at one time looked as likely as anyone to win this thing exited in the fifth place.
Then came the pivotal moment in the tournament.
Zhang moved all-in for 500,000 holding QsTc, Fox called holding Ad7d in the small blind, and Reixach put him all-in when he jammed holding pocket nines in the big blind; Fox called. Fox flopped a flush draw, but it never materialised, and Reixach took the chip lead, eliminating both of his opponents in one fell swoop to face Timothy Adams for the title (Adams missed the hand because he had nipped away to order a bowl of rice).
Heads-Up
Sergi Reixach – 2,460,000
Timothy Adams – 290,000
One hand.
Adams moved all-in holding KdQc Reixach called and won with AdKh, and Adams returned to his rice bowl.
ITM Results
1. Sergi Reixach – £253,000
2. Timothy Adams – £154,000
3. Elio Fox – £88,000
4. Michael Zhang – £55,000
British Poker Open Championship Standings
1. Sam Soverel – £501,200 (480 Points)
2. Sam Greenwood – £147,200 (260)
3. Robert Flink – £108,800 (240)
4. Stephen Chidwick – £141,000 (220)
5. Sergi Reixach – £253,000 (200)
6. Elio Fox – £156,000 (200)
7. Paul Newey – £156,400 (200)
8. George Wolff – £120,000 (200)
9. Luc Greenwood – £119,600 (200)
10. Rainer Kempe – £196,600 (140)
Remaining Events
Event #7: £25,000 Pot-Limit Omaha
Event #8: £25,000 No-Limit Hold'em
Event #9: £50,000 No-Limit Hold'em
Event #10: £100,000 No-Limit Hold'em