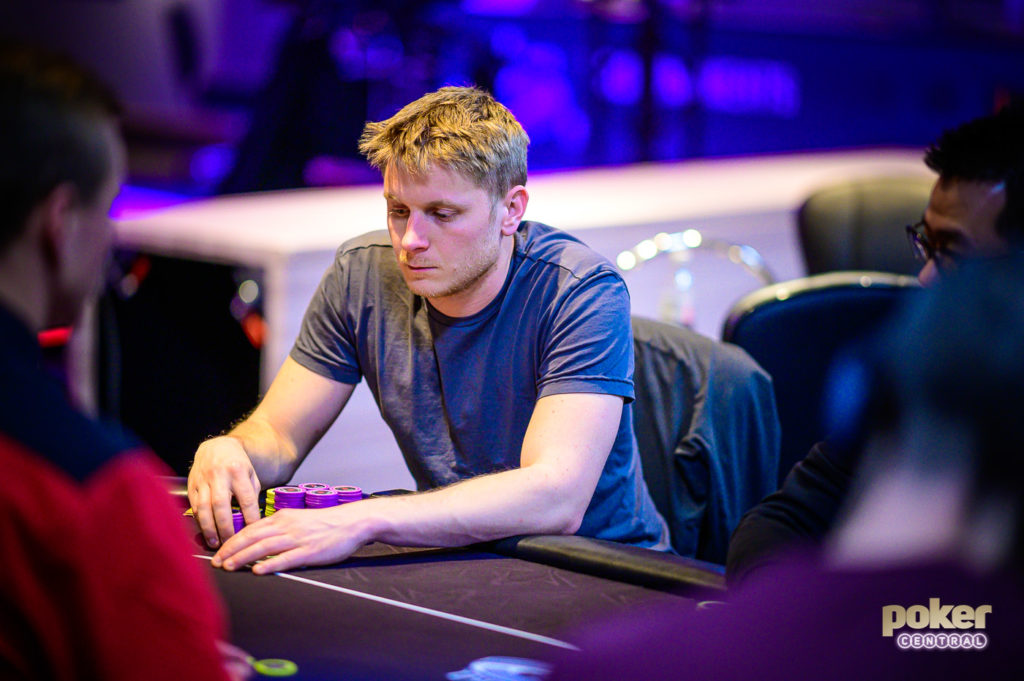 Asper Casino in Stratford is the theatre.
Sam Soverel is the leading man.
Someone has slipped something into the American's raspberry leaf tea because he's turned into a supercharged shark.
Soverel won the 28-entrant, Event #5: £25,000 No-Limit Hold'em, his third final table of the British Poker Open (BPO), and the gulf in luck, class, call it what you want is wider than the Cheshire cat's grin.
The reigning and leading Poker Central High Roller of the Year came into the final table as the chip leader, and despite a few wobbles, he was also the last man seated.
Let's see how he took this one down to Soverel town.
Day 2 Final Table Seat Draw
Seat 1: Sam Soverel – 1,005,000
Seat 2: Vincent Bosca – 220,000
Seat 3: Stephen Chidwick – 685,000
Seat 4: Rainer Kempe – 765,000
Seat 5: Ali Imsirovic – 780,000
The Action
The final day began with four of the most in-form live tournament artisans, and Vincent Bosca (sorry, Vincent). Someone was going to slip into the faultline, and it proved to be the Spaniard.
Time eroded Bosca's stack until eventually, it looked as unimpressive as a few soggy rich tea biscuits. Sam Soverel moved all-in holding Ad2s, and Bosca made the call with pocket jacks. An ace on the flop, left Bosca hoping the deck would produce one of his three outs. It didn't Bosca bubbled.
Stephen Chidwick moved all-in holding Tc8c, and Soverel made the call with Qd3s underneath his fingertips. Chidwick flopped a second ten to take the lead, and the turn and river were kind to the Englishman who doubled up.
Soverel reacted well to move into the chip lead before doubling Ali Imsirovic when Ad6h ran into the dominating form of AcTd. Chidwick was next to swallow some of Soverel's chips when he doubled Qc2c>AsKd, but then Rainer Kempe doubled through Chidwick when Kh2h outdrew KdTd after rivering a second deuce. Chidwick would exit in the fourth place after his Th6h failed to beat Kempe's Qh2c.
We had a 'Tale of the Tape' shortly after when Imsirovic got it in holding Qs5s versus the Ac2c of Soverel. Imsirovic did flop a five, but Soverel flopped a wheel and straight flush draw. The Jc on the turn saw Soverel make his flush to take a slight lead into heads-up action against Kempe.
Heads-Up
Sam Soverel – 1,940,000
Rainer Kempe – 1,510,000
Kempe took the chip lead when his pocket nines shutdown a raise from 6c5h, but Soverel would storm back to take the lead, and ultimately win his first event after this happened.
Kempe moved all-in holding Jd9h, and Soverel made the call holding pocket queens. The hand held to give Soverel a dominating chip lead. Then Soverel's QdTc beat Kempe's JcTh to tie up loose ends.
Here are the final table results:
ITM Results
1. Sam Soverel – £322,000
2. Rainer Kempe – £196,000
3. Ali Imsirovic – £112,000
4. Stephen Chidwick – £70,000
British Poker Open Championship Standings
1. Sam Soverel – £501,200 (480 Points)
2. Sam Greenwood – £147,200 (260)
3. Robert Flink – £108,800 (240)
4. Stephen Chidwick – £141,000 (220)
5. Paul Newey – £156,400 (200)
6. George Wolff – £120,000 (200)
7. Luc Greenwood – £119,600 (200)
8. Rainer Kempe – £196,600 (140)
9. Steve O'Dwyer – £72,600 (140)
10. Cary Katz – £51,600 (120)
Remaining Events
Event #6: £25,000 No-Limit Hold'em
Event #7: £25,000 Pot-Limit Omaha
Event #8: £25,000 No-Limit Hold'em
Event #9: £50,000 No-Limit Hold'em
Event #10: £100,000 No-Limit Hold'em