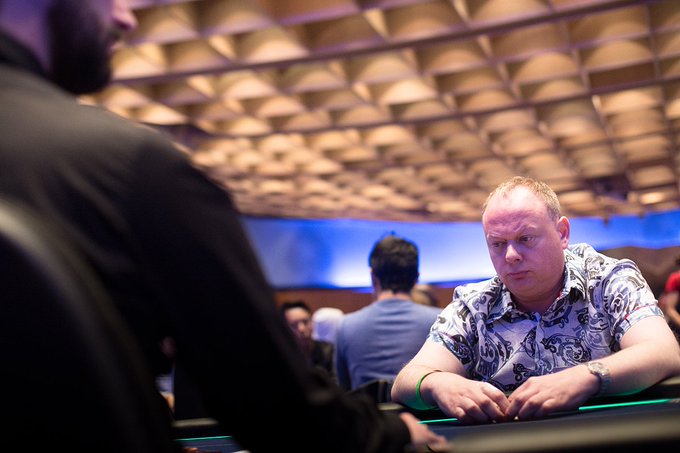 Poker's sexy art of seduction attracted Paul Newey to The Hendon Mob in 2012. He's racked up 57 tournament results in that time, but never a win, irrespective of the theatrical nature of the stage – until now.
Newey took down the 46-entrant Event #3: £10,000 No-Limit Hold'em at the British Poker Open, welding some of the best players to the rail, in a Day 2 that turned into a barnstormer for him, and a dilapidated durge for everyone else.
The win sees the UK businessman move into the number 2 spot in the overall rankings. The reigning Poker Central, High Roller of the Year, Sam Soverel, takes over from George Wolff at the top of the pecking order, after finishing runner-up; his second ITM finish of the series.
Let's see how TOPDOLLARMAN banked top dollar.
Day 2 Final Table Seat Draw
Seat 1: Sam Soverel – 1,735,000
Seat 2: Cary Katz – 730,000
Seat 3: Mikita Badziakouski – 345,000
Seat 4: Elio Fox – 1,005,000
Seat 5: Paul Newey – 360,000
Seat 6: Sam Greenwood – 435,000
The Action
Yesterday, Luc Greenwood won his first major tournament in a long time. Today, it was his brother Sam's turn to send a trophy back home to mam and dad. The day started well when Greenwood moved all-in holding Ah3s and outdrew the AdTs of Sam Soverel when a second trey arrived on the flop.
Then Paul Newey doubled up.
Greenwood had opened to 800,000 holding Ad9d, and Katz had called with JsTs until Newey moved all-in. Greenwood folded, Katz called, and the board ran out favourable for the ace-high.
Ace-nine may have been the jockey that rode Newey's hand over the finishing line, but it turned out to be a donkey for Katz. The Poker Central founder moved all-in holding Ac9h, and Mikita Badziakouski made the call holding Ah7s. Katz was as happy as fungus in a wet wood until a second seven hit the turn, and Katz was our sixth-place finisher.
Greenwood doubled through Elio Fox when AcJs beat Qh9h, but it wasn't the injection of luck that Greenwood hoped would help him get more rooted in this thing. The Canadian star opened with AhKh, and Newey made the call with Jd9d. The dealer placed a radioactive flop of Ad7d6d onto the felt, and both players each set their bear trap by checking. The 4s darkened the board on the turn, Greenwood bet 90,000, Newey raised to 225,000, and Greenwood called. The final card was the 3c, Newey moved all-in, and Greenwood called, removed his microphone and headed back home to preen his dandelion roots or whatever else it is that Greenwood gets up in his spare time.
Then we lost Mikita Badziakouski.
Wearing more patches than a Grand Prix driver, the Belarusian moved all-in, holding AdJc and found a caller in the shape of Newey holding AcQh. There were no ransom demands, no extortion – Badziakouski went quietly, just another tournament for a man who typically strangles the thing for a living.
Event #3 reached heads-up after Elio Fox exited stage left.
Fresh off his €25,000 No-Limit Hold'em win at the European Poker Tour (EPT) in Barcelona, Fox put in another impressive performance, finishing third. Fox opened to 290,000, holding Qh9h, and Soverel put him all-in with pocket kings. Fox called it off, and scurried back to his hole, beaten and whipped, after a runout that held no salvation.
Heads-Up
Sam Soverel – 2,480,000
Paul Newey – 2,120,000
With stacks as even as a spirit level, this one could have kicked off. Instead, it frizzled and fell as flat as a broken firework after one tournament defining cooler.
Newey made it 150,000, holding pocket nines, Soverel three-bet to 525,000 holding pocket jacks, Newey moved all-in, and Soverel snapped his hand off like a hungry piranha.
Soverel was on his way to his fifth tournament victory of the year until a pesky nine arrived on the turn to cripple Soverel.
"Sorry son, I guess it's my lucky day," said Newey.
Check it out.
When the dust cleared, Soverel had 50,000, and he flicked it in when he looked down to see the not too shabby looking AdQs. Newey called with Th6s, missed everything, and Soverel had 100,000. Once again, Soverel moved all-in, this time holding Kd2c, and Newey called and hit a wheel holding 5c4s to claim the title on the eve of his birthday no less – cue kazoos, and musical chairs.
Final Table Results
Paul Newey – £156,400
Sam Soverel – £101,200
Elio Fox – £69,000
Mikita Badziakouski – £46,000
Sam Greenwood – £36,800
Cary Katz – £27,600
British Poker Open Championship Standings
Sam Soverel – £179,200 (280 Points)*
Paul Newey – £156,400 (200)
George Wolff – £120,000 (200)
Luc Greenwood – £119,600 (200)
Steve O'Dwyer – £72,600 (140)
Stephen Chidwick – £71,000 (140)*
Elio Fox – £69,000 (100)
Robert Flink – £41,600 (100)
Mikita Badziakouski – £46,000 (80)
Gavin Cochrane – £30,000 (80)
*Cashed in two events.