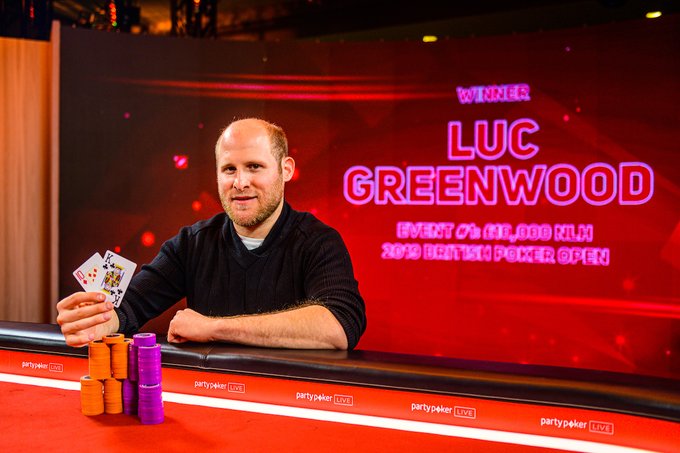 The Poker Gods favour the pendulum, and as you throw your apple core to the magpies, it's swinging in the face of Luc Greenwood. Of the two Greenwoods competing on the high roller circuit, Luc has the fewer stripes, but he's there at every event, plugging away, and in London, the Gods rewarded him with his first title since 2017. And, like Dracunculus medinensis about to burst through the cheek of a small African child, you could see it coming.
Greenwood competed in 12 Triton events without a return on investment before finishing runner-up to Linus Loeliger in the £25,000 No-Limit Hold'em Six-Handed at the Triton Poker Super High Roller Series in London for £466,600.
Armed with the feel of an ITM slip still on his whorls, Greenwood headed to Barcelona for the PokerStars European Poker Tour (EPT) and made money in four events, including the final table of the €50,000 and the €100,000.
Let's just say that by the time the Canadian arrived in The Aspers Casino in Stratford for the British Poker Open, he was feeling more cravat than crappy nanny's woolly scarf.
Event #1: £10,500 No-Limit Hold'em attracted 26-entrants, and Greenwood won his first title since winning the $25,500 at the PokerStars Championship in the Bahamas in 2017.
Let's see how he took it down.
The Action
Day 2 Seat Draw
Seat 1: Luc Greenwood – 746,000
Seat 2: Steve O'Dwyer – 365,000
Seat 3: Sam Grafton – 734,000
Seat 4: Mike Watson – 581,000
Seat 5: Robert Flink – 165,000
26-entrants dug their spurs in, and at the end of Day 1, only five remained on the horse. With only four places paid, one person was going home with murder on his mind.
Robert Flink was the first person to put it all on the line when he moved all-in with Ah9c and found a caller in the shape of Sam Grafton holding QhJc. The board remained lower than Shemika the Limbo world record holder, and Flink doubled-up.
Mike Watson took the chip lead.
Greenwood took the lead.
Flink took the lead.
Then we lost Watson.
The Canadian moved all-in for 570,000, holding AhJc, and hit the rail after Flink called with KhJh and turned a second king. It was another near-miss for a man who has been so close all year without received his just rewards.
Greenwood then doubled through Flink when KdJd beat pocket deuces, and then we were three-handed.
Sam Grafton is the new kid on the high stakes block, and he came into the British Poker Open on top form after finishing runner-up to Sergi Reixach in the €100,000 No-Limit Hold'em in Barcelona for a career-high $1.4m. Grafton continued to prove he has the minerals to make his mark at this level finishing fourth after running pocket eights into the tens of Steve O'Dwyer and the AK of Flink. O'Dwyer's hand won, to double up through Flink, and Grafton exited in the fourth place.
That hand gave O'Dwyer the chip lead, and he clung onto it despite doubling up Flink Ks3s<JcTs, but he couldn't hold onto it after a tournament defining clash against Greenwood.
O'Dwyer opened to 110,000 holding pocket sevens, and Greenwood moved all-in for 830,000 holding AhKd. O'Dwyer made the call and ended up with a mere 85,000 chips after an ace landed on the flop.
With everyone in the room assuming O'Dwyer would bust in third, this happened.
First O'Dwyer doubled through Flink when Kd4c beat Td5d. Then Flink moved all-in holding pocket deuces and exited in the third place when Greenwood called with KdQs and hit a Ks on the river.
Heads-Up
Luc Greenwood – 2,400,000
Steve O'Dwyer – 200,000
In terms of gross live tournament earnings, O'Dwyer has not seen his tournament bankroll this low since 2012. Given his paltry starting stack, £72,700 seemed the likely number.
It was.
O'Dwyer doubled up in the first hand when KdJs beat Ac9d, but he couldn't repeat that trick when he found pocket tens shortly after. O'Dwyer moved all-in, and Greenwood called with KcTd and spiked a second king on the turn to claim the first-ever title in British Poker Open history.
ITM Finishes
Luc Greenwood – £119,600
Steve O'Dwyer – £72,700
Robert Flink – £41,600
Sam Grafton – £26,000
Remaining British Poker Open Events
Event #2: £10,000 Pot-Limit Omaha
Event #3: £10,000 No-Limit Hold'em
Event #4: £10,000 Short-Deck
Event #5: £25,000 No-Limit Hold'em
Event #6: £25,000 No-Limit Hold'em
Event #7: £25,000 Pot-Limit Omaha
Event #8: £25,000 No-Limit Hold'em
Event #9: £50,000 No-Limit Hold'em
Event #10: £100,000 No-Limit Hold'em