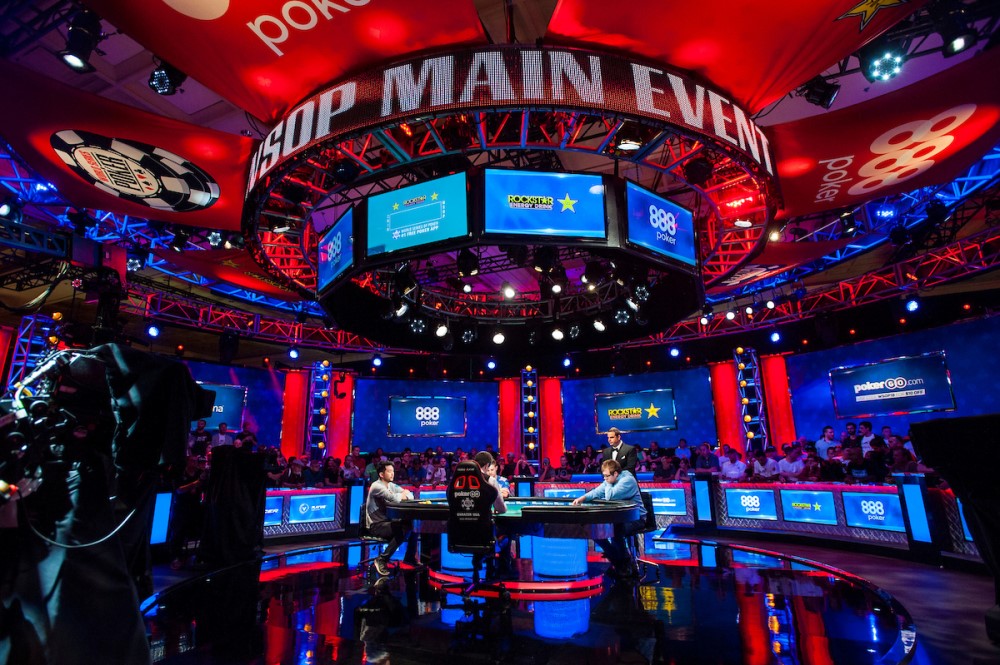 Live coverage of a poker tournament once consisted of a camera frozen on the final table, with the only way of distinguishing the damned from the dominant was the commentary. Fortunately, things have changed, and amongst the front-runners in the evolution of live poker content is the World Series of Poker (WSOP).
51st Annual World Series of Poker (WSOP) takes place at the Rio All-Suite Hotel & Casino, Las Vegas, May 26 – July 15, and if you can't be there in person, then Ty Stewart, Seth Palansky and co. has your back.
The Corvidae continuing to drop amazing poker content down our chimney tops are the WSOP, Poker Central and ESPN. The triumvirate has been working together for so long now you can't tell the difference between the ravens, crows and rooks.
And that's sweet news for poker fans because it means the end product is as polished as the bottom of a team belonging to the Subbuteo World Champion.
Poker punters should polish their most precious teacups in expectation for live coverage to begin July 1 – 14. Get a towel ready to clean up the puddle because that includes live coverage of every single day of the most iconic tournament in the world: the WSOP Main Event.
The plan is for Poker Central to telecast at least 40-hours of live WSOP coverage via its direct to consumer OTT service, PokerGO. Additionally, PokerGo subscribers will also receive 90-hours of additional footage.
Interlaced perfectly with Poker Central's coverage is the Daddy of sports television products, ESPN. Their schedule is below these crucial quotes, and it's like a word rhyming with 'navy' that begins with 'G'.
"For the past four years, our partnership with ESPN has been centered on creating the ultimate fan experience by providing wire-to-wire coverage of the World Series of Poker Main Event," said JR McCabe, chief business officer of Poker Central. "We look forward to another year of bringing poker's premier event to fans all across the globe."
"ESPN's yearly World Series of Poker coverage has proven to be an annual favorite with our poker fans," said Rob Temple, senior vice president of programming and acquisitions, ESPN. "Through our partnership with Poker Central, we look forward to another season of extensive broadcast coverage of the most popular poker event on earth."
ESPN Broadcast Plan of Attack
Jul 1 – 20:00 – 01:00 WSOP Day 1A (ESPN2)
Jul 2 – 21:00 – 23:00 WSOP Day 1B (ESPN)
Jul 2 – 23:00 – 01:00 WSOP Day 1B (ESPN2)
Jul 3 – 20:00 – 01:30 WSOP Day 1C (ESPN2)
Jul 4 – 19:30 – 22:00 WSOP Day 2AB (ESPN)
Jul 5 – 22:00 – 01:00 WSOP Day 2C (ESPN2)
Jul 6 – 22:00 – 02:00 WSOP Day 3 (ESPN2)
Jul 7 – 19:00 – 23:00 WSOP Day 4 (ESPN2)
Jul 8 – 22:00 – 02:00 WSOP Day 5 (ESPN2)
Jul 9 – 20:00 – 00:00 WSOP Day 6 (ESPN2)
Jul 10 – 22:00 – 00:00 WSOP Day 7 (Play to Final Table ESPN2)
Jul 12 – 22:00 – TBD WSOP Day 8 (9 to 6 ESPN2)
Jul 13 – 22:00 – TBD WSOP Day 9 (6 to 3 ESPN2)
Jul 14 – 21:00 – TBD WSOP Day 10 (to a winner ESPN)
A full PokerGO streaming announcement is pending.